This week for Simply Made Sunday we made Rice Krispie treats…. this recipe is SO easy, its fun for kids and it's quick.
Ingredients: 6 cups rice krispie treats, 3 tablespoons butter, and 50 marshmallows.
First, we prepared our ingredients.
Deen counted some marshmallows.

He put six cups of rice krispies in a bowl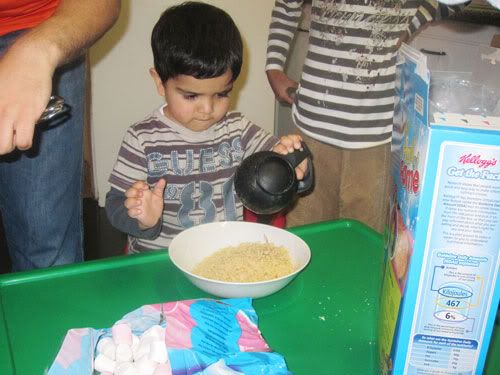 Now it was my turn…
I melted the butter on low heat
I added about 45 marshmallows and then a little bit more since I kept eating the melted marshmallows the marshmallows appeared to look too little when melted..
Add in six cups of rice krispies and mix…

Then I lined a baking tray with wax paper, added a little bit of butter on my spoon and pressed my rice krispies into the baking tray.
The butter is so that the spoon doesnt stick.. (Trust me.. this helps A LOT)


Allow to cool a little so it gets a little hard.. then cut.
I wanted to cut into fun shapes but within 10 minutes all my rice krispie treats were done!