Be reminded of your child's friends birthdays in style with our Birthday Reminder Printable.
Anyone else have trouble remembering birthdays and want a great visual reminder? I made a birthday reminder calendar page that you can print out.
Older kids would love to put this in their school notebook so they can easily jot down their friends birthdays.
Moms would love to print this out and put it on their fridge. You can add up to six friends birthdays per month.
I made two versions… one is a simple version for my Fun With Mama readers.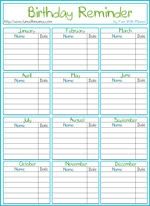 Click the picture above to download or click here
and here is one I created for my new business fans(more about my new business at a later date).
Click on the picture above or click here to download/save.
All you need to do is click on the birthday reminder picture above to save or download
Click Print.
Click Best quality and print away.
Trim off the excess white parts(Or leave as is).
This page looks great when printed on card stock. Put it on your fridge, in your child's school notebook, or use prestik to stick it to the wall.
Want to make it reusable for years to come? Laminate it after printing and use an erasable marker so that it also becomes waterproof and extra durable!
Would love to know if you use this!
Leave a comment!
Have a great day!