It was a nice warm sunny day in the middle of winter. My kids looked out of the window, they ventured on to the balcony, and then it was decided.
It was PAINTING time!

I haven't tried to make homemade finger paints before because I was worried that the food coloring would stain my kids hands (it didn't). I used a finger painting recipe from the Itty Bitty Bookworm curriculum (we love this curriculum!) and I was amazed at how vivid the finger paint colors were. I was also very happy with the texture of this paint!
Here is the recipe from the Itty Bitty bookworm curriculum:
2 cups flour
2 tsp salt
2 1/2 cups cold water
2 cups hot water
Food coloring
Method: Mix the flour and salt. Add the cold water. Beat until smooth. Gradually add the hot water and boil until clear. Beat until smooth. Divide the mixture and add the food coloring of your choice.
Here is another recipe: I haven't tried this recipe but it looks great.
Benefits of Finger painting include:
It is an excellent tactile experience.
It stimulates your childs senses. (Touch/feel, sight, smell, edible finger paint= taste)
The mixing of colors teaches your child about their colors and how to create new colors
It allows them to use their imagination and create
It is emotionally soothing (in most cases).
It strengthens the hand and fingers which helps with fine motor skills.
Most importantly, it is FUN!

Here's what you can do with finger paints:
Create a road full of many colors.

Feel it with your hands.


Paint it on your body.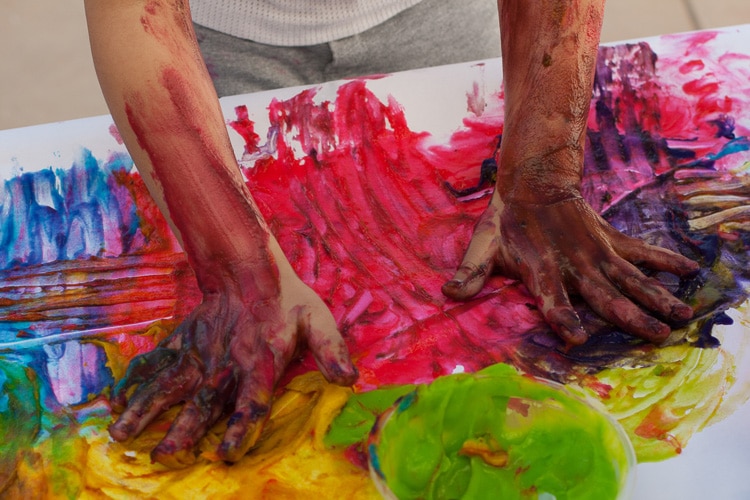 Mix, experiment, and create.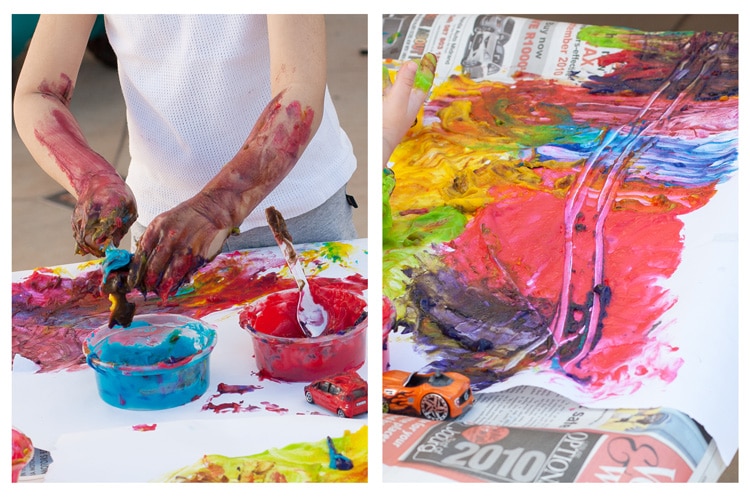 Cover your cars with paint before you wheel them through your painted road.
Try to see what all the fuss is about.
Get messy too!

Sing a bit, it helps make prettier pictures.

Look with amazement at the beauty of the "mess" and pat yourself on the back on an activity done well.