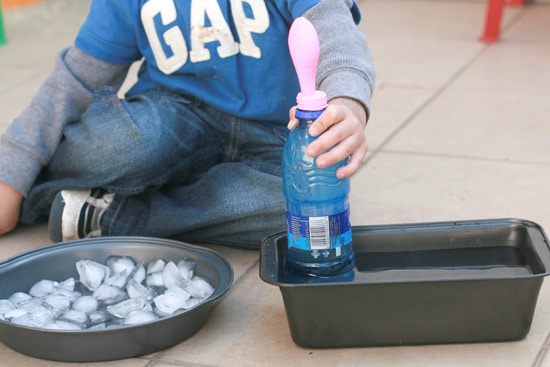 Kids love to play with balloons so I thought this science experiment would capture Deen's interest.
All you need to do is:
Tie a balloon onto a bottle.
Fill up a dish/container with hot water. (I used a bread pan).
Fill up a dish/container with cold ice. (I wish I had another bread pan)
When you put the balloon bottle in hot water the balloon inflates. The reason it does this is because there is air in the bottle.
When you put it into the iced water the balloon deflates.
Deen poured the ice into the hot water so I asked him what would happen to the ice. He said the ice would melt. I turned my face away for a few seconds and then looked at the water. There was no ice!
Mama: Deen! Where's the ice gone? Did you eat it?
Deen: No Mama! It melted!
Then he had fun pouring water into the different size of pans.
{ 6 comments }