Please note that this post is sponsored by iDTech. All thoughts and opinions are my own honest thoughts.
Just because schools are currently closed doesn't mean that learning has to cease. In fact, now is a time that your child likely has a lot of extra time on their hands and they can take advantage of this newfound time by experiencing new learning opportunities from the comfort of their own home. It's such a great time to dive deeper into specialty subjects like coding, increase tech knowledge and science and engineering will stimulate their minds.
No matter what the outside world is going through or dealing with, your home can be a space that is full of learning and fun. While many places around the world are closing up shop for a while, virtual camps are gearing up to give your child a fun, educational adventure. Whether you are home during school closures, spring break and especially during summer break… you want to prevent that by doing activities that will prevent summer brain drain.
What is STEM?
STEM stands for Science, Technology, Engineering, and Math. It is important to incorporate this type of learning, as the world is constantly changing around us every single day. Staying up to date on the latest technology is important as children may one day be working in this field, too. STEM is active in every part of our daily life. By encouraging creative thinking and analytical skills we can easily help our children become confident and lifelong learners.
If you're looking for a simple way to bring STEM into your home while schools are closed, Virtual Teach Camps and Online Private Lessons hosted by iDTech are ready to rock and roll.
The Importance of STEM education
As parents, we're always looking for the best way to teach our kids and to keep them in a growth mindset. From travel to watching documentaries, we're blessed with an abundance of options. And now since there are options for STEM virtual camps and online lessons, our children can easily keep up with their learning while still having the fun summer camp feel!
In this post, I am going to showcase a few different ways to bring stem into your home.
While STEM education and outcomes can be different in every family, it has shown our children that they can do things that they never knew possible.
STEM "technically" stands for Science, Technology, Engineering, and Math but to many people, it means: Students Together Encouraging Minds.
5 Ways to Bring STEM into your Home While Schools are Closed
Last summer my 12-year-old son was invited to check out an iDTech camp in person and was able to learn how to build an entire computer from scratch! He was so happy to learn this skill and we couldn't have been more thrilled that he was able to experience and learn from this. It was truly one of the highlights of his summer and ever since he went last summer, he's been looking forward to going again this summer. His rave reviews have also made my 10-year-old daughter excited and hopeful to take a class too.
Each day he would come home from camp basking in how much fun he had. There was never a dull or boring moment as the balance the classes had was perfect. There was learning time, eating time, video game time and outdoor playtime too. My kids have tried a few different camps over the past few summers and he said that this camp was truly the best camp he's been to.
He shares his experience of the camp he went to here: iDTech Camp Build A Computer Review.
If you're looking for a way to engage and challenge your kids, this is the program to consider. With curriculums ranging in ages for 7-19 year-olds, there is literally something for everyone. Currently, the virtual tech camp class curriculums offered are Python, Java, Minecraft, Roblox, AI, Unreal Engine, Adobe, 3D modeling, and more.
My son looked through the different camps and based on what is offered in the virtual tech camps, he is most interested in the Minecraft Modding With Java Coding.
Plus, with only 5 students per instructor, your child will get an amazing personalized learning experience.
They combine STEM learning and fun and keep the learning going…
Even though the virtual camps offered by iDTech do focus on 2 hours of live instruction every day, there are also 2 hours of self-paced project activities per day, too. This means that it's the perfect combination of learning and fun.
Bond with new friends over STEM activities for kids
Who says that tech camps can't create new friendships?! Even virtual based camps open up the door for new friends from all over the world.
And when the kids feel as though they can't see their current friends from school or even get out and play with the other kids in the neighborhood, this is an awesome way to motivate them about being excited to get online and learn every single day.
Pairing up with a friend over the love of STEM is a great way to get that excitement throughout the entire house.
Enroll multiple kids in your home in STEM private lessons!

Did you know that when you sign up for iDTech's Online Private Lessons, you can have another child (or even a friend!) join for FREE. Talk about a great way to stretch that dollar. It's a simple way to get all your children enrolled and geared up to learn.

Or, it gives your child a chance to invite their bestie to join in on the fun, too. This gives them that feeling that they're interacting with their friend online while incorporating learning as well.

They are high-quality camps
After actually attending the camp and experiencing what they are like… my son and I were both impressed by the high quality of materials as well as the quality of the teachers.
Fun With Mama readers get a discount
I love it when a company makes that EXTRA effort for their readers and values their customers. We are SO lucky that iDTech has offered Fun With Mama readers a discount code! Woohoo! Go through the list of different camp class options to see which one your child may be interested in. You can see the learning objectives and what children will be doing in the class by clicking on to the subject/class.
Use the code: NADIA125 to get $125 off your first week of iDTech Virtual Tech Camp's here.
You can also teach STEM in your home doing more of these fun activities:
2. Do more STEM activities
So many parents tend to shy away from STEM activities because they think that they have to be complicated or overly hard to do. But that just isn't the truth! With just a few simple supplies, you can easily create your very own STEM activities at home to give new ideas and also encourage creative minds.
Here are some of our favorite STEM activities at home that would be a great compliment to the online virtual tech camp curriculum courses offered by iDTech.
As you can see, STEM activities at home and virtually are a power-packed duo that can be great for summer learning!
3. Incorporate STEM toys in your child's routine
Did you know that you can easily add toys into your home that are fun and educational for your child? They'll be exercising their minds and might not even realize it! One of the things I love about most STEM toys is that they are very open-ended. Your child can do different things with the materials and there are always ways to expand their learning through problem solving and experimentation.
Check out these fun STEM toys to consider for your child.
4. Add in art projects and turn STEM into STEAM
You can easily incorporate more art projects into your daily STEM activities as well. Some of our favorites are Rainbow Raised Salt Painting and Spin Painting For Kids!
5. Let your older child work with your younger child to teach STEM to them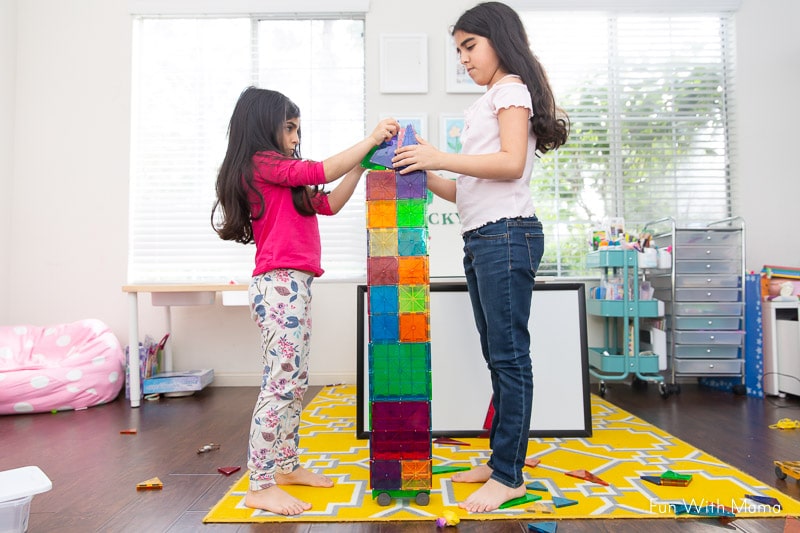 One of the best ways that children tend to learn is when they teach other's what they've just been taught. Have your older child teach their younger siblings something that they learned through playtime and let them work together to create something fun and educational. Honestly, to them.. it all just looks like play… because it is play! It is learning through active playtime.
With just a little bit of learning at home, your child will be will on their way to loving STEM activities and growing their knowledge and confidence by the minute!
How have you been incorporating STEM into your home? Do you have any other fun STEM activities for kids to add?
Use the code: NADIA125 to get $125 off your first week of iDTech's Virtual Tech Camps here!