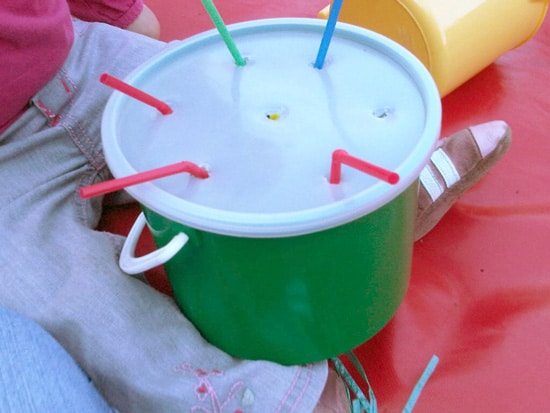 Are you looking for a baby activity that can help work on your babies fine motor control? Here is a simple yet fun activity that will have your child concentrating hard.
A can spend hours posting! She seems to love the challenge and this straw posting activity kept her busy!
All you need is a container of some sort and some straws. You can use an old margarine container, a yoghurt container, or anything that is similar.
Cut out some holes on the top that are the size of your straws and close the container up.
Cut up some straws (so that some are long and some are shorter) and have your child put the straws through the hole into the container.
Join me on Instagram to see what other fun activities we are up to this week! I love to inspire and be inspired by other Mom's too!
I have a few more baby activities that you might like… check these out:
–Baby Tape Activity – This one is SUPER simple but I promise you, your baby will be so engrossed in finding the tape. Especially when you put them in front of a mirror and add the tape to their little nose. You have to video this one!


– Baby Organza Hide and Seek – This peek a boo activity is the right amount of fun with the right amount of difficulty. Simple to put together and a wonderful quiet time activity.
–Butterfly Finger Paint – did you know that your child can finger paint and you could make an edible finger paint recipe? Finger painting is really so beneficial to kids and you should definitely check out the benefits!
–Apple Tree Cut and Paste – is a great printable activity to work on visual perception and fine motor skills. The fact that it is so easy to prep makes it that much more mom friendly.
–Cornflour fun! – I wont deny that this is one extremely messy activity but if you can do it outside this is one activity you HAVE to try. This one is perfect for kids (And adults) of all ages and is truly a MUST TRY. Plus its edible so you won't have to worry about baby!
If this post was helpful you might want to subscribe to my newsletter to keep up to date and share it with your friends by Pinning it on Pinterest.