One of our Favorite Disney character breakfast places is definitely the Contemporary Resort's Chef Mickey breakfast! Every single time that we have gone to Disney World, we have made sure to make reservations at what my whole family would call, Disney's BEST character dining experience. In this blog post I break down more information about Chef Mickey's restaurant, the menu, prices and more!
Chef Mickey Disney Character Breakfast
About Chef Mickey
Chef Mickey's is a Disney character breakfast where guests can enjoy a wonderful and delicious buffet while meeting the Fab 5. This is a great way to get autographs without having to stand in long lines. Since we did Chef Mickey's breakfast on the first day of our Disney World trip, we purchased our autograph books at the store right across from Chef Mickey's. Chef Mickey's restaurant is in the Disney Contemporary Resort, one of our favorite Disney hotels. Which characters will you see at Chef Mickeys? Mickey Mouse, Minnie Mouse, Pluto, Donald Duck and Goofy.
Breakfast: 7:00 AM until 11:15 Am
Brunch: 11:30 AM until 2:30 PM
Dinner: 5:00 PM until 9:00 PM
Chef Mickey Reservations
You can make a reservation for the Disney world character dining Chef Mickeys restaurant here on the Disneyworld Page. If you are on the Disney dining plan then this character breakfast uses 1 table service credit.
Chef Mickey Prices
Breakfast and Brunch is $41 per adult and $25 per child.
Dinner is $50 per adult and $30 per child.
A child is considered someone between the ages of 3 to 9 years old.
Chef Mickey's
You can watch a video (vlog) of our whole experience below.
Minne Mouse was as happy and cheerful as always.
Mickey was playful.
Watch the video to see how the cool way goofy signs his autograph using his nose.
Donald Duck was funny.
Pluto was sweet.
Tip 1: Make sure you bring your autograph books and a pen for the characters to sign. I always choose the autograph pictures that have a slot for pictures.
Tip 2: Bring your own camera! The pictures you take here are perfect to add to your autograph book.
Tip 3: Book this dining experience as soon as it becomes available. Call 407-WDW-DINE 180 days in advance for reservations. You can also use the My Disneyworld app to check for reservations.
Tip 4: Reservations can be difficult to get at Chef Mickey's. If you see that the reservations are unavailable and booked out.. don't stress. Dining reservations have to be cancelled 24 hours in advance and I have ALWAYS been able to find Chef Mickey dining reservations the day before the breakfast. I would check from the week before we left for our trip right up until the night before.
Tip 5: If you have dietary restrictions, look at the Chef Mickey Menu to see if it contains items that you are able to eat. We are limited in the things we can eat as a family, this is often why we choose the breakfast menu. You can find the menu here.
Tip 6: Choose an early breakfast reservation so that you can begin your day at the Mickey breakfast and then hop on the monorail to go to the Disney theme park of your choice.
Tip 7: Make sure you stand in line for the adorable Chef Mickey Photo Opportunity.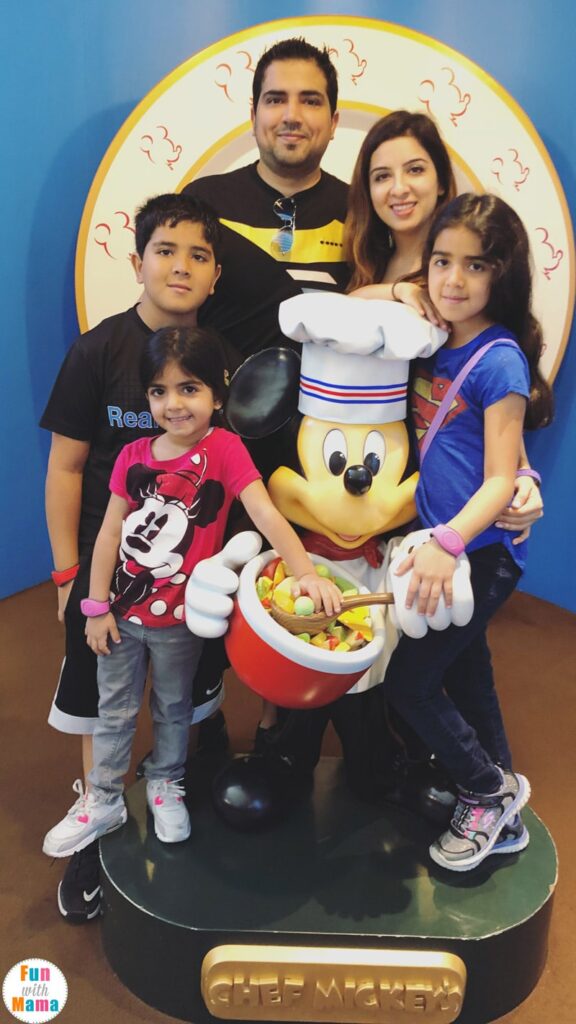 Tip 8: If you are still hungry and want something more that isn't available on the buffet… you can order Omelette's through your waiter.
Tip 9: Are you celebrating something special? Make sure to let your hostess know at check in. Although my children's birthdays are scattered throughout the year.. we always give them an extra celebration of their birthday at Chef Mickey. (Yes, all three at once..) It makes them feel extra special.
For birthday's, they will give you the following items:
A mickey mouse themed cupcake.
Autographed birthday cards with signatures from Mickey Mouse, Donald Duck, Goofy, Pluto and Minnie Mouse.
Chef Mickey's Review
We love Chef Mickey's. I love that it is a relaxed atmosphere to meet five Disney characters and not having to wait in line. You have enough time to get autographs and a few pictures with each of the characters while you sit down and eat food. We love the themed waffles. I do wish that there were more vegetarian options for the breakfast since there were many items that we were unable to eat do to our meat restrictions. As a whole I give Chef Mickey five stars as being one of the best character dining experiences. It is now a family tradition to dine together at Chef Mickey for breakfast. I hope we can do this every single time we go.
Here is a picture from the last time we went to Chef Mickey, which was four years ago.
Have you been to Chef Mickey? What are your thoughts on the experience at Chef Mickey's?
If you are looking for more Disney or travel posts check out my family vacation ideas as well as the blog posts below: