Disclaimer: Please note that this post was sponsored by American Tourister. All thoughts and opinions are my own.
The new Star Wars movie is almost here and Star Wars fever is at it's peak all over the world. As a special way to commemorate Star Wars Day, May the 4th be with you, I created a Star Wars invitation to play and planned a trip to Disneyland using our new Star Wars American Tourister Luggage. The Chewbacca bag is a lovely suitcase and can also be used as an imaginary Chewbacca play partner. Encourage your children to awaken the force within by setting up activities for them to play creatively.
Disney Star Wars
Does your family love Star Wars? My 11 year old son is a big fan! He watches the Star Wars movies multiple times and is ever ready to do anything Star Wars related. His favorite character from the whole series is Anakin Skywalker. He can't seem to get enough of the movie and characters. He reads Star Wars books, plays with his Star Wars figurines and has so many Star Wars lego's that I have now lost count. Even his YouTube Channel is Star Wars themed. The Chewbacca American Tourister 21″ Spinner bag is the latest addition to his Star Wars world.
I celebrated May the 4th be with you, also known as Star Wars Day, with some inter galactic fun for the family.
Dramatic Play
Dramatic play has many benefits – it increases creativity, out of the box thinking, encourages problem solving skills and is a great way for siblings to bond. My kids entered their own Star Wars galaxy with a little creative invitation to play set up by me.
In a world where technology is taking over and iPads are replacing family time, dramatic play connects children to each other. It is a time that they can step out of reality and into a world where they control what happens, who they are, where they are and the storylines that unfold. Dramatic play teaches them teamwork and they learn skills to play cooperatively. In this imaginary world their legs could be on their bedroom floor but in their mind they are Jedi's in the Star Wars galaxy.
An invitation to play
All I needed to do was place these 3 Star Wars costumes on my children's beds with some light sabers. The first to notice something different about her bed was my 4 year old. It was like I breathed life into this costume without even saying a word. She immediately put on her Star Wars costume and announced to everyone that there is a special surprise for everyone on their beds. As the children ran up to se what it was I saw these huge smiles on their faces, especially as my son noticed the new beautiful Chewbacca bag on his bed.
I suspect that this invitation to play reminded my children how special they are to me without me needing to say anything.
Why should you set up invitations to play? Well, each of our minds are creatively different so it is exciting to see through someone else's imagination. When you light a candle and then transfer that flame to another candle, a new flame is created. A flame that is different from the first one but just as uniquely extaordinary. That is how an invitation to play is created. By giving my children a small spark from my candle their own candle is lit up.
My 4 year old daughter was Princess Leia, my 9 year old daughter was Rey and my son was, no surprise here, Darth Vader.
With light sabers in their hands and complete character transformations they played to their hearts content. The Chewbacca American Tourister 21″ Spinner suitcase filled in for Chewbacca's character in their role playing games. The wheels swerved perfectly as "Chewbacca" battled with Darth Vader and it was lightweight enough to join the fun. BB9E couldn't help but join the force!
They flew their Star Wars ships, laughed and enjoyed each other's company.

When they were ready to go to Disneyland the three of them stayed in character and began to pack the Chewbacca American Tourister 21″ Spinner bag luggage with some accessories, pajamas and clothes for our overnight stay near Disneyland.
Once they were really feeling the Star Wars vibe we set off to Disneyland in my car our spaceship. I put on some Star Wars music and we began our drive.
Star Wars Launch Bay
Once we were in the theme park we went straight to Star Wars Launch Bay. We met Chewbacca, Darth Vader and other characters. My 4 year old found it hilarious that Darth Vader acted exactly like how he is portrayed in the movies.
They also loved talking to Chewbacca about how they met him previously at Disney Social Media Moms in February.
This Star Wars Day was truly amazing.
For more galactic fun, check out these Star Wars coloring pages.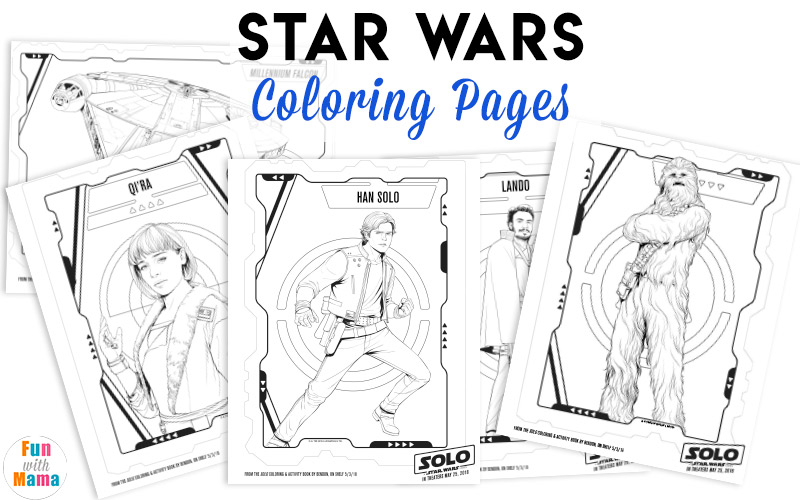 You can find the Chewbacca American Tourister 21″ Spinner bag here and also check out the other American Tourister Star Wars luggage characters including R2D2, Darth Vader, Storm trooper and more well loved Star Wars characters.
The New Han Solo film called, Solo A Star Wars Story will be in theaters on May 25, 2018 and tickets are currently available for sale at your local theater.
You can watch the latest trailer for the new Star Wars movie below:
Wookie Roar #RoarForChange
Have you heard of the #RoarForChange challenge?
Philanthropy was very important to George Lucas,
"Heroes come in all sizes, and you don't have to be a giant hero. You can be a very small hero. It's just as important to understand that accepting self-responsibility for the things you do, … [such as] caring about other people–these are heroic acts. Everybody has the choice of being a hero or not being a hero every day of their lives. You don't have to get into a giant laser-sword fight and blow up three spaceships to become a hero."
– George Lucas, Interview with Bill Moyers in Time, 1999
In celebration of Star Wars Day LucasFilm's is fundraising for UNICEF. Their charity arm, Star Wars: Force for Change is launching the #RoarForChange challenge. They are asking fans to post their best Wookiee Roar to social media, and for every like, share or post using #RoarForChange, $1 will be donated to UNICEF (up to $1 million).