Today I sat down and tried to organize the kids activities for the rest of the month of February. Do you see so many wonderful kids activity ideas online like fun arts, crafts, paintings, sensory bins etc but yet you just can't seem to remember which ones you wanted to try with your toddler, preschooler or elementary aged child? That happens to me a lot and when I do finally remember what I want to do I realize that I don't have most of the required materials.
I have decided that I will create a Pinterest board for the month ahead and include all the activities (aimed at toddlers, preschoolers and elementary aged kids) that we want to do for the following month. I will then create a printable calendar of the activities we are doing that month, create a clickable pdf calendar linking to all these activities and create a supply list.
I've created a Pinterest board for February Activities and I am going to upload the printable activity here for you to join me.
Follow Fun With Mama by Nadia Tayob's board February Activities on Pinterest.
The February 2016 Activity Calendar
I know that some of you may want to do activities daily while others have such a busy week ahead of you that you might have a few particular days that you would prefer to do them. You can add masking tape or prestige to make these activities moveable for you and fit it within your own schedule and interests. I have compiled my favorite activities from around the web that suit the theme of Love for this month.
Some of you may have a toddler or preschooler who are not ready for the more advanced projects so on that particular day I have included a specific toddler activity that is age appropriate and ties in to what the older kids will be doing.
Included in the Printable:
1 calendar filled with an activity for every day.
1 blank February calendar with blanks.
1 page of squares with activities listed.
1 page of blank squares that you can fill in.
Examples of these are below. If you click on the pictures you will be taken to the PDF that will include each page. Print out the pages you would like.
Please note that the printable activity was made for US 8.5 x 11 paper. If you are printing this from another country please go ahead and tick "Fit to Page" on your printers settings before pressing Print. This will ensure that everything prints at the right size for you.
Download the February 2016 Kids Activity Calendar here
You can mix and match the blank calendar with your squares to suit your preferred activities and days. Place tape or Prestik at the back of these squares so you can move around your activities in case something comes around and you miss that days plans.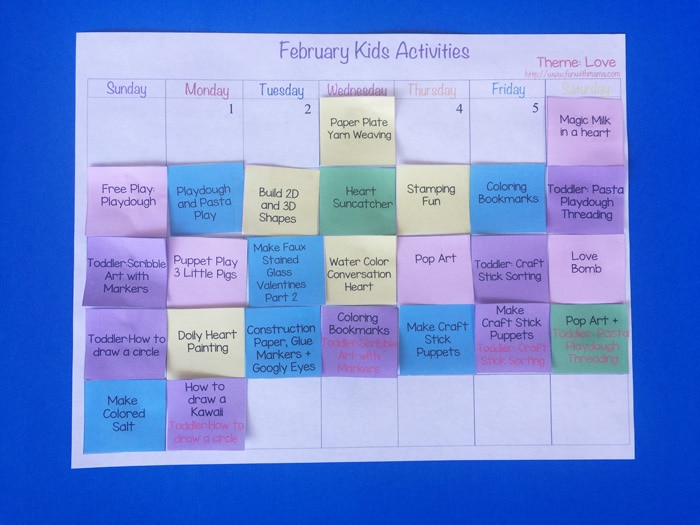 Please Tag @funwithmama on Instagram and hashtag #funwithmama pictures of you and your kids doing these wonderful activities and you could be featured on our Instagram page. A picture of the finished product would be awesome too!
Supplies required
I have set out all the supplies that will be required for each activity. You can choose to do all the activities or some of them. Mix and match till they suit your schedule, materials on hand and children's interests.
Please do not get scared off by this list because I've included everything that is necessary. Many of these things you will probably already have at home and won't need to purchase.
Some of the other items are staple products that you should have in your creative art collection for your kids. One thing is for sure, all of these materials will be able to be used multiple times over the next few months
This post may contain affiliate links. As an Amazon Associate, I earn from qualifying purchases (at no extra cost to you.)
I am a Prime Member so most of these items that I didn't have at home will be delivered to me tomorrow for free and it will be ready for our planned activities! You can get a Free 30 Day Trial of Amazon Prime by clicking here.

For Home made play dough: (At Fun With Mama)
Flour, food color, salt, cream of tartar and water
For Do A Dot Heart Marker Activity: (At Fun With Mama)
Cardstock (thicker paper that is available at most office supply stores)
For Free Play Stamp day
Stamps – Any Stamps that you have on hand will be fine for this activity. We have this Fairy Garden stamps for girls and Animal stamps are always a hit. I highly suggest you buy this Extra Large Stamp Pad that includes six colors. The kids seem to get bored of only two colors quickly.
Colored Pencils – Did you know that you can color in your stamped paper with colored pencils? This adds a whole new dimension of fun! While this may not be great for young toddlers this is certainly wonderful for elementary aged kids and makes stamps that much more fun for them. You can purchase these cheap colored pencils for the kids or if you want a higher quality then purchase these. Crayola is also available at Discount School Supply.
For Yarn Paper Plate Heart Weaving: (At Happy Hooligans)
For Puppet Day: (At Fun With Mama)
Any puppets or finger puppets that you have on hand will do. If you want to do the Three Little Pigs Puppet Activity then you will need something like this Three Little Pigs Finger Puppet set. You could also make your own stick puppets as a lovely add on to this activity day.
For the Love Bomb (At No Time For Flashcards)
Faux Stained Glass: (At The Artful Parent)
Doily Heart Painting: (At No Time For Flashcards)
Heart Doily or a heart template that you printed out on your computer will do just fine
Making Colored Salt: At Fun With Mama
Food Coloring and Salt. (I'm sure you have both of these already.)
Watercolor Conversation Hearts: (At Paintbrushes & Popsicles)
Magic Milk Hearts: (At The Science Kiddo)
Toothpicks, milk, a dish, food color, and dish cleaning liquid. (All of which you probably have at home.)
Pop Art and Bookmark Coloring (At Art With Jenny K And Dawn Nicole Designs)
2D And 3D Building: (At In The Playroom)
Play dough Freeplay
Sensory Play: Water Beads (At Lets Tot School)
Water beads or beans, rice, etc. We will be using water beads.
Craft Stick Puppets
For Craft Stick Sorting (Only for toddlers) (At Mama OT)
Craft sticks and old coffee or Milo tin with slits cut in (for toddlers).

Pasta PlayDough Threading (For Toddlers): (At Laughing Kids Learn)
Straws, playdough and uncooked pasta or cereal (with circles like Cheerio's).
Mosaic Heart Suncatchers: (at Kids Craft Room)
Paper Mosaic Tiles (You can just cut up regular pieces of colored paper) and contact paper.
Some of these activities will require a heart template. You may print and use this one instead of purchasing a template.

I really hope that you will join me on this wonderful activity filled month!