Get all the details about the LA County Fair (Los Angeles County Fair) in Fairplex Pomona including a review and details on how to get la county fair tickets, how much the tickets cost and more.
Please note that we received tickets to the LA County Fair for free and I collaborated with them on an Instagram post but all thoughts and opinions expressed in this post are my own. (We would have purchased our own tickets anyway.)
We visited the LA County fair this weekend. Saying we had a blast is a grand understatement. Read this post to see why I believe you should make your local county fair a part of your annual family activities. We have been going to our local fair for 3 years now and definitely plan to continue the tradition years to come. This was the first time we went to the LA fair though and I'd love to share my thoughts with you and how it compares to other fairs.
There are a few things we do annually, like visiting our local pumpkin patch ( last year we went to the Tanaka Farms Irvine Pumpkin Patch, the year before we visited a different pumpkin patch) and visiting the fair is another annual must…
I'm going to be honest here though and tell you that for our family… the time before we get to our local fair is truly challenging, as evidenced in our Orange County Fair OC Winter Fest post.
The hours before leaving home to go to the fair are always a mixture of the following conversations in constant rotation…
"Is it too hot right now?" "Do we have everything?" "Ahh I'm lazy…" "Oh all that walking…"
Then after making sure everyone is ready and dressed (including getting out my camera gear because I will never make the mistake of not taking my camera to the fair again) it's about getting the stroller and everyone situated in the car. Sounds daunting.
We tried to go to the LA County Fair on Saturday… I mean, we even drove all the way there and then later decided against it. It was almost night time and we wanted to get in some daylight during our time at the fair.
But on Sunday… we finally did it! All the stars aligned, we got everyone ready and arrived at the fair around 5.30pm.
It's a picture heavy post here, but I mean.. it's the fair.. how can there not be a ton of pictures? It's an inspirational place for children and adults to let off their reserves and just live in the moment.
I'm going to share with you a little bit more about our time at the LA Fair with kids and I'm going to tell you exactly why you need to get yourself out of the comfort and peace of your home to go and live the moment in color and rainbows at the LA County Fair.
At 5.30 it was still pretty bright and sunny. And… ya know…. the food and treats always call to you first!
We grabbed some snacks and then decided to walk around. The icee/slush and snow cones were the PERFECT way to cool ourselves off.
Yep, I really embarassed the day and moment. I wore these matching heart shaped sunglasses that I bought for my daughter too. Do I qualify as an on point Instagrammer now?
DiDi is wearing these adorable overalls, which were absolutely perfect for the fair (and well, just for about any other day..). Kids in overalls , can it get any cuter?
Ok kids, where should we go now? Carnival games! The time was around 6.30 and that gorgeous golden light was starting to seep through (see my daughters hair below)… sunset was almost here.
But first, I needed to buy some tickets… There are ticket booths in multiple areas and there is also an unlimited ticket option. My husband went to go get the tickets while I waited with the kids… which in hindsight had me far more confused because I had no idea how much he paid for the tickets. Meaning, each time the kids would play something… I wouldn't know how much we were spending. (I suppose I can be mindful of my money sometimes? )
But anyway, let's get on with the playing.
Guess who got to play too? Me!
As a mother, I've realized that we often step back from experiences in order to give our children experiences. It's as if we forget about ourselves and even live experiences through our children. You are still a person… Don't stop playing. Don't stop experiencing. Live through yourself too.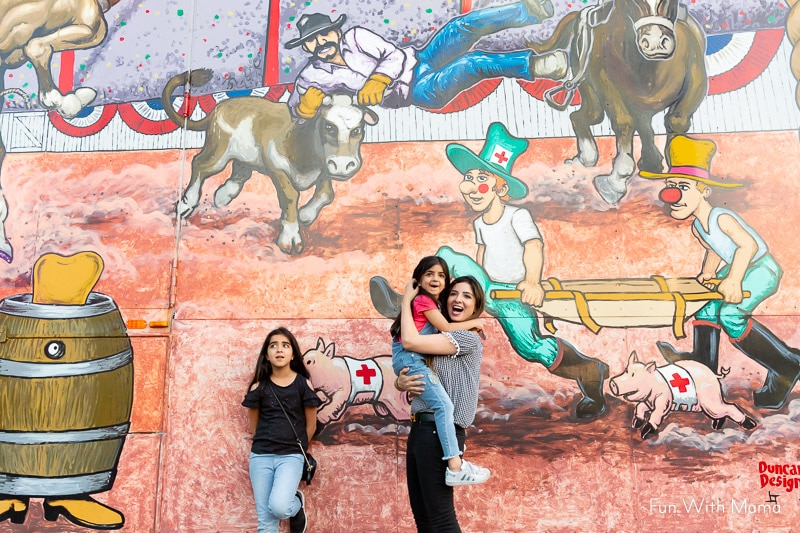 Did you know there are also a ton of cool walls/art all around the fair for your Instagram/Facebook pictures?
There are also a lot of fun houses to go through with fun surprises. The floors "fall", they jiggle, vibrate and move. My kids all loved this (as do I) so we went through a few of those.
The picture below might have to be one of my most favorite pictures I've ever taken at a fair… my daughter is on the swing there on the left.
There are 2 different swing rides that I saw.. one was super super high and the other was a medium height. My older two (10 and 12) went on these swings, while my younger one was too short for the height limit.
My poor and super daring sweetheart was so disappointed, but hey… mama can make you fly up up high too!
Ok, well not really up high… apparently mama needs to work on that arm strength. (All jokes aside.. I'm so sad that I can't fully lift her up anymore… they grow too quickly… Where is the remote to press pause or maybe rewind sometimes?!)
She did, however, get to go up up high in this gravity ride. The "buckle" to keep you contained and safe is… gravity and that little strap that I don't think does anything? She ran up with her ticket before we could get a chance to think about this one so …. daddy to the rescue. He was forced to go on with her to "keep her safe".
I want you to see the difference that is going on rides in the day and going on rides at sunset/night…. look at how all the colors just pop around sunset and at night?
They are both completely and utterly beautiful… but you have to experience them both! Don't leave the fair before sunset!
Food and treats:
This is why I think that if you can, get a season pass. There is SO much food that I don't think you can possibly try everything in one day. There are some very unique treats (like corn with colored crumbs all over it) and yummy spuds and your basic carnival like treats too. I do not feel like I satiated my carnival treat check list on this one day.
My son is such a popcorn lover… and fair popcorn is always butter filled deliciousness. I, on the other hand, opted for a spud… this is baked potato mixed with cheese, butter and a dollop of sour cream. SOOOOO delicous.
How adorable is the lemonade stand? The pink lemonade was SO delicious too and perfectly refreshing for this hot summer night!!!
These gorgeous light balls were like holding a ball full of magic.
Oh and there's a station where you can take photo booth pictures. See I grabbed a picture of the picture here so now if they lose it, I have a digital copy! <3
Don't miss out on the arts and crafts section. They have these gorgeous Halloween tablescapes filled with inspiration.
Here is a closer look.
The Farm area
There is a section at the LA County Fair that has farm animals and other fun animal activities. There is a Feed The Birds section and a chance to see a real alligator.
The animal feeding area has a lot of goats and sheep.
The sheep were all really friendly and really hungry. My little one was often feeding two goats at once… one with each hand.
One thing I wish I knew before entering this area is… WEAR sneakers! I was wearing branded sandals and umm.. yeah, DEFINITELY don't do that. When you get home you have to wash out your shoes.. we threw all the sneakers into the washing machine afterwards. You don't want to know all the things that got stuck under our shoes that turned our house into a morning smelling farm.
There is also an area in the Farm where they are doing pig races. The vibe there is energetic with music and it was fun to watch.
Have you been to the LA County Fair? Do you visit your local fair annually with your children?
LA County Fair Tickets
You can purchase tickets to the fair here.
Prices include:
Adult Weekday $15.50
Child weekday: $8.00
Senior Weekday: $10.00
Adult single day: $21.50
Child single day: $12.00
Senior single day: $15.00
Parking is $15.
You can also buy a season pass, which I recommend especially if you live nearby. There is A LOT to do that I am not sure you would be able to do everything in one day.
Limited season pass (includes 2 block out dates 9/21 and 9/22): $29.99
Unlimited season pass: $49.99
Parking season pass: $60.00
LA County Fair Dates
August 30th – September 22, 2019
The fair is closed on Monday's and Tuesdays.
LA County Fair Location
I was surprised to see that the LA County Fair is held in Pomona. I assumed it would be somewhere in the heart of LA… Pomona, however, was much closer to our home so I loved that.
Rideshare (Uber/Lyft/Taxi) & Foothill Transit drop-off and pick-up are located at Gate 7 off White Ave.
LA County Fair Concerts
There are concerts on some of the dates. You can get more details about this here.
LA Fair tickets for rides:
The picture can answer the questions you might have.
There was also an unlimited ticket option too.