If there's anything I've learned after having 4 kids, it's that over-shopping is so easy. But with a seven-year gap between my last daughter and the arrival of my latest and youngest, I've managed to get a grip and be truly selective about the products I purchase and recommend for expecting moms. One of the most daunting picks? The perfect play gym. Of course, I wanted something soft to keep her safe. I needed something bright and colorful to keep her engaged. And I wanted cute toys and trinkets that would enrich her through that oh-so-important first year of development. Oof! Was I looking for a unicorn?! Enter the Lovevery play gym that met all my baby play gym needs!
Please note that affiliate links are used in this post. If you purchase from this link, this site will earn a small commission on the product, however, I spend my time creating blog posts on products that I love and would recommend.
In my latest product review, I'm going to tell you everything you need to know about Lovevery the play gym
Lovevery Play Gym
After endless hours of research, I finally stumbled across the perfect fit: the Lovevery Play Gym. You can find the baby play mat here. Beautifully crafted with natural wood arms and a neutral-toned play mat and designed by child development experts, the Lovevery Play Gym is an award-winning activity mat featuring 5 developmental learning zones that include adorable sensory toys that allow children to explore, play, and safely engage their senses and motor skills. Tummy time has never been more entertaining!
We also receive the Lovevery Play Kits and are HUGE fans. (See my posts The Lovevery Play Kit Inspector Kit Review for 7-8 month old and Lovevery Explorer Play Kit For Ages 9 + 10 Months Review for more details.)
Constructed out of non-toxic materials, the Lovevery play mat was a godsend that I started using for my baby from 1 month old and, at 9 months, she's still obsessed.
I love that, unlike most baby toys on the market, the Lovevery gym doesn't require batteries so we're never stuck with disappointing, out-of-commission toys. The mat is machine-washable, which makes cleaning any spills, spit-up, and other nasties a breeze. And the biggest bonus – it's lightweight, making it perfect for portable play. I just plop her down on the Lovevery playmat wherever I am and I've got myself a much-needed break to putter around the house getting mom-stuff done while she keeps busy.
The Love every play gym comes with a super-useful guide loaded with suggestions on how to get the most use out of the activity mat. Plus, as your baby grows, additional add-ons are available for your Lovevery Play Gym, designed to advance according to your little one's developmental stage and offer age-appropriate play and learning.
READY, SET, PLAY!
It's not unusual to feel constantly strapped for time when there's a tiny human to take care of, but with no tools required for setup, the Lovevery Play Gym was a breeze to assemble. The playmat includes a high contrast cotton ball, a BPA-free teething ring, several variations of detachable card sets – Alayna loves the mirrored ones the most, probably because she can see her own adorable face – a wooden batting ring, and an organic cotton teether.
Designed to grow with your baby, Lovevery also offers additional age-appropriate add-ons including sensory strands and a variety of card sets.
I also add on the bi-monthly play kits which you can find here by Lovevery around the play gym by Lovevery to keep it even more exciting. The Lovevery toys are such high-quality toys that I'm always impressed when I receive a shipment.
DRIVING DEVELOPMENT
What new parent hasn't heard about how important it is to "play with your baby." But how do you "play" with a little lump that only seems interested in being carried around attached to your hip? That's where the Lovevery gym is a total standout. Split into five zones, Lovevery's gym designates separate spaces for your baby's sensory exploration such as different textures, sounds, colors, and pop-up displays. The added benefit of learning to focus and concentrate is a huge plus on that front too. I've also noticed how the Lovevery the play gym playmat has encouraged Alayna to reach, lift, wriggle, and roll, meaning the Lovevery Play Gym isn't just educational, it's an amazing tool to help with the development of your little one's physical strength too.
For even more parental peace of mind, the amazing folks at Lovevery take a lot of the guesswork out of how to play with your baby by including a very handy guide laying out ideas and activities according to your baby's developmental stage. Hallelujah, no more Baby Shark-ing for me!
THE VERDICT
In my opinion, Lovevery the play gym is absolutely worth the investment. I say investment because, as awesome as the Lovevery Play Gym is, it does come with a hefty price tag. At $140 a pop, it might be a bit of a strain on the budget because let's face it, babies are expensive. That said, with the holiday season coming up, the Lovevery Play Gym would make an excellent gift for new parents or parents-to-be. Exquisitely crafted, expertly designed, and, in mine and Alayna's book, baby-approved, the Lovevery Play Gym is the perfect playtime pal.
Where to buy the Lovevery playmat and Lovevery toys
Get one for your little one here! I am also a huge fan of their play kits subscription too, which you can find here.
P.S. How do you pronounce Lovevery? I think it's pronounced love very.
More Lovevery Blog Posts
We have subscribed to the Lovevery Play Kits since my daughter was born and I love sharing our thoughts on each kit.
For Babies Ages 0-12 months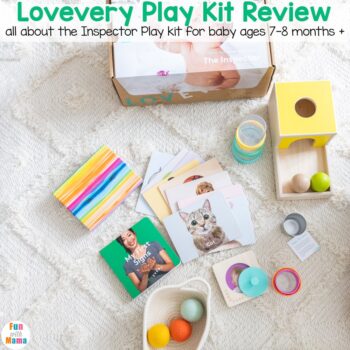 (Ages 7-8 months)
(Ages 9-10 months)
Check out these other baby product posts: