Imaginary play time is a great opportunity for parents to have fun and explore with their child. This picnic themed pretend play for preschoolers activity is one of the most magical activities ever. Pretend play is a major part of a child's development as a child learns important life and social skills through role playing.
I believe that magic is created between mother and child when they do these type of activities together. Mom gets a quick hands on course of Pretend Play 101 while her child gets to enjoy a change of roles with her favorite person.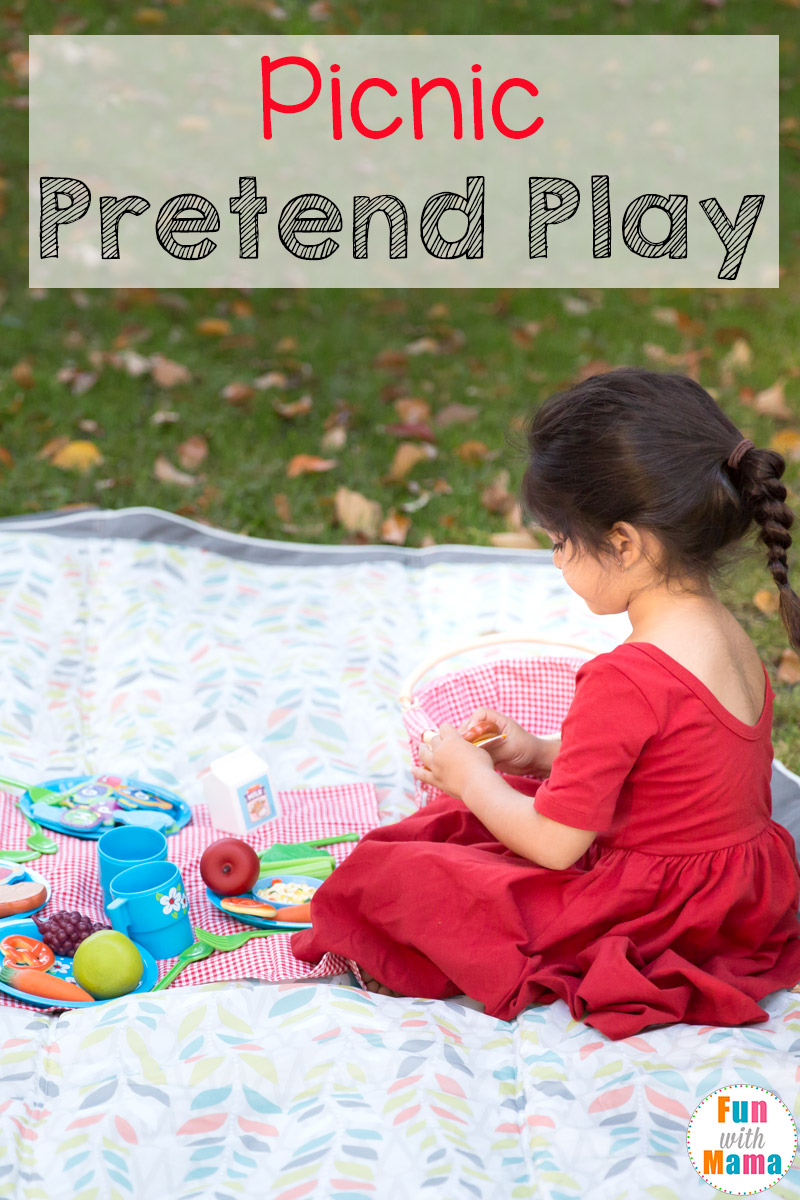 I am a blog ambassador for Lakeshore Learning and am compensated for my work. I received products free of charge, but all thoughts and opinions are 100% mine.
Dramatic play ideas:
Dramatic play and role playing are far more beneficial to a child than watching TV. I try my best to encourage screen free activities at home. By me joining in during the dramatic play activity, my 3 year old daughter was likely to play longer and have more fun.
You will be surprised by how much you learn about your child when you join in on the pretend play time. You will learn what is going on in their minds, how they perceive the world and hey, it doesn't hurt that you will be showered with thousands of hugs, kisses and glimmer filled eyes.
Watch the Facebook Video of our pretend play picnic here.
Imaginative Play Toys:
Please note that affiliate links may be used in this post.
You may have some of these dramatic play toys at home already. I always try to choose toys that I know will be used over a few years (rather than months) and that can appeal to different age groups. I love that Lakeshore makes innovative educational toys that are built by teachers but still loved by kids. Being the natural teaching Mom that I am, these toys appeal to the child in me too.
How to have a Pretend Play Picnic
My 3 year old daughter and I talked about having an outdoor picnic. We discussed which items we would need to bring. We needed a picnic basket filled with plates, cups, spoons and forks. We also needed some food.
This is a great opportunity to teach our child some helpful manners that set the stage for future habits. I wanted her to know that when you have a picnic with friends or family it is really helpful if each person brings a few items. We discussed that she would bring the picnic basket and I would go ahead and bring the food and picnic blanket. Yes, this may sound like common sense to an adult but for a child, this is something new.
She was so happy to take an active role in this picnic and loved being in charge of something.
My daughter changed into one of her favorite dresses while I waited for the weather to warm up a little. We had the most beautiful shower of leaves surrounding us from the wind that morning.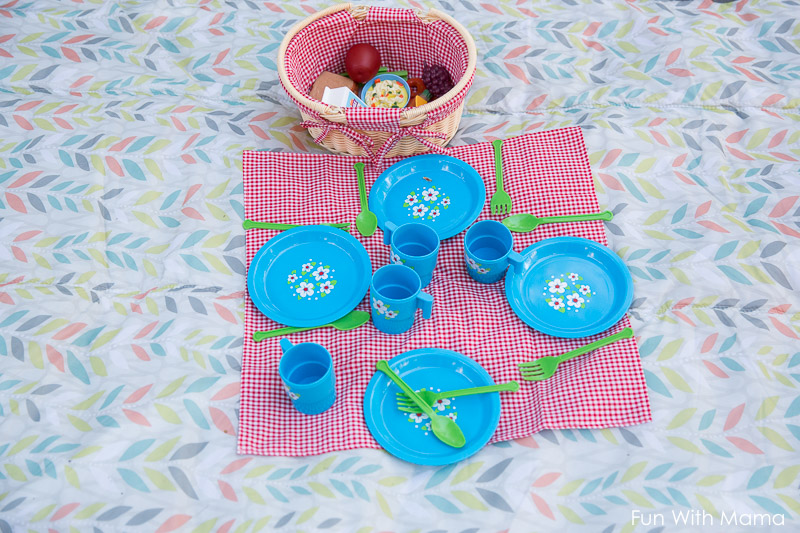 After I set out the blanket she set out the plates and cutlery. (With my help, of course.)
I then let her take charge of the activity. She decided where it went from here.

We naturally worked on good manners.. "May I please have some milk in my tea?" "Sure, with pleasure Mama."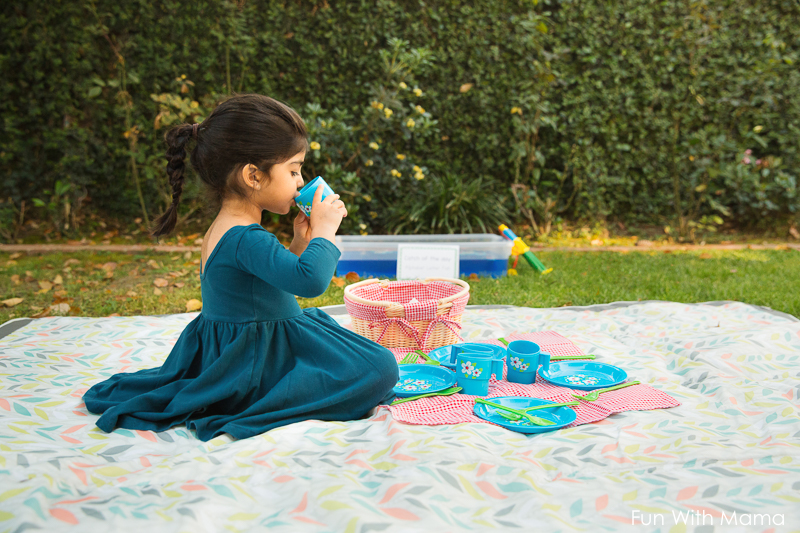 On a side note, this picture above literally makes my heart dance. This is what I want my child to remember from her childhood. This is what I want to remember of her childhood too.
Alphabet Letter Game: Fishing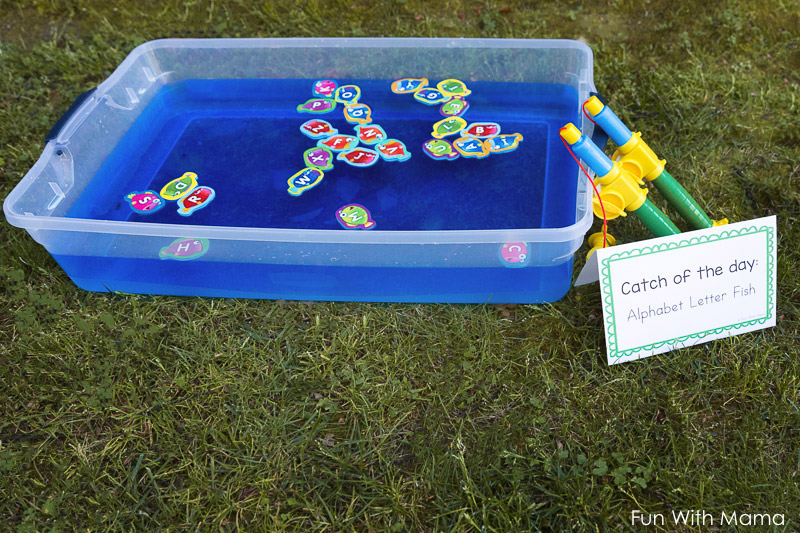 Seriously guys, brilliant Mama moment here. When I saw the alphabet letter fishing game I knew that this would be the perfect addition to our imaginary play picnic. We love working with alphabet toys My daughter was over the moon when she saw this fishing activity right next to our picnic blanket! You can download the catch of the day sign at the bottom of this post.
When she she was done fishing we counted how many fish she caught and what letters they were too. We also discussed the different fish colors. You could extend this activity by having your toddler or preschooler sort the fish by colors.
There are small learning opportunities in everyday moments, use them. Dramatic play for preschoolers is a magical way to enhance learning.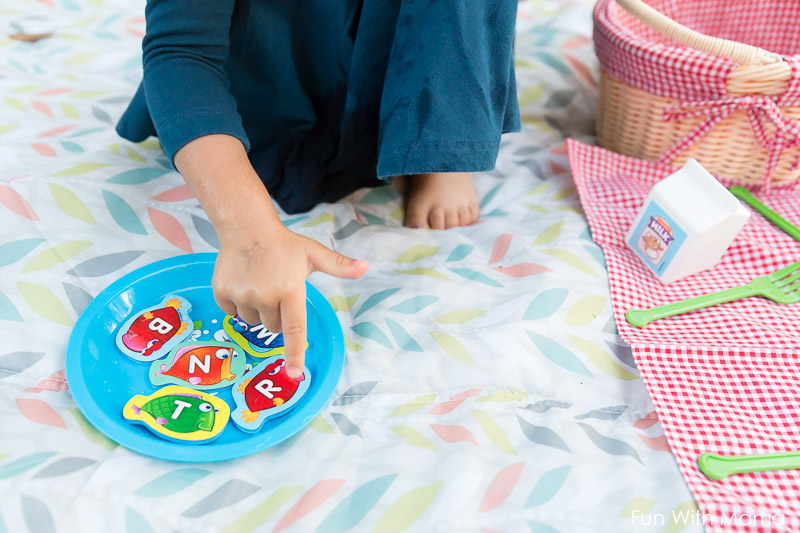 She wanted to jump into the water. We all know how fun swimming in "lakes" are so I didn't stop her. I wanted her to lead and direct the activity according to her own interests.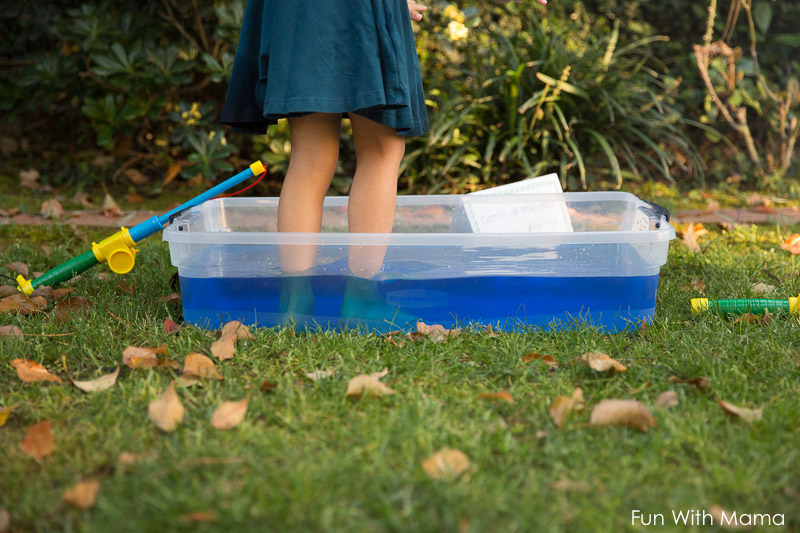 As fun as it is, she hates being in wet clothes. She promptly ran in to the house to change into her other favorite dress.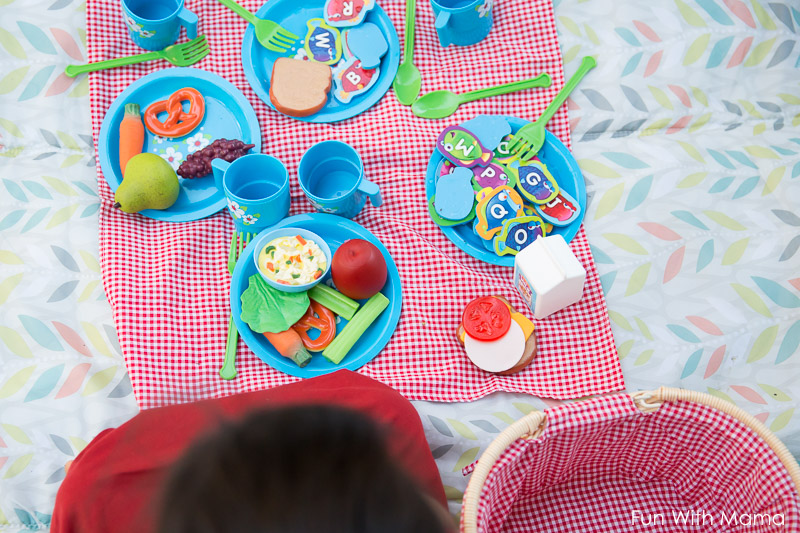 We spent time talking to each other, listening to her little 3 year old stories and cuddled a whole lot while the beautiful chirping sound of birds filled our ears.
This activity was done with my 3 year old but it is also age appropriate for 2 year olds up to 8 year olds.
Food group sorting
Being the naturally teaching Mama that I am… We talked about different food groups. The printable activity also includes clipart food that can be used if you don't have play food.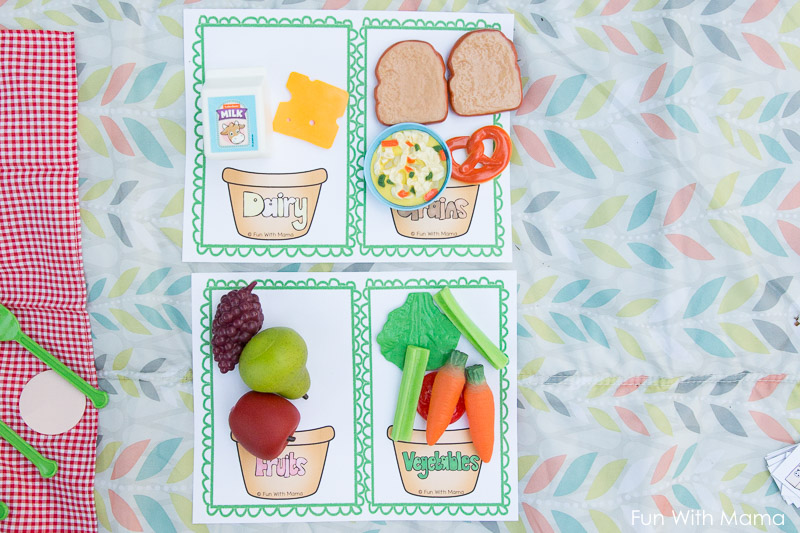 We talked about grains, vegetables, dairy and fruit.
Clean up time
When we were done, it was so easy to put everything back into the picnic basket. The easy storage solution means that we can repeat this pretend play idea again and again.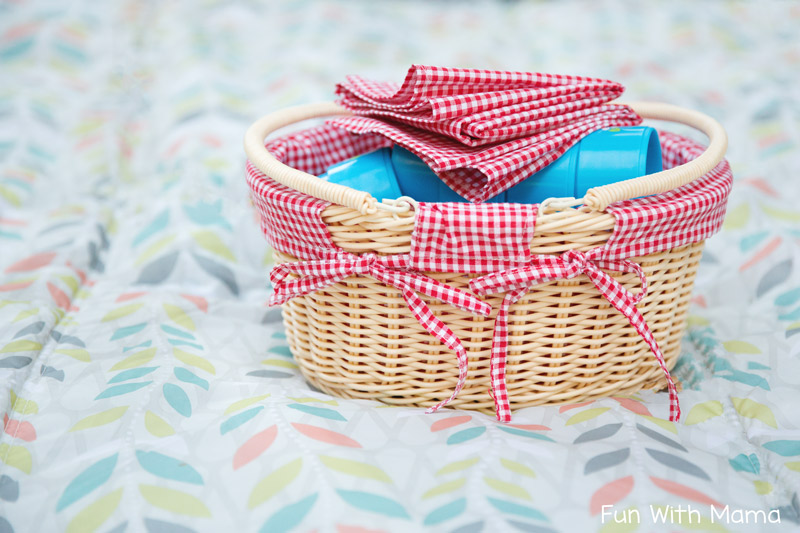 It is reassuring to know I can trust that these toys will last us for years to come. Lakeshore's in house quality assurance team tests and inspects all its products, ensuring they meet rigorous standards above and beyond current safety standards.
More Pretend play ideas for 2 year olds and 3 year olds:
Create a chocolate store.
Play a doctor game by letting your child be the doctor.
Play a grocery store game. (Busy Toddler)
Have a tea party and ask your child to bring the cookies.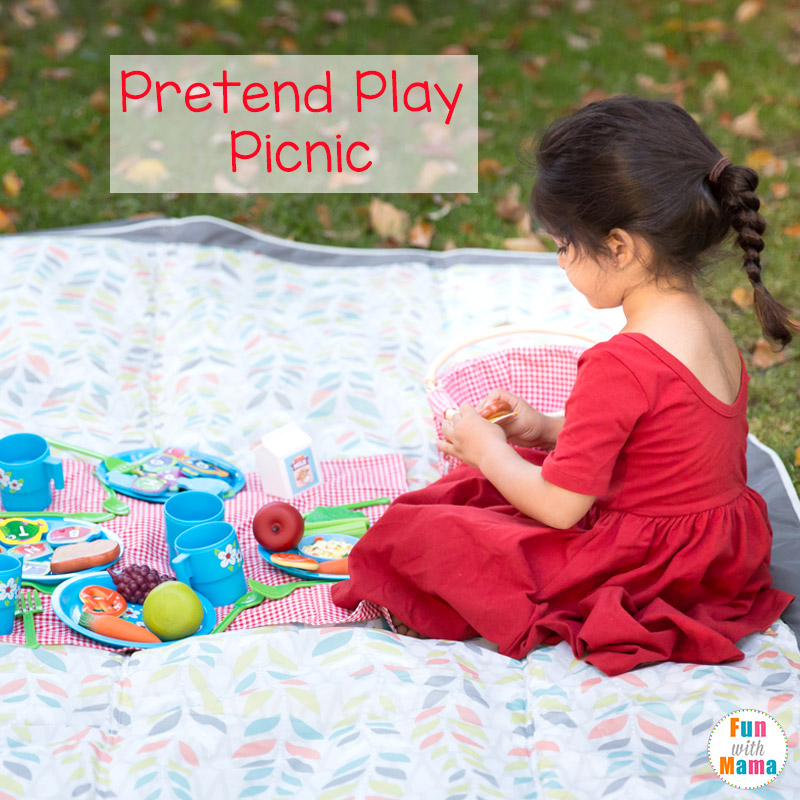 Download the Food Group Sorting and sign below:
Coupon code
Lakeshore Learning has graciously offered the Fun With Mama community a 20% off coupon code for any one single, nonsale item. Click here to redeem that coupon! To learn more about Lakeshore Learning, find them on Facebook, Instagram, Twitter and Pinterest.