As our family grows choosing matching family outfits for family photoshoots, for a family of 6, can become a bit daunting. But, knowing now how quickly children grow up (my oldest is 14!) I know how much value there is in these beautiful family pictures that will provide me with a visual memory that will last even more than a lifetime. My kids will value these pictures forever, just as much as I will too. Today I want to share with you these red and white outfits for family photos that you can re-create too!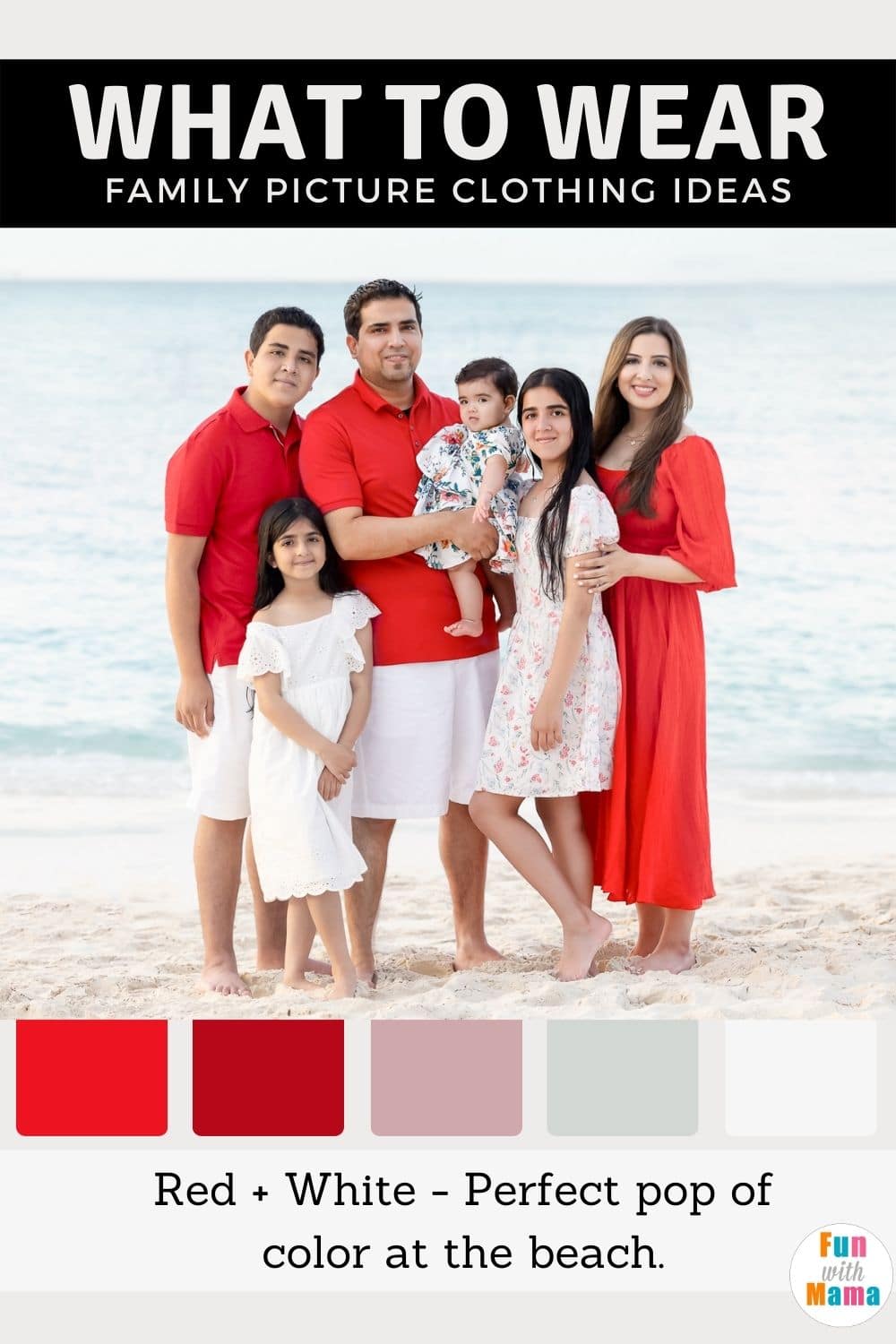 Red and White Family outfits
Each year when we go to Turks and Caicos for our family vacation, I always make sure to prepare for our annual family photos. We've been doing these pictures since 2018 in front of the beach and it's really amazing to see how our family has changed and grown… Each child increases in height, hairstyles changes, and it's just wonderful to see everyone in relation to each other.
If you are looking for more earthy colors for your family photoshoot check out this blog post, Matching Family Outfits for Fall Pictures.
I wanted to go with a color that would pop against the blue of the ocean (with a bit of green). Looking at the color wheel I saw that I needed to find a complementary color of outfits. The best color would be orange since it is directly opposite of blue on the color wheel. However, finding orange outfits proved to be a little hard. The next best thing was to go with red since it was diagonal to the blue-green color.
You can add in some blue pieces to theme this to the 4th of July and have red, white, and blue family outfits too.
For reference on outfits my kid's ages are:
son – 14 years old
daughter – 12 years old
daughter – 8 years old
daughter – 8 months old
I have included options for younger boys to wear, just in case the formulation of your family is different to mine.
Here are the items that each of us are wearing:
My husband and son are wearing the following items:

My girls and I are wearing the following outfits:

My 8-year old's outfit is a dress from Zara that is no longer available. Just type in "white eyelet dress" to find something similar to it.
Adding Jewelry To Family Photos
I popped on a little jewelry to dress it up a little, but since it was for a beach photo I didn't want to incorporate too many other accessories.
I chose to add on jewelry to my family photos because all these pieces will turn into heirlooms for my children. I plan to give my children this jewelry and pass it down. By having these pieces in my family photo's, my children will always have that connection. I love that jewelry is something that can be forever pieces and when I make purchases I keep this in mind. I don't purchase things that can be trendy, but rather opt for classic and timeless pieces.
Here are the jewelry pieces I wore for this photoshoot:
Cartier Love Bracelet
Cartier Juste Un Clou
A little more about the Van Cleef and Arpels Jewelry:
I always purchase my VCA jewelry at the boutique. I have a wonderful Sales Associate and enjoy the sales experience. However, the boutique often doesn't have stock of most of the items. For most of the item's I wore in this picture I waited 3 months for them to be in stock.
When buying used, VCA seems to hold it's price really well so you don't actually get great deals. I'd always suggest purchasing from a store but if you need an item ASAP, are good with finding good deals then you can opt to buy used.
You can find the Onyx earrings used here. You can also find the smaller sweet size used here and here too.
If I was wearing this dress for an evening out, a day at the park, ladies brunch, or a family event I would accessorize it differently. Here are some suggestions:
Dress up with: Amina Muaddi Begum Glass Slipper Shoes, Chanel Classic Flap Handbag in Beige Clair or YSL Wallet on a Chain Handbag.
Dress it down: Dior slides (used here), Valentino Jelly Slides, Hermes Sandals, and Dior book tote (can purchase used here.). (The Dior pieces can give it that red, white and blue effect.)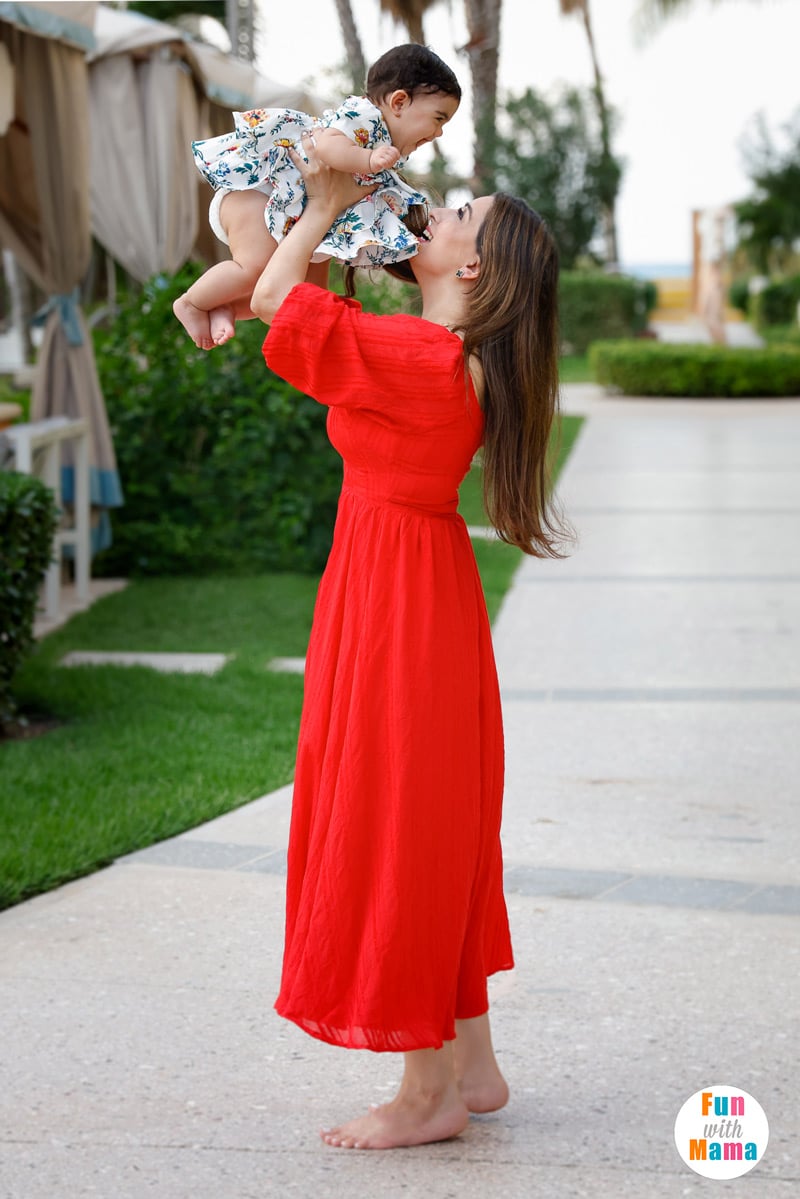 I had on Valentino Jelly Slides, which are perfect for the pools since they can handle water without getting damaged but I had just taken it off before my son took this picture.
Want to take your red outfit to the next level for your family vacation or upcoming party? Then check out my favorite picks to elevate this gorgeous red dress.
I've included more red and white outfit ideas below:

"Mommy, what if I fall?" "Baby, what if you fly?!"