We did a few activities today with empty water bottles. We could have done more if only I had more water bottles!
I let D choose which colors he wanted to use today from my fun food coloring stash. After we filled up some water bottles D added a drop or two of food coloring.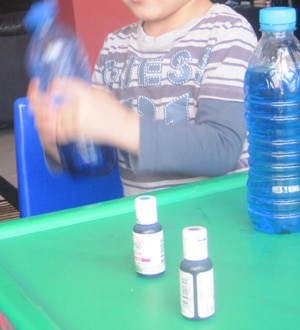 Then we sang, "We're gonna shake shake shake our sillies out, shake shake shake our sillies out, shake shake shake our sillies out. Wiggle all our wobbles away!"
Shake the water bottles to mix the color in.
Deen was very thrilled with how the colors came out.
Then we played a game with our water bottles.
Wow… I totally forgot the name of this game! Its like a game you play at a fair/carnival. I've been saying it all day but while I'm putting up this post the name is missing from my brain!
I used pipe cleaners to make the circles/hoops.
When we were done D decided we should make a toy for A with one of the water bottles.
We took out some water then he added some confetti and glitter into the blue colored water.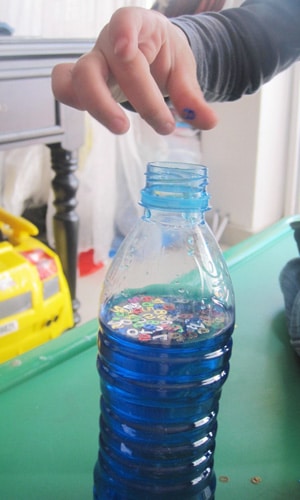 Add tape to the bottle (Prettier than this one, obviously…) so that the kids can't open it up.
And then shake shake shake your sillies out! Wiggle all your wobbles away!
More water bottle ideas:
Use them for empty water bottle bowling! 🙂 Blissfully domestic makes that activity even more colorful and crafty by decorating the water bottles for bowling.
AHC Arts & Crafts has a lot of fun ideas for reusing water bottles for arts and crafts. I have many activities from that page on my crafts to do list!