As a new or expecting parent, you've probably heard of The SNOO, a modern-day marvel that claims to settle and soothe your swaddled baby into a restful sleep at the touch of a button. Is it just hype, or does the SNOO smart sleeper bassinet really help give sleep-deprived parents a little extra sleep time? Read on to hear more about the SNOO bassinet and to see my SNOO review too.
Make sure to check out my Elvie Pump Review as well!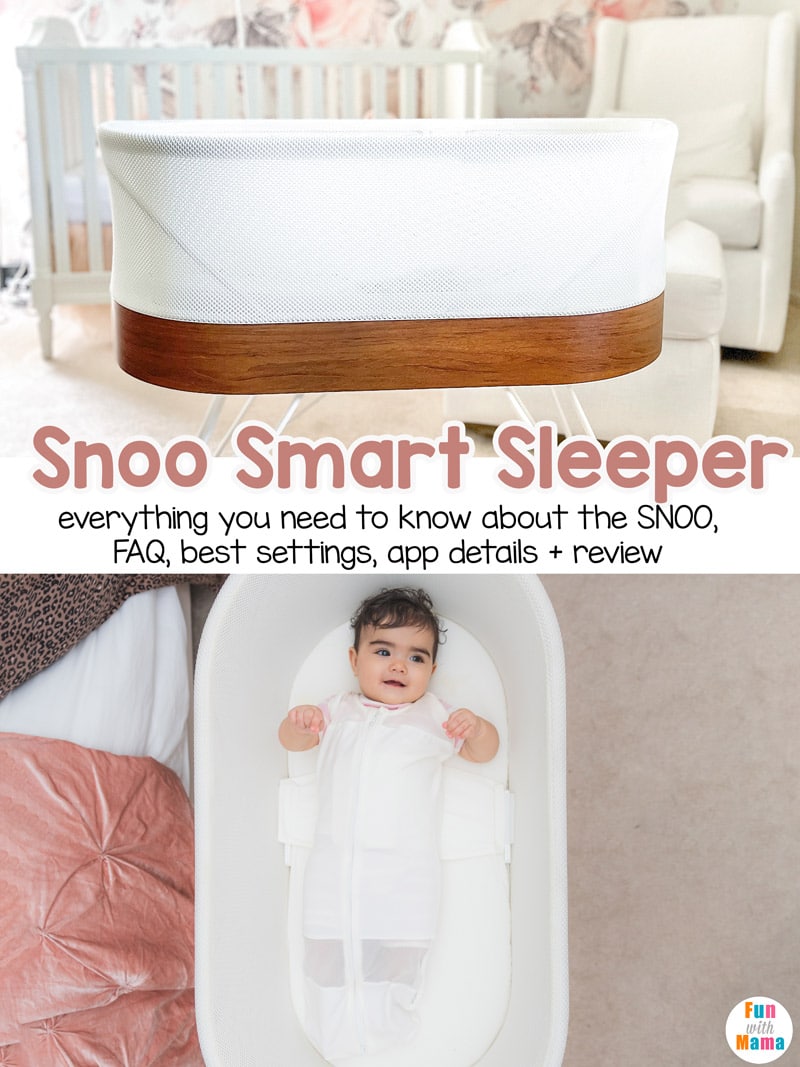 SNOO Smart Sleeper Review
Is the SNOO just a bougie baby product? I'll admit, it is a pretty bougie product. Out of my 4 kids, 3 of them never used a SNOO. There was no such thing as a SNOO when my older three were born but now that I've actually tried the SNOO, I actually really loved it and wished I had it when I had my first baby. Then I could have really made the SNOO worth the price dividing it by it's cost per day used. But before we get into that, let me introduce you to the SNOO, smart sleeper bassinet.
Before we get started, please note that I am not a doctor and none of this is medical advice. If you have any safety or medical questions please ask your child's pediatrician.
What is the SNOO?
The SNOO is a high-tech, responsive, app-controlled bassinet that boldly promises "Safer. Better. Sleep at the touch of a button." Beautifully crafted, impossibly chic, and designed by baby-calming expert, Dr. Harvey Karp, the SNOO smart sleeper comes equipped with sensors to detect sound and movement, built-in speakers that play a variety of soothing white noise, and a motor that mimics gentle rocking and swaying motions to calm your cutie. Just swaddle and slip your baby into the SNOO and let your magical bassinet shush, sway and settle your little bub into blissful sleep In other words, the SNOO is the answer to every exhausted, sleep-deprived parents' prayers!
The 4th Trimester
Dr. Harvey Karp often refers to the fourth trimester. As per Dr. Harvey Karp the fourth trimester refers to a baby's first three months out of the womb. He believes that if given a choice, baby's would love to extend their stay in the womb (I know moms wouldn't love this extension in there), but the warm familiar and calming environment may be preferred to this cold, sometimes distant and independent world.
To make this transition into the world easier for your baby, he suggests creating a more womb-like atmosphere when possible. In the womb a baby encounters a lot of jiggly motion, loud whooshing sounds from mom's blood pulsing through the uterine arteries and a nice tight and snug fit. He labels this the 5 S's. By using the 5 S's, you trigger her calming reflex.
What are the 5 S's for soothing babies?
The 5 S's, according to Dr. Harvey Karp, are supposed to help calm a baby and yes, in my experience, they work!
Swaddle
Side or Stomach Position (However, the back is considered the only safe position for sleeping, to calm a baby you can on her stomach on your shoulder.)
Shush – yes that's why white noise machines work so well!
Swing
Suck
How does the SNOO work?
Just swaddle your baby into their pod aka the SNOO Sack, clip the wings of the sack to the sides of the bassinet to secure it in place & with the push of a button, the SNOO will play soothing white noise while rocking your baby to sleep. The SNOO has an app that you use that allows you to choose the motion levels and sounds. There is also a newborn suggestion so that you can get the right settings for your child.
I generally used baseline level, level 1 and as she got older sometimes level 2. However, the SNOO is not meant to be limited like how I was using it.
Does the SNOO move all night long?
Yes and no. You can choose to let the SNOO move all night long, which generally results in better sleep. If you don't want your baby to be moving all night long you can click on "weaning mode" and the SNOO will only move when your baby is crying. However, the SNOO was designed to move throughout the night and you'll likely gain more benefits by using it that way. I suggest trying it both ways, movement all night long and restricting movement to see what works best for your child.
What if the SNOO moves too fast, in my opinion?
I am sure all parents that purchase the SNOO worry that their baby's head is jiggling too much. Here is Happiest Baby's answer to this question. You will also likely google Shaken Baby Syndrome to double check that you aren't doing the same thing.
The movements of the SNOO were designed with baby's safety in mind. The tiny movements are meant to jiggle a child's head in a small side to side motion(1-2 inches, like a bobble head) whereas, Shaken Baby Syndrome is a violent motion that shakes baby roughly 1-2 feet in a back and forth motion. Happiest Baby feels that the SNOO can help prevent Shaken Baby Syndrome because parents and caregivers are less frustrated when using a SNOO. It allows them to place the baby down somewhere safe and likely gives parents more sleep.
However, if you are still worried about the motion you can set the SNOO to "motion limiter" in the settings. I had mine set at "motion limiter" for the first few months.
Tell me about the tech! The SNOO app.
The SNOO app allows you to control your smart sleeper directly through your smartphone. Just open the app, push the button, and let SNOO's super smart tech take over. The app allows you to adjust sensitivity settings – the higher sensitivity settings, the lower the activation threshold to get the SNOO started on soothing and swaying an upset baby. It also logs sleep patterns (how many hours your baby slept and the number of times sleep was disrupted) to track progress and paint an accurate picture of how well your baby is resting. It also gives you options to select the ideal motion and sound levels for your baby from gentle newborn mode to easy weaning.
I LOVE that the SNOO app shows me what my baby's sleep was like:
I can look back to her sleep at 1 month, 2 months, last week, whenever!
Does the SNOO really do the job?
Yes! Once your baby's tucked in, the SNOO's integrated motion sensors, microphones, motors, and speakers are activated to sway and soothe your baby to sleep and continue to work through the night. Even better, if your baby fusses, stirs, or cries during the night, the SNOO detects changes in movement and sound and automatically adjusts the intensity of the motion and sound until your bub has calmed down and fallen back asleep.
Is the SNOO worth the price?
At $1595.00, the SNOO smart sleeper costs a pretty penny, but, in my opinion, it's a worthwhile investment especially when you consider the alternatives aka extreme exhaustion. Buy the Snoo here.
Still not convinced? Want to try before you buy? The SNOO comes with a 30-day risk-free guarantee, which means you can try the SNOO and if you don't love it, simply send it right back. You can purchase the SNOO at any time and have them deliver it closer to your due date to make the most of their 30-day risk-free guarantee.
If this is your first child, I recommend purchasing the SNOO so you can use it with each of your children. If it's your last-child, maybe consider renting.
You could also purchase your SNOO and likely sell your used SNOO when you're done with it for close to the price you paid for it. This works out even cheaper than renting it.
Snoo Bassinet Rental
Renting a Snoo is also easy. It is available through a rental plan too. Rent the snoo here
What's included in this baby SNOO bassinet?
The SNOO is incredibly easy to assemble and set up and comes with all the accessories you'll need to get started on your baby's (and your own) smooth-sleeping journey.
That includes the SNOO smart sleeper, 3 organic cotton SNOO sacks (size S, M, L), an organic cotton sheet, a mattress, a water-resistant cover for the mattress, and unlimited access to SNOO sleep consultants 7 days a week. Additional add-ons, including extra sacks and sheets, are available for purchase separately.
What if my baby has reflux?
You can purchase Snoo Leg Lifters from the Happiest Baby website.
Is the SNOO safe?
They don't call it the "safest baby bed ever made," for nothing. According to doctors, the safest position for a baby to sleep in is on their back and that's exactly why the "wings" on the SNOO sack make so much sense. Once your swaddled baby is secured to the sides of the SNOO, they're unable to roll over, significantly reducing the risk of SIDS. Plus, the sides of the bassinet are lined with a breathable mesh and the design of the swaddle sack promotes a healthy hip position, creating a safe, incredibly comfortable environment that promotes your baby's best sleep.
The Snoo Smart Sleeper bassinet is the most awarded baby product in history. It was recently accepted into the FDA's Breakthrough Device's program and it is currently undergoing review as the first device to prevent the leading causes of SIDS (sudden infant death syndrome.)
Thus far, out of tens of thousands of babies who have logged over 50 million hours in the SNOO, there have been no reported deaths.


What if my baby skips feeds?
This is a great question to ask your doctor. If your child has regained their birth weight and your doctor gives you the go ahead to not have to wake baby for feeds then you can let your baby determine when they are hungry. The SNOO will not stop a hungry baby from crying. When your child cries, the SNOO will turn on different levels and likely turn off when it realizes that your child is hungry.
Is there anything the SNOO can't do?
The SNOO should do most of the heavy lifting, cycling through its varying levels of sound and motion to soothe your baby, but if it can't get the job done within a couple of minutes it will shut off and send you an alert. And let's remember, there's no stand-in for diaper changes, feeding, or the warmth and comfort of human coos and cuddles every little human needs.
How long can the SNOO be used?
I think this is the only caveat. It is a short-lived baby product that is likely used from 0-6 or 0-7 months. But it really helps during that time when newborn sleep really isn't the greatest and creates a safer sleeping environment for baby.
I've heard the Snoo Sleep Sacks are amazing is that true?
Yes they are! You also don't need to have a Snoo to be able to use their Sleepea swaddles!
Based on my own experience, as well as the experience of many others in parenting Facebook groups, newborns don't often seem to love the SNOO…, especially when compared to mommy's arms. However, around the first month little ones begin to really enjoy their quiet place, like a spa treatment, with the white noise in the background as they are soothed by the rocking movement of the SNOO.
SNOO Grad
If you follow @happiestbaby on Instagram, you'll be amazed at all the sweet SNOO Grad's we see. At 7 months, my little one is a SNOO Grad too. We moved her out of the SNOO because she was getting annoyed by not being able to sleep on her stomach. This was causing her to wake up more often. I hate that she's a stomach sleeper but this is generally the age when children outgrow their SNOO. I wish they had a SNOO for older children too.
To SNOO or not to SNOO…Answer the question!
The main question to my Snoo review is…. is it worth it? In my opinion, absolutely! It's safe, it's sleek, it makes swaddling a seamless endeavor, it soothes your baby, and, most of all, it allows both you and your baby to slip into the best sleep possible. Yes, the price is steep, but ask any exhausted new parent and they'll confirm that a good night's sleep is absolutely priceless.
But more than having better sleep, the safety features are what sold me and what makes the SNOO Smart sleeper completely worth it for me. One thing that I really loved about the SNOO, especially as my daughter got older and was able to roll around was that the SNOO sleep sack clips prevented my daughter from rolling onto her stomach while I was asleep, so she couldn't get stuck into an unsafe position. This for me made the SNOO 100% worth the money.
I also think the SNOO bassinet is absolutely beautiful!
How do I get the best deal on the SNOO?
Sometimes Happiest Baby runs a short and quick sale. This generally happens on Black Friday. I've written more about the Snoo Sales- Snoo Baby Bassinet All You Need To Know here.
You can purchase at that time and then have them deliver your bassinet closer to your due date.
More baby product reviews: