Have you ever heard of water beads for kids? They are fun sensory gel balls that expand in water and make for the best sensory bin! In this post, you will find out more about this fun unusual sensory material, learn how you can create a sensory bin with them, and see some fun ways to use water beads.
Water Beads For Kids
Please note that affiliate links are used in this post. That means that if you make a purchase using one of my links this site will earn a commission at no extra cost to you.
Disclaimer! Water beads are dangerous if swallowed. Adult supervision is required for this activity. If your child is still putting items in their mouth, skip this one or use one of the edible water bead recipes at the bottom of the post.
My kids love playing with sensory bins so I try my best to create new sensory bins each month for them to play with. This gives me some downtime while it gives them exploration time.
What are water beads?
Water beads are small, colorless plastic balls that absorb water and can be used in flower arranging. They are known as Orbeez when sold by the toy company Hasbro.
They feel a bit slimy and gooey and make for a wonderful sensory activity for children.
Please note that while water beads are non toxic, they are harmful if swallowed. Don't do this activity without close supervision (as always) and if your child is still putting things in their mouth. Consumer Reports recommends children be 5+ to use them as they are dangerous if swallowed.
What are water beads made of?
Water beads are made of acrylic acid, sodium hydroxide, and water.
Where do you buy water beads?
I usually buy water beads on Amazon.
Here are some of my favorite waterbeads:
[lasso type="list" category="water-beads" link_id="24310″]
How to make water beads
As you may have seen on my Instagram stories , it is so easy to make the water beads grow. After purchasing your water beads, add your desired amount into a container or bin.
If you are using a large container you will need more water beads. I used 1/4-1/2 cup of dry beads.
If you are using a small container 1-2 tablespoons should be sufficient.
Add water. Add about 2 cups if you used 2 tablespoons of water beads or if you are using more than that top the water beads with water. You can always add more water after they start to grow.
It will take about 8-10 hours for the water beads to grow to their full size. I usually put water on the beads at night and when I wake up in the morning they are ready to go for the kids.
These are the actual beads I used in this bin and I am really happy with the quality. I also have these fun giant ones too.
Water Bead Sensory Bin Tools
[lasso type="gallery" category="sensory-bin" link_id="24311″]
I then looked around my home for different tools to add inside, we have so many tools because I"m always coming. up with new sensory table ideas at home. You will be surprised by how many fun sensory tools you will find at home.
I used this plastic bin with these fine motor tools. These tools are so versatile and end up in almost all of my sensory tubs. I also love these colanders and use them often.
I knew my daughter would want to do a lot of scooping, pouring, etc so with that in mind, I added plastic Easter eggs that I had at home and some plastic shovels.
Water beads are great for sensory play. They are truly a lot of fun to play with.
My kid's ages 4, 9, and 11 all enjoyed the sensory bin and they played with water beads each day while it was out. I covered it using the lid and it still looked great five days later. Picking up those little water beads works on their fine motor skills too.
They have a very unique feeling.
The water beads bin would also be great for when you are working on a color theme unit.
When you are done with the water beads you can lay them to dry on a towel until they return to their original size.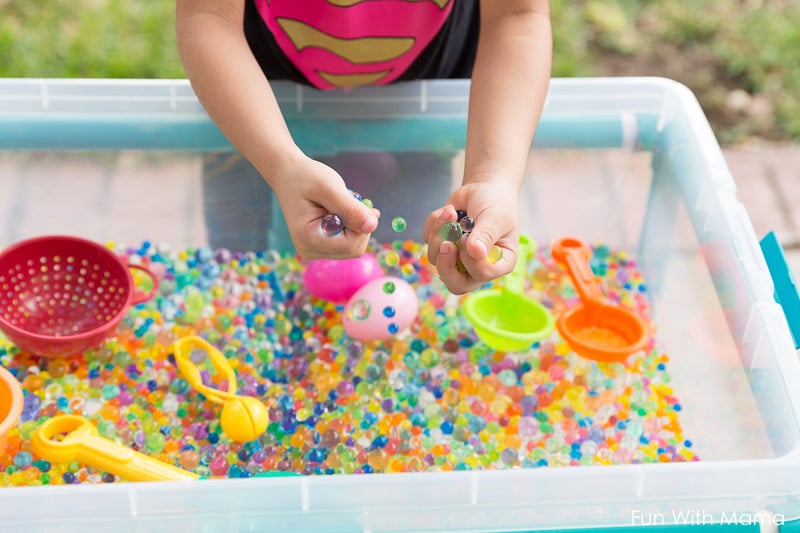 What can water beads be used for?
Sensory Bins
Floral Arrangements
Stress Balls
Water Beads activities
A common question I get is:
"Are water beads safe for toddlers?"
"Are water beads safe for babies?"
And unfortunately, as I mentioned above, No. They are not safe for toddlers and babies because if they are ingested, they are dangerous.
How to store water beads
How to store water beads?
Store in a closed container.
How long do water beads last?
They last for months, but honestly, I only keep them for a few days. They can attract dirt and mold.
For some edible waterbeads check out the following posts. The water gems in the post below are taste-safe: