Water beads for kids are dangerous. They actually were not made for children and somehow they became a common sensory bin item. I have thrown away all of my water beads. Read this post to learn more.
ALERT: Waterbeads are dangerous! Do not use them as toys, do not keep them in your home if you have children or if you have children ever visiting your home. It's not worth taking a chance.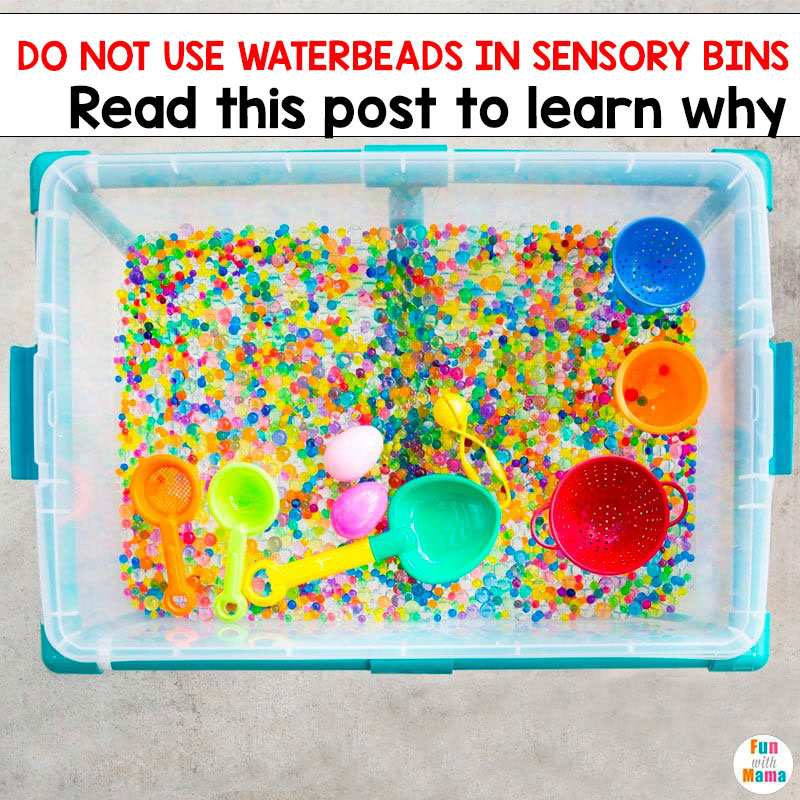 Over the past few years, water beads were a common sensory bin item. I know this because I've used them when my kids were ages 7+ after seeing them on many Instagram account sensory bin suggestions.
I remember spending time on Google because after using them, they just seemed like something that could potentially be dangerous.
I couldn't find anything on Google suggesting that they were toxic unless many of them were swallowed at once.
But as more and more people began to use water beads over the past few years, the dangers of the water beads were revealed and I am appalled.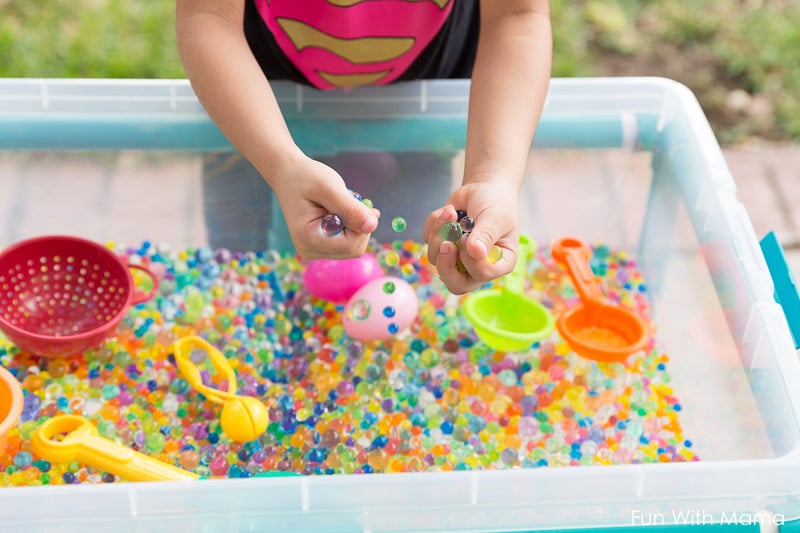 A mom on TikTok shared how her 9-month-old daughter had swallowed a single water bead (which she wasn't aware of) and has now undergone 5 surgeries to help with the damage that it has done to this child. Kennedy swallowed a single water bead and it swelled inside her intestine, causing damage to her organs.
Ashley Haugen, a mom of 2, faced a similar situation when her daughter, age six, was injured after swallowing a water bead in 2017. Her daughter was left with permanent damage by a brain injury called toxic brain encephalopathy.

Yes, you could potentially use them with older children who do not put things in their mouths, but in my opinion, is the fun of it really worth taking a chance?
If there is a baby around you… or in your outer family who may visit your home, it's just not worth taking a chance that a single water bead could end up in any child's mouth.
When water beads are dry they are SO SO tiny.
I have thrown away ALL of our water beads.
You will also find water beads (also known as Orbeez) in some stress balls. We don't buy those anymore either.
What are water beads?
Water beads are small, colorless plastic balls that absorb water and can be used in flower arranging. They are known as Orbeez when sold by the toy company Hasbro.
They feel a bit slimy and gooey.
Waterbeads are are harmful if swallowed.
What are water beads made of?
Water beads are made of acrylic acid, sodium hydroxide, and water.
Learn more about the dangers of Water Beads here.
Other dangerous items for kids
Magnets
Small round batteries
Trampolines