Using Read Build Write Sight Word Mats and vocabulary cards are my absolute favorite way to have kids practice their spelling and sight words. I will be constantly adding new themed words to this page so make sure to always check back! These fun learning mats are great for students during word work and literacy centers.

Read Build Write Mats
My kids learn better through hands on learning. Sight words can be difficult for some children to learn (1 out of 2 kids for me) and hands on practice is the best way to get kids to notice each and every letter. We also use this at home to work on spelling words for the week. This has really made a big difference in our spelling test grades at school.
You may have heard of Say it, Build it, Write it Mats or Read it, build it, write it. They are all the same thing just different terms.
How to use the Read Build Write Activity Mats

Read it! First, the child needs to read the vocabulary word.
Build it! Second, the child needs to build the vocabulary word using alphabet letter tiles, alphabet magnets, or use your DIY alphabet box. I include some recommendations below.
Write it! Lastly, the child needs to write it. (Some of my free themed vocabulary sets have tracing cards for each word. My sets for sale always have tracing cards.)
If you want to read more about what Read Build Write Activity Mats are and why you should use them then check out my previous post here: What are Read Build Write Mats?
Read Build Write Mats Basic Set and Letter Tiles
You can find the basic mats with letter tiles in this section:
WHERE TO GET THE ACTIVITY
GET THE READ BUILD WRITE MATS HERE
These Read Build Write Mats and editable vocabulary cards are a great way for students to learn high frequency sight words through hands-on learning. Students begin by reading the word then building it with alphabet letter tiles or alphabet letter magnets. Then the child writes the word.
Pre-primer and Primer Sight Word Detectives
GET THE PRE-PRIMER SIGHT WORD DETECTIVES HERE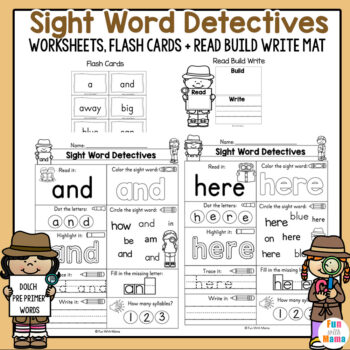 Looking for a fun way for you students to read, build and write sight words? This set of Pre Primer worksheets, flashcards and wordlists will have your students engaged during literacy centers and eager to learn more.
GET THE PRIMER SIGHT WORD DETECTIVES HERE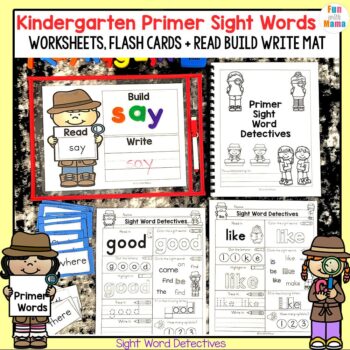 Get in some sight word practice with these simple sight word worksheets. Students will put on their detective hats as they inspect the sight words and build better awareness and recognition for them.
Themed Vocabulary Words Mats
Winter Themed Unit – This unit comes with snow themed mats, winter vocabulary word cards, tracing cards and coloring cards.
Valentine's Themed Unit – Coming Soon.
Future Themed Mats and Vocabulary Words
I am taking special requests for Vocabulary Words. You can e-mail me your requests at funwithmama@gmail.com
My Favorite Tools for Read Build Write Mats