Create your watercolor art kit with the best beginner watercolor supplies that will grow with you. Watercolor painting is a great art medium for children. It allows them to get creative, painting is also calming, and they will love exploring art techniques.
These art supplies will help bring their creative vision to life. Supplies and materials do make a difference to the art process and to your final painting.
Please note that affiliate links may be used in this post. That means that if you make a purchase, at no extra cost to you, this site will earn a small commission.
Watercolor For Kids
In this post, I will share with you how to create a watercolor painting kit for kids that includes the best watercolor paints, a water color paint palette, and the best watercolor brushes.
The worst thing for a child (or anyone for that matter) is to work hard on an art project and then your paper suddenly rips or your paint brush is not painting the way you envision. I'm going to show you the best watercolor painting supplies
While this post is geared towards kids, many of the tips and suggestions here are great for adults and all beginners of watercolors too. These are quality materials that will grow with you through your watercolor journey.
Art is a form of therapy. A Harvard research study shows that creative activities such as drawing and painting help to relieve and manage stres
Favorite watercolor paint for kids
Watercolor paint comes in two forms. There is a dry pan form (like dry watercolor cakes) and there are also liquid watercolors.
Pan Watercolors
The best watercolor for beginners are pan watercolors. They are easy to find, they are available at many local craft stores and are relatively cheap.
Pan watercolors are dry and you need to add water to them by dipping your paintbrush into water and then tapping on the dry watercolor pan.
I personally prefer using an artist-quality pan watercolor palette when watercolor painting for kids because of the convenience, I leave them in our art cart at all times and they seem to be more mess-free than their liquid counterparts.
My personal favorites pan watercolors is this one and this one.
I like that you can purchase individual refills if your children are more prone to using one or two of the colors more than the others.
I also think these are great.
Liquid Watercolors
Liquid watercolors have vibrant and beautiful colors, but tend to stain clothing a bit more so you have to be more careful (which is harder for younger children.)
Liquid watercolors are good watercolor paints for many activities including salt painting and general painting too. They blend beautifully and are great for painting large areas.
We use these liquid watercolors. A little goes a long way and they are great to have on hand at home.
I recommend using them with older kids. They are absolutely wonderful to use and provide a gorgeous pigment, but require you to be more careful.
How to use liquid watercolors
To use liquid watercolors you would place the liquid in a container or paint palette and dilute it with a little water. If you add too much water, the color will dilute too much. Liquid watercolors are great to use for larger surfaces.
Best Liquid Watercolors
If you are a teen or adult and want student grade paints, get this set. If you want artist grade paints then check out this set.
How to make watercolors at home
You can create your own liquid watercolors by mixing drops of food color with water. I do this with many activities. The pre-mixed liquid watercolors are more vibrant than the DIY watercolors, but sometimes when you need a quick activity it is easy to whip up.
If you don't have watercolors or food coloring. Try making watercolors using markers. Place a marker into a little bit of water without its cap. The color from the marker will flow into the water and become a liquid watercolor. We did this when we did this easy art activity painting.
Best watercolor brushes for kids
I think having the right paintbrush really makes a difference when using watercolors. If you have a flimsy paintbrush it tends to leave little brush hairs on your painting and having the right brush size is important. If you use too big of a brush you can't do smaller details and have fun with brush strokes.
The best paintbrushes for watercolor activities is my personal favorite set of watercolor paintbrushes for kids. We all love that #10 round brush! My favorite brush set includes small round brushes.
There are a few different types of water color brushes. They have different shapes, different densities and come in different sizes. Also, consider whether you want synthetic brushes or if you want them to have natural hair.
Best Watercolor Brushes
Besides water brushes, you can also try using brush pens,, which are less messy than using a cup of water. However, you get better results with a separate brush and water.
Kids Watercolor Paper
Here are some things to consider when purchasing watercolor paper for your watercolor artists:
Weight + Texture
The weight of watercolor paper is measured in reams, basically as 500 sheets of paper. 90 lbs means 500 sheets of this paper weight 90 pounds. 90-pound watercolor paper is good for sketching and brush lettering.
Sheets generally come in a weight of 90 lbs and 140 lbs.
The heavier it is, the more expensive it normally is.
For kids and adults 140 lbs is good, however, we also do use 90 lbs too.
Size of paper
I generally buy 9 x 12 and some 12 x 18 watercolor paper. My preference is the 9 x 12, since I find it easier to display in my kids art frames.
Type of paper
There is cold-pressed paper and hot-pressed paper. We normally use cold-pressed paper.
How many sheets are included
Some watercolor paper sets have amazing reviews, and then you look at how many sheets are included and you see very few. If you are using the watercolor paper with kids and the package only includes 12 sheets total, that means your cost per use is high. Your children will also likely use 3 pages each time they do art. You need to balance who will be using the paper with the cost.
This is the kid's watercolor paper we use. I love that the package includes 100 sheets because when the kids start painting they never seem to want to stop. .The gold standard for adults is this brand.
Loose sheets or pads
Both have their place. I generally purchase loose sheets because it is often myself and 2 daughters doing the watercolor activities together. If it was just for one person I'd use the pads.
Best watercolor paper
The reason you use watercolor paper is because the paper is thicker. This helps prevent the paper from warping and tearing. Watercolor paper also dries faster.
I also love this coloring book paper that already comes with pictures and designs that are perfect for watercolor painting for kids.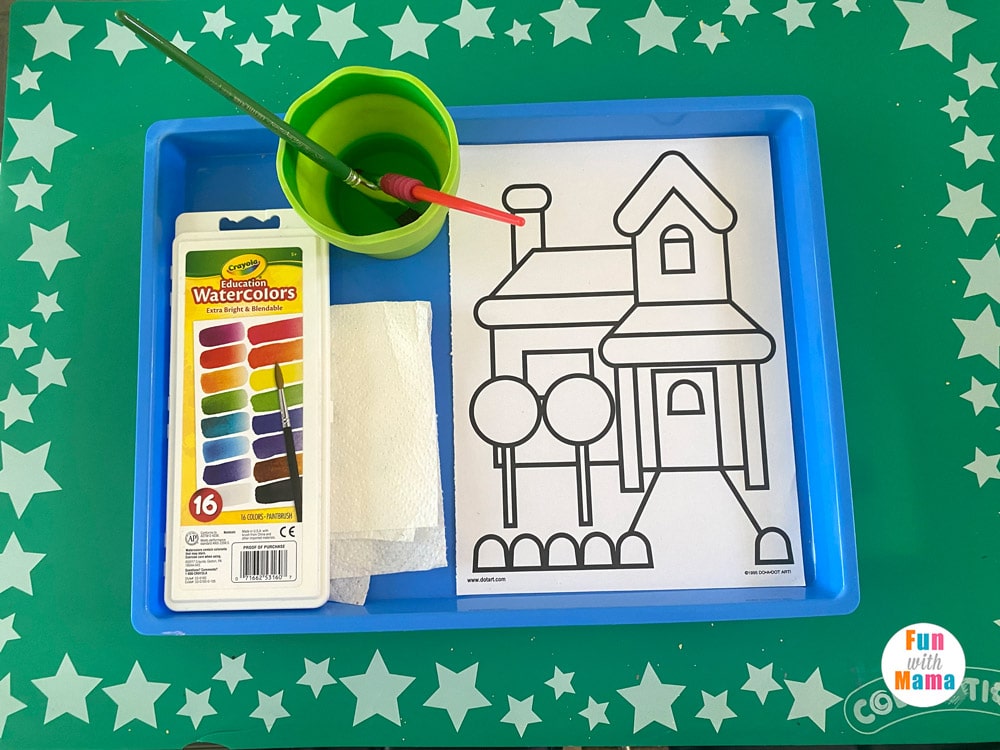 Here are some coloring books I recommend using with watercolor paints. Besides kids, beginners may want to start here with getting acquainted to painting with watercolors.
Paint Palette
Having a paint palette is really helpful for mixing colors and for choosing a color palette for your art project.
Extra Accessories
I like to prevent mess as best as I can and I think it's really important (especially when doing art with kids) to prepare your art space and art activity with the end and process in mind. You don't want to have a huge clean up situation afterwards, nor do you want to have to get up a hundred times to gather materials you may have forgotten. Set up your space so that you have everything you need for the project before you get started.
It's a good idea to have paper towels around so you can wipe off your brush whenever you need to.
Masking tape is also helpful for holding your paper down when working with watercolors. You can either put the masking tape at the back of your piece of paper to stick it to the table, or you can create a frame around your paper.
How to display your kids art projects
I have this art frame in my house and I LOVE it. We interchange our pictures all the time and it's so easy. I also love that it holds old pictures too. We have it in the white frame.
I also think it's really important to have a good table for art creation. This is by far my favorite table because it fits at least 2 children! We like to do art together, so I often join the kids too.
Best kids table and chairs