Play dough has so many benefits to a young child that it is important to let toddlers and kids play with it often. I was on the lookout for apple activities for preschoolers when I came up with this fun activity idea. Playing with playdoh encourages the improvement of preschool fine motor skills which is a precursor for writing and pencil grip later on. The kids will love this apple counting activity!
These apple counting play dough mats activity is great for counting skills. It is a great early preschool math activity and a wonderful toddler activity to not only work on early math skills, but also get those little fingers moving.
These are great worksheets and printables for the classroom, or for kindergarten and pre-k learners. Using an apple theme makes apple math that much more fun!

Apple Counting Play Dough Mats
These printable worksheets are great for early learners and kindergartners to count the correct number of apples. Adding the play dough is a perk!
We've used this apple math activity with all of our kids, and it's one of my favorite free printable worksheet options for the fall.
They'll love counting the correct apples using these math apple worksheets. If you can make some simple no cook apple playdough to pair with these cute apple playdough mats, this would be fun for small groups or fun apple crafts preschool learning.
When it comes to printable apple math, you can't go wrong with this. There is minimal prep work that has to be done with the pack, and it's as simple as downloading the FREE apple PDF file. ( I also think that the graphics are super cute with the bundle, too!)
Use these free apple printables as a way to create an apple printable book that they can use with playdough, markers, and more.
I love this great activity and freebie because it's one that you can use over and over again. (be sure to scroll to the bottom of the post for even more fun ideas from the blog!)
Favorite Fun With Mama Printable Activity Supplies that pair well with this activity:
Books and items that pair well with these apple preschool activity mats:
Video of the activity in use
We love using play dough mats because sometimes kids like doing activities with some direction. This gives them an inner feeling of accomplishment. Little do they know that they are working on preschool fine motor skills.
Preparing the Materials:
We almost always have a batch of our homemade playdough on hand at home. I try to let my daughter play with playdough (on a tray) as often as she would like.
She has fun and I am happy to know that she is strengthening her little hands. Little does she know that she is working on those pre-writing skills.
To start, print out the Apple Tree Play dough mats onto cardstock (or normal computer paper), cut and laminate them. If you will be using this activity only once then you don't need to laminate them.
We seem to take these out every year during September so I like to have a laminated copy.
The Activity
First, your toddler or preschooler has to practice rolling play dough balls. For younger kids this can present a bit of a challenge but guide them through it…

Show them how you do it first. Then, let them try. If they don't understand how to do it then have them open their hands and show them how you move their palms around in order to create the ball. This will require practice but eventually they will figure it out.
If not, they can pinch small pieces to make it look like apples. My daughter tried many different variations.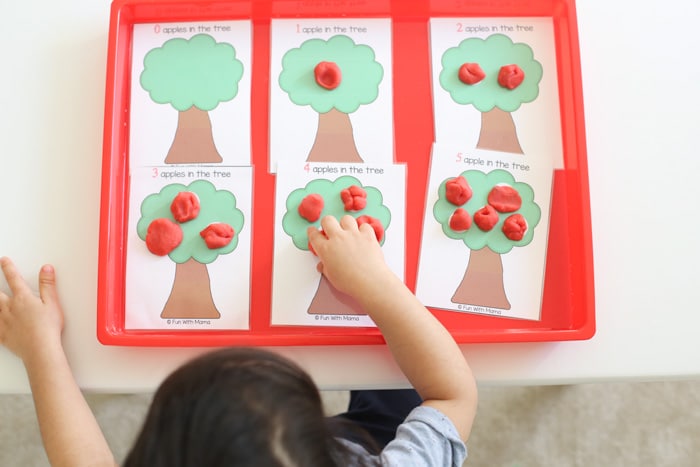 The next part is where the early preschool math kicks in. Your child will need to count how many white spaces are on each tree. She can then place the corresponding number of "apple's" on the tree.
This part of the activity also works on your child's visual perception. She needs to place the apples within the white spot.
Activity Variations
This doesn't have to only be a playdoh activity. Instead of play dough try using:
– Pom poms
– Spikey balls
– Gems
– Do a dot markers
or anything else that would fit within that space.
We have also tried this activity as a fingerprint activity using stamps you have at home. My daughter LOVED that.
Get the activity mats
Download The Printable Activity Here
If you do this activity please tag me in a picture on Instagram @funwithmama and hashtag #funwithmama to share with our community.
Are you looking for more fine motor skills activities like this one? Check out these other printable activities: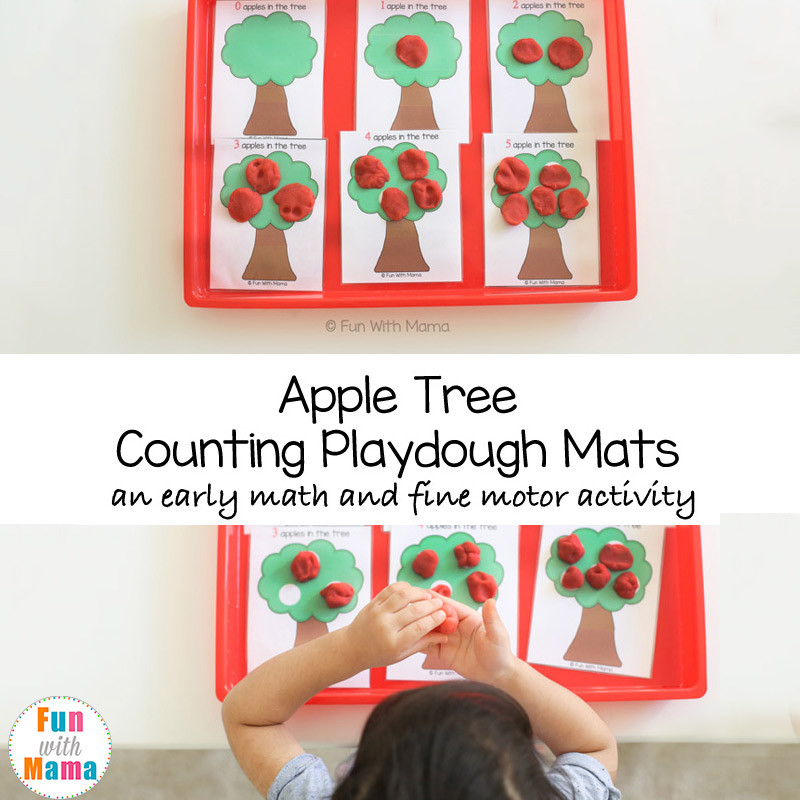 Apple Tree Activity for Toddlers