Do you want to introduce your baby or toddler to painting but are hesitant because of the mess associated with painting? Or how about your older kids who love to paint but want to try something different. This kids mess free painting activity is not only mess free, it is also a wonderful twist on painting and can provide a different type of fun! This is a great introduction to painting for toddlers and you wont have any hands to clean!
Mess Free Kids Painting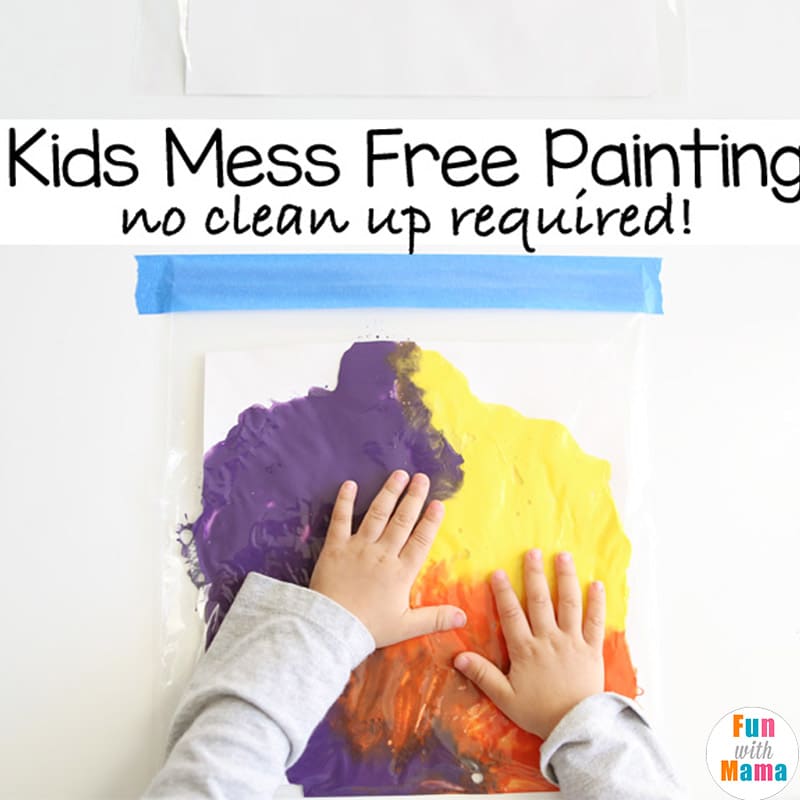 Materials Required
This post contains affiliate links.
– Cardstock
– A Ziplock Gallon Bag
– Tempera Paints (I use larger sizes than this because we paint often. If you would like product recommendations for bigger paint sets please send me an e-mail.)
– Masking Tape (This is not required but it gives me peace of mind and I'd rather be safe than sorry.)
The Kids Mess Free Painting Activity
If you came from my Instagram account you will know how surprised I was by the simplicity and fun this activity provided for my daughter. I loved that my daughter could do this independently while I had my 15 minute tea time. If you know me, you know that this is my unwinding time that fuels me for the rest of the day. If you need those 15 minutes to relax, cook or check your e-mails then this is the perfect activity for you.
I hope you don't think this one is just for babies and toddlers though! My older kids (9 and 6 year olds) were thrilled with this and enjoyed color mixing.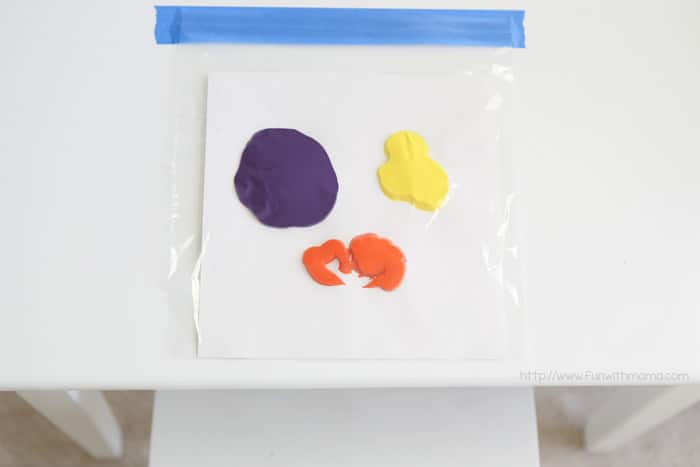 Squirt a few colors of paint on to a piece of cardstock then place this in your ziplock bag. I taped it down to my daughters table and had this ready to go. This is simple to set up in the morning before your child wakes up or after a nap too.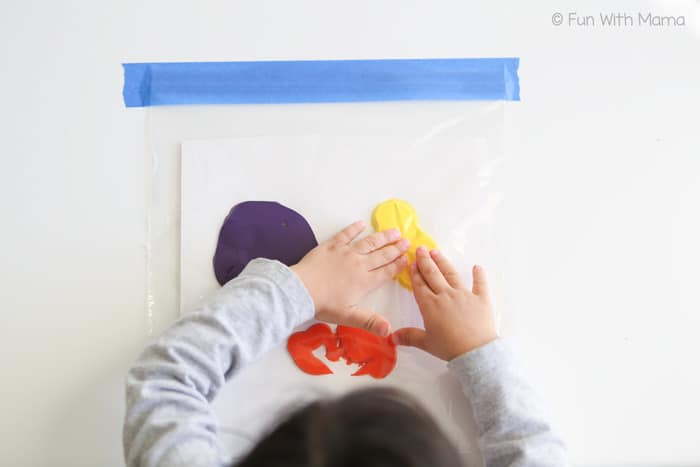 Show your child what she can do with it… show her how you spread it… move it around…
Then I let her play with it herself and explore it. She loved making circles and finger prints as you can see on my Instagram Video.
The closest thing to a kids mess free painting activity that I had found up till this point was our Do-a-dot Markers, which my kids (ages 2-9) use atleast 2-3 times a week. We love to use them with my printable do-a-dot activity pages.
Kids Mess Free Painting #preschool #kids #toddler http://bit.ly/2gWLiGT
Variation:
– If you have a baby and you want to work on some tummy time lay your baby down on her stomach with the activity near her face.
– For a toddler activity: Use a sharpie marker and draw shapes on the white paper. As your child spreads the paint she will be able to find the shapes.
– For a first grade activity or elementary aged child you can help your child learn sight words by writing sight words with the sharpie and have your child say them out loud when they find them.
Post a picture of your child doing this activity then tag me @funwithmama and use the hashtag #funwithmama to be feature on my Instagram account and/or blog too!