This delightful cloud dough solar system moon and space sensory bin is so much of sensory fun! You can find a simple cloud dough recipe below that you can make with your kids or for your sensory table. My toddler, six and nine year old equally loved the sensory play they had through exploring this fun sensory bin. We made some cloud dough and threw in some astronauts and space themed figurines. We love creating sensory bins and they often prove to provide more fun than normal store bought toys.

Cloud Dough
My children love sensory activities. If you are looking for fun sensory activities for toddlers or preschoolers then try out this simple cloud dough recipe.
Solar System Space Sensory Bin Materials Required:
Please note that affiliate links are used in this post.
– Space or Moon themed figurines
– Baby Oil
– Flour
– Storage Box
– Oil Free Food Coloring or powder paint (I used neither.)

Cloud Dough Recipe
Instead of making our moon sand recipe I wanted to try something different.This time we made cloud dough and it was really simple! We also preferred it to the moon sand by far.
Cloud Dough Recipe:
8 cups flour
1 cup baby oil
Then mix it together. I chose not to color mine because I preferred white for the Moon. Once it is mixed together you have cloud dough!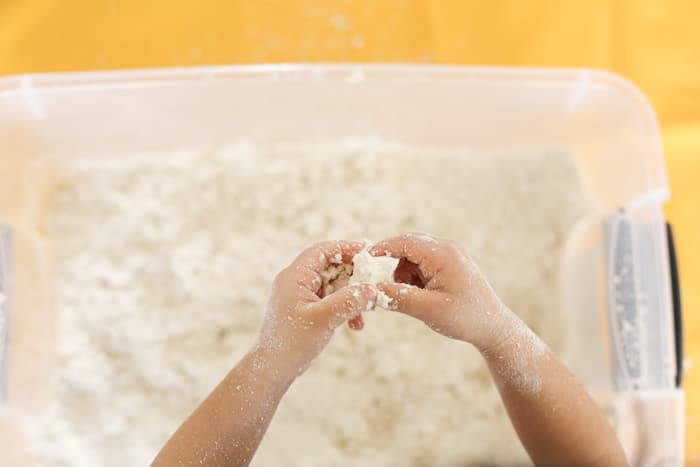 I had my two year old toddler break up all the clumps while we were mixing… She really enjoyed this part. Cloud dough is really such a wonderful texture to play with. You can squeeze it to make it hard… but then it also disintegrates.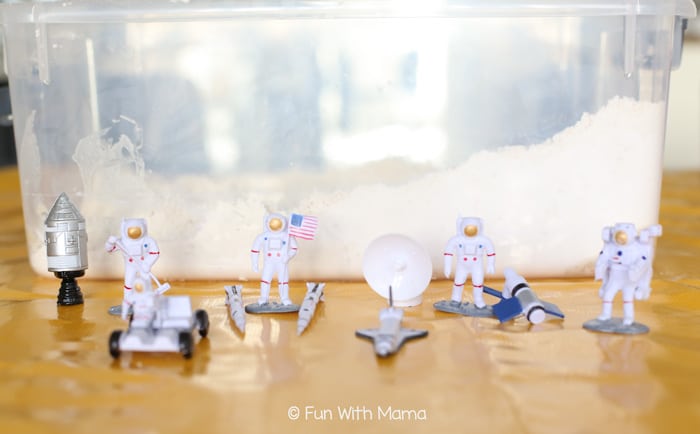 Then I added in our space themed figurines, which we purchased at the planetarium a few years ago.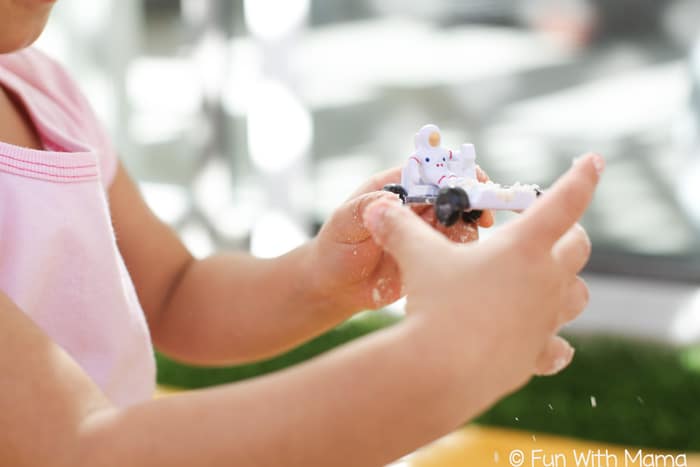 Space Sensory Bin #sensorybin #kids #kidsactivities http://bit.ly/2giEinZ
She then set out to explore this sensory bin. She couldn't get enough of the cloud dough. I think the addition of the toys took it to another level! She played with it for days and days.
I can't deny that it was messy. It was VERY messy. But we used it outside and we discussed a lot about space. She had many questions about astronauts and space. I posted many things that we talked about (and how I answered) on my Instagram page.

To contain the mess try to use a vinyl table piece of fabric or table cloth. Also, I would prefer to look at this as an outdoor activity.
This sensory bin would definitely be a wonderful addition to your space or moon themed preschool unit.
Don't forget to grab the Solar System Printable Pack