Learn how to make kinetic sand with this simple DIY kinetic sand recipe. It is a favorite sensory recipe for kids and only requires 3 ingredients.
Keep reading to find out how to make your very own homemade play sand for sensory play! Don't forget to check out our recipe on how to make Easy Confetti Moon Dough, too!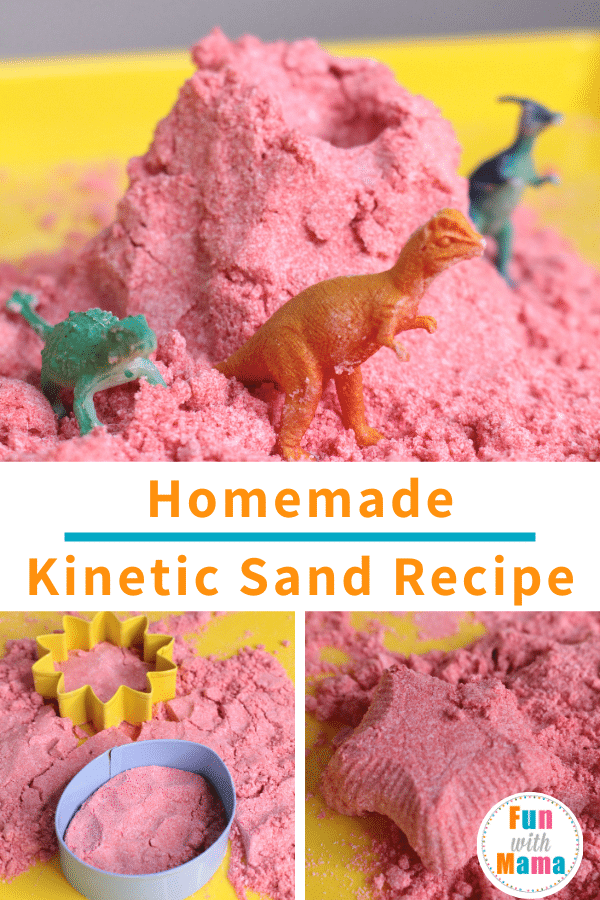 Kinetic Sand
This unique play sand provides a base for some sensory activities for kids and will encourage children to explore textures and the beginning of science for little ones. Kids will love squishing and molding the sand to transform it into something that is imaginative and creative!
Please note that affiliate links may be used in this post. That means that if you make a purchase, at no extra cost to you, this site will earn a small commission.
Jump to Recipe
What is kinetic sand?
Kinetic sand is a unique sensory material that was created in 2007 by Canadian company, Play Sand. Inc. It is not actually sand, but finely milled polystyrene granules that stick to each other and won't fall apart. You can mold it into balls and shapes.
It has an unusual texture (like Oobleck and these water beads for kids) in that it's not like regular play sand and it's not like mud. It is moldable sand.
This play sand recipe makes a wonderful sensory activity for kids of all ages, from toddlers to upper elementary kids! (and even adults can join in on the fun!) It's constantly in rotation on our sensory table and we often put it on a play tray for some quiet time too..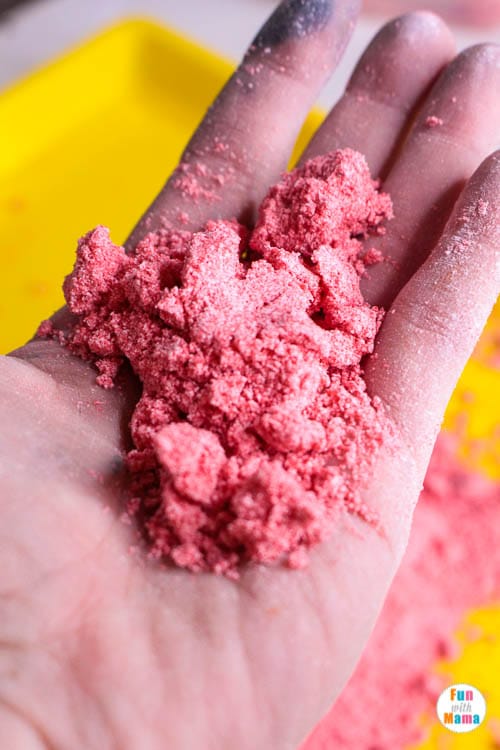 How to make Kinetic Sand
Follow this tutorial to find out how to make your own kinetic sand at home. You'll be surprised at how easy it is!
You can use this sand in place of the pricey one found in stores, and we found that we like the texture of this sand much better than the store-bought version!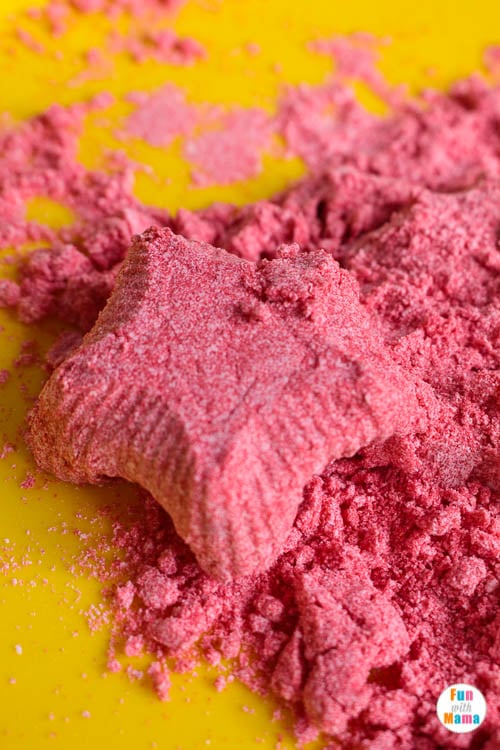 What you will need to make the Kinetic Sand
These ingredients are required:
flour
oil
craft sand (you can also use fine playground sand, which is my preference.)
It would be good to have:
Play tray
Small toys (we used dinosaurs)
Assorted cookie cutters
Try this Easy Kinetic Sand Recipe
1 cup play sand
2/3 cup flour
1/4 cup oil
Here is how to make your first batch of Kinetic Sand. Please note that it is like your basic slime recipe, in that you need to look at your mixture, observe what it looks like, and mix things in slowly. You can adjust the ingredients according to the consistency you are seeing while you are mixing it together.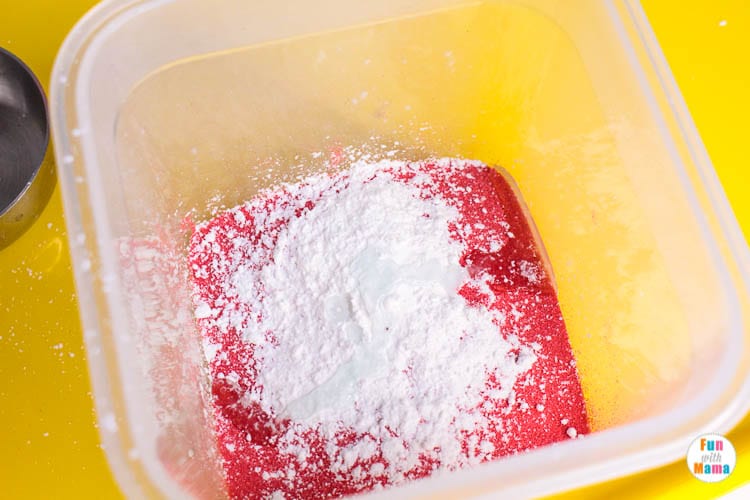 Add the flour to the sand and mix it together. Make sure to mix it well. You can substitute flour for cornstarch if you don't have flour.
You may need to adjust these amounts based on how much water you put in and the humidity of your area.
Add your 1/4 cup of oil mixing as you go, until moldable paste forms.
Once the homemade kinetic sand is moldable to your liking, give it to your child to play with.
Homemade play sand is so much fun to play with!
They can form shapes, use cookie cutters, play with small plastic toys, and build fun structures using sand molds!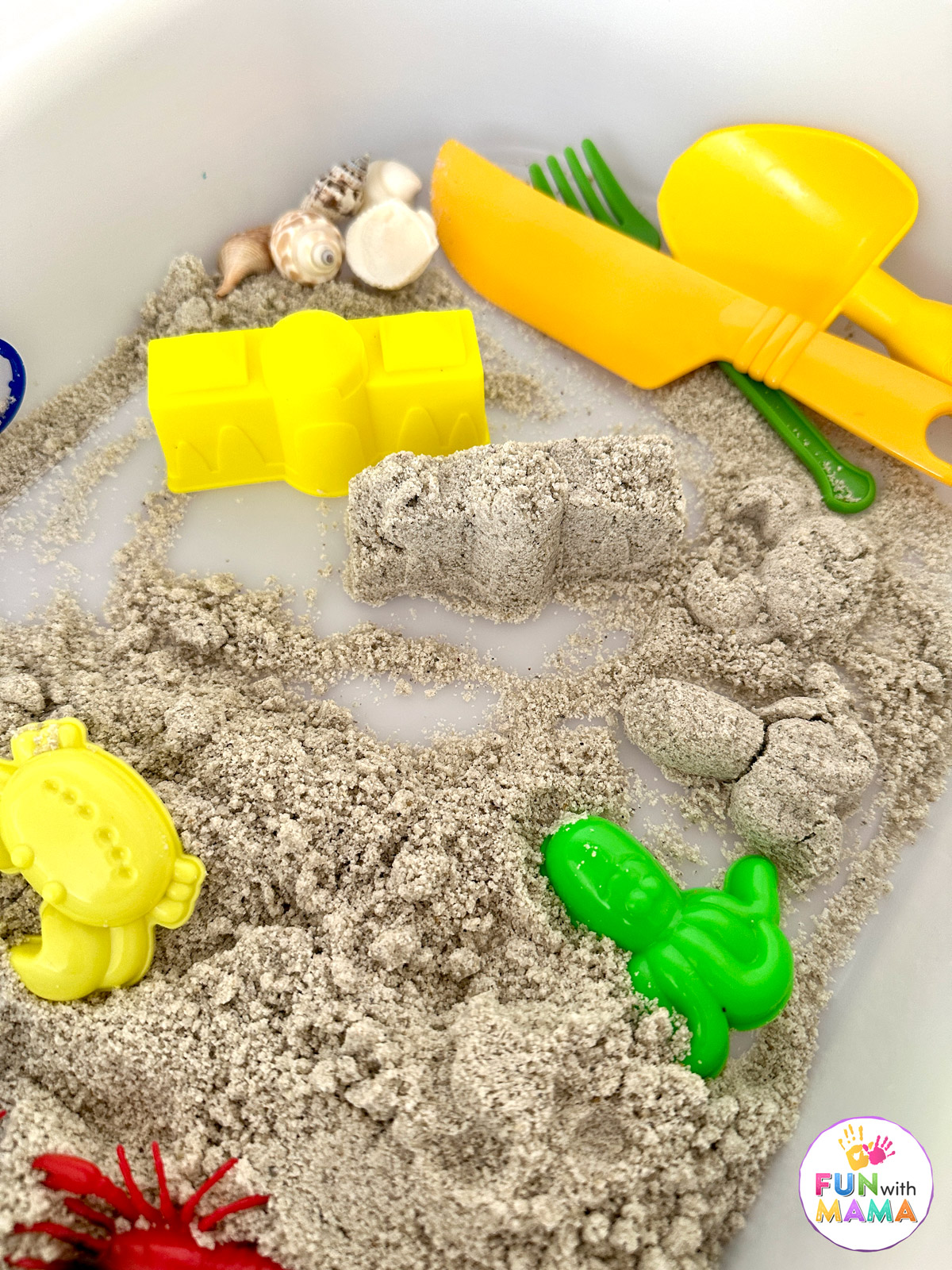 Helpful tip: You can add a few drops of tea tree oil for its antibacterial properties to prevent mold and bacteria from forming on the sand. Tea Tree Oil has antibacterial qualities.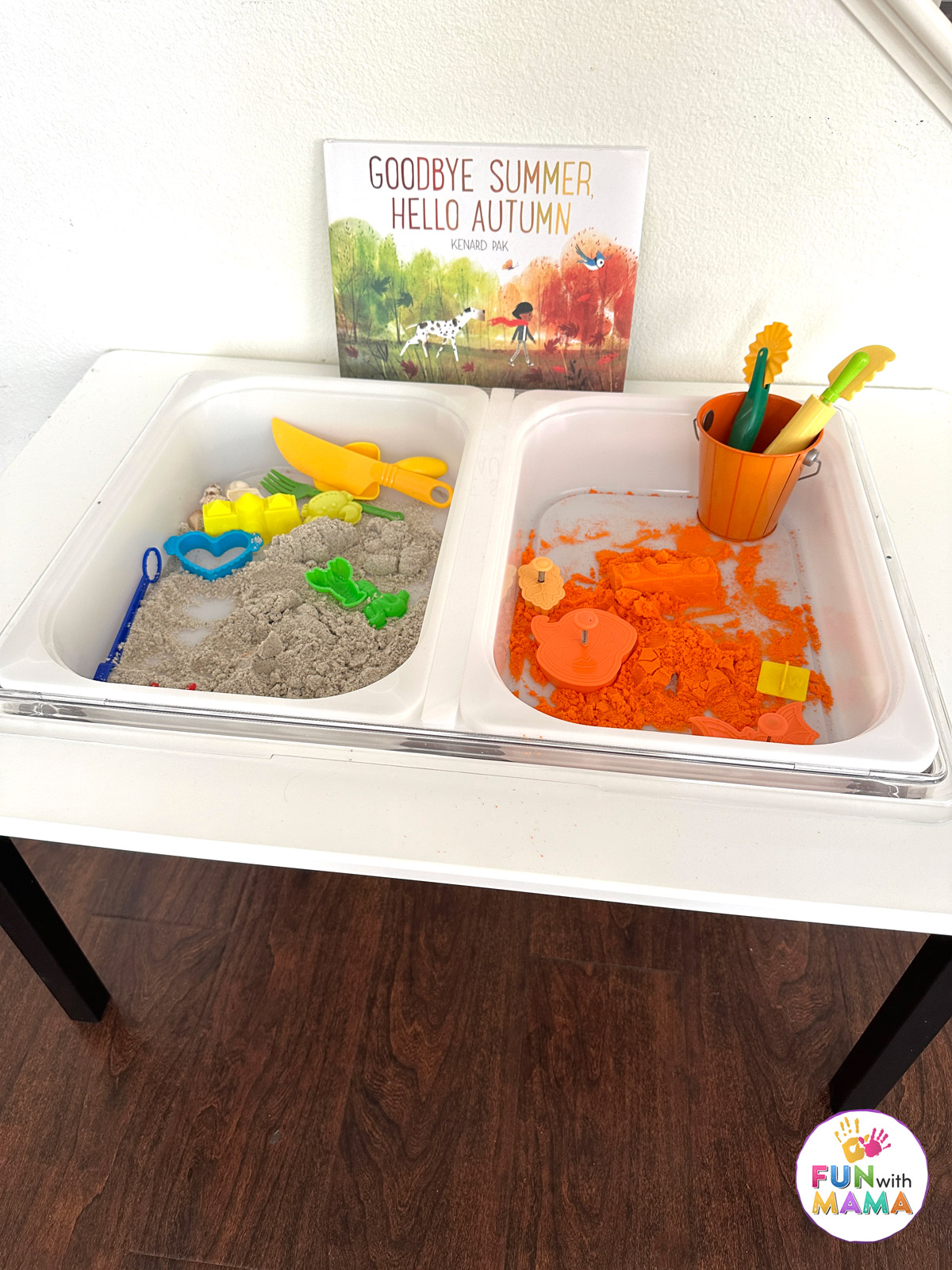 Alternate recipe to try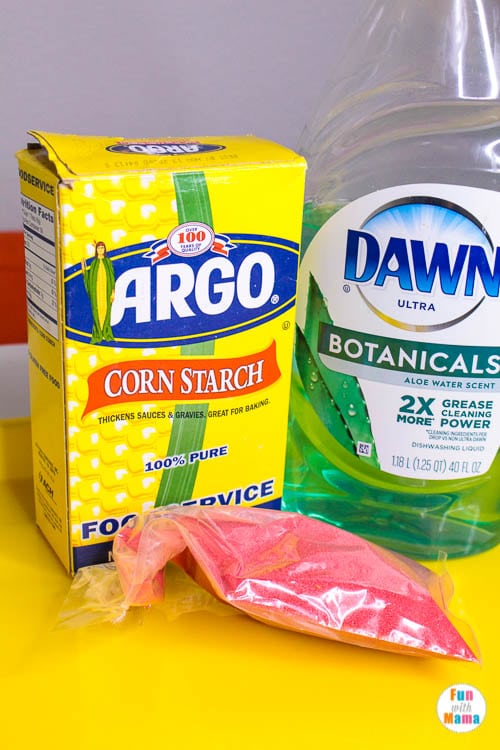 After trying the above recipe of DIY Kinetic Sand, try this recipe and see which one you prefer.
Mix 1 cup of play sand with 2 TBSP of corn starch and 2 tsp of dish soap.
Then slowly add in a 1/2 cup of school glue. Mix it up. It's kind of like a sand slime.
Add your cups, cookie cutters, construction trucks, etc.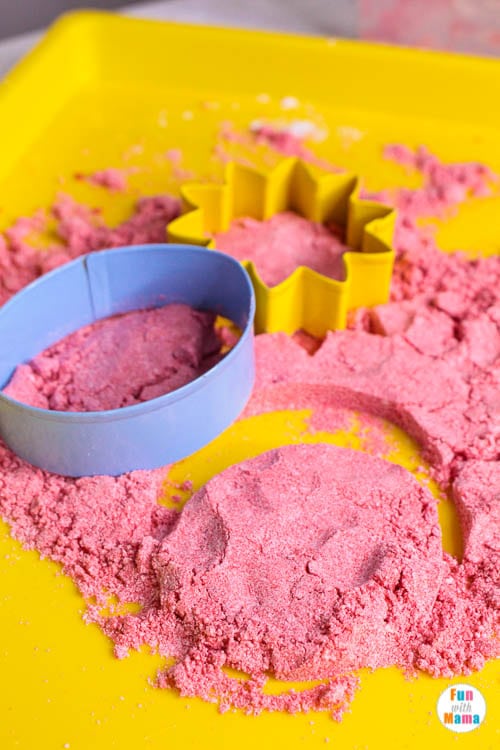 Don't forget to check out our recipe on how to make Easy Confetti Moon Dough, too!
What is the best way to store Kinetic Sand?
To store the sand, place the sand in an airtight little container. If you leave it out, it will start to dry out.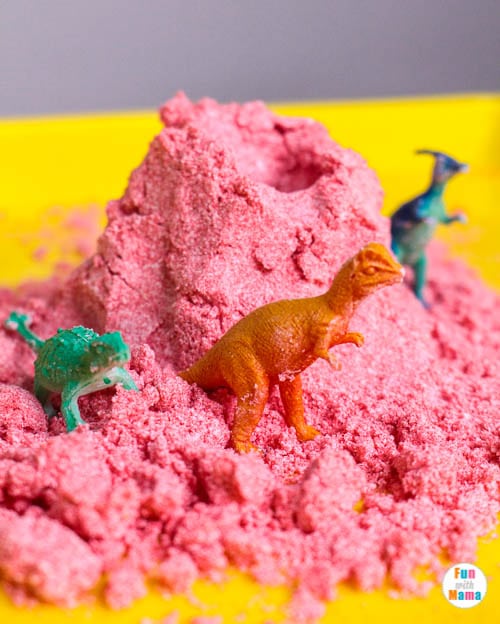 If the sand starts to dry out, add a few sprinkles of water to get it moist again. Since there are no chemicals in this version of kinetic sand, the sand will eventually dry out as kids play with it. Just adding a bit more water will get things working properly again!
Kinetic Sand Activities
Is Kinetic Sand toxic?
While it is not poisonous, it can pose a choking hazard if swallowed.
What is Kinetic Sand made of?
It is made of 98% ultra-fine grain sand and 2% dimethicone (polydimethylsiloxane.)
More Sensory Activities for Kids:
This post was originally published on October 9, 2020. It was updated on January 11, 2022.
Print the recipe to make your own kinetic sand at home
DIY Kinetic Sand
Kinetic Sand is a great base for sensory activities. Children will love molding it into balls and shapes.
Ingredients
1

cup

fine craft sand (or play sand)

2 /3

cup

flour

1/4

cup

oil
Instructions
Mix the dry ingredients together (flour and sand)

Mix together with your hands until it's moldable