These elapsed time worksheets are designed for kids along every step, whether they are just working on hours passing or all of it. Work with digital style clocks, analog style clocks, or word problems with this set. Once your child has learned to tell time, learning how to tell how much time has elapsed is the next step! It's a big step though as it involves an understanding of hours and minutes, addition, subtraction, and the 12-hour system.
This Time Elapsed worksheet set is perfect for kids who need practice with time!
Elapsed Time Worksheets
There is a big difference between telling what time it currently is and being able to work out how much time has passed or will pass. This is made much more difficult by our 60 minute hour and our 12-hour system. The time worksheets are math worksheets for children that work on very handy and necessary skills vital to your child's day.
So practicing these concepts is important for kids!
Materials Needed:
Nothing! These are no prep worksheets. Just print and go whenever you need them.
Time Elapsed
I struggled with teaching my kids analog clocks for awhile because it seemed fairly useless. They're becoming less and less common.
I finally realized that the analog clock is probably the easiest way to teach them! These clocks actually show the passing of time instead of just numbers. Time is a fairly abstract concept to begin with so any way to make it easier should be used!
There are 5 different pages of Elapsed Time worksheets with varying degrees of difficulty.
Time elapsed within the hour
Time elapsed in minutes
Time elapsed in hours
Time elapsed in minutes and hours
Find time elapsed from start time, end time, or how much time has passed
Elapsed Time Worksheets with Digital Clocks
Knowing how to add and subtract time on digital clocks is an important skill as well. Many people only have digital clocks.
We chose to master analog clocks before moving on to digital clocks. But some kids might find it easier the other way around.
There are four worksheets for the digital clocks:
Elapsed time worksheets within the hour
Elapsed time in minutes
Time elapsed in hours
Time elapsed in minutes and hours
Time Elapsed Word Problems
Sometimes word problems can help clear up math problems for kids.
Some kinds find word problems more difficult but it is important to know how to apply these skills to the real world.
There are 6 elapsed time word problems. Three of them ask how much time has passed and three ask for the finishing time.
The word problems are all done with hours and minutes.
Where to get the elapsed time worksheets
GET THE ELAPSED TIME WORKSHEETs HERE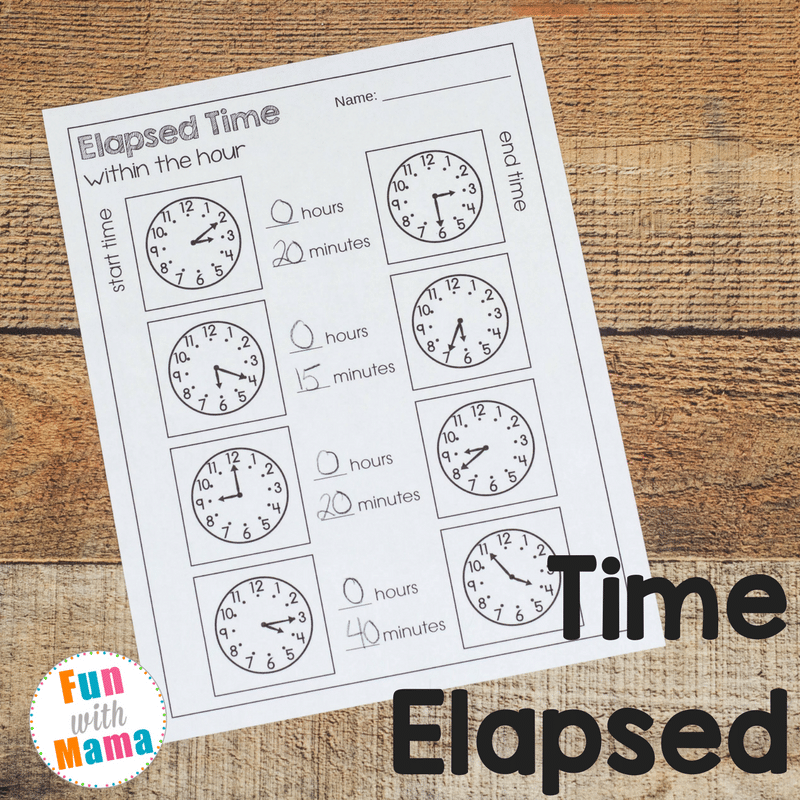 Already a subscriber? No problem. Just enter your details above so we can send this printable directly to your inbox.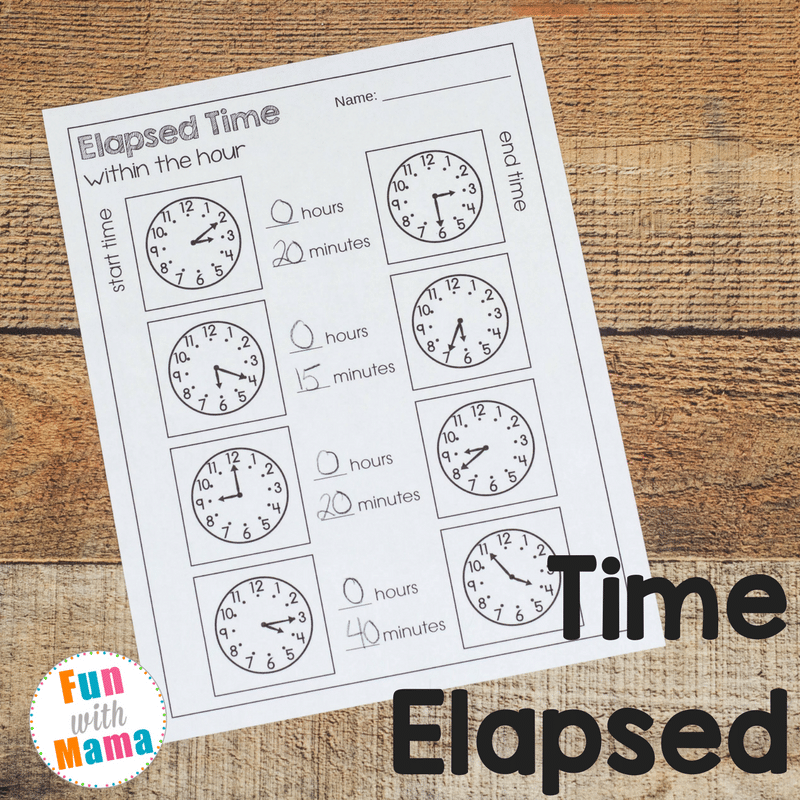 Check out the telling time worksheets
GET THE TELLING TIME WORKSHEETS HERE
The telling time worksheets pack includes a printable digital clock, analog clock, bookmarks, and 24 worksheets.
Find more math activities here.
Not sure what time elapsed is? Then check out this post.
These place value cards are wonderful and this Let's Go Shopping grocery math game is always entertaining.