This alien shapes for kids printable pack is filled with shape activities. It is a perfect way to learn about shapes or continue practicing with shapes like circles, triangles, stars, rectangles and more! Make shapes more fun by adding aliens and UFOs! Match the aliens to their shape ship, count the sides to each alien, and learn all the names of the shapes.
Shapes For Kids
Materials
Please note that affiliate links may be used in this post. Please see my disclosure policy for more information.
The Alien Shapes for Kids Activity
My kids need to work on their shapes and names. We have the basic ones down just fine but some of the more obscure ones have been difficult to learn. After all, it's not often that we use Trapezoid in a conversation. It is useful to know what a trapezoid looks like, though.
So I wanted to come up with an activity that would entice them to learn more about shapes. I knew it had to involve candy or a fun theme.
Aliens and shape ships were the answer!
The first trick was to review and learn all of the shapes names. We pulled out these alien shape cards that have the names on them. Then we matched the aliens and the ships.
Shapes For Toddlers
These cards would be terrific for a game of memory as well! Put all of the cards upside down and try to match the alien and ship by shape. This one is perfect for toddlers!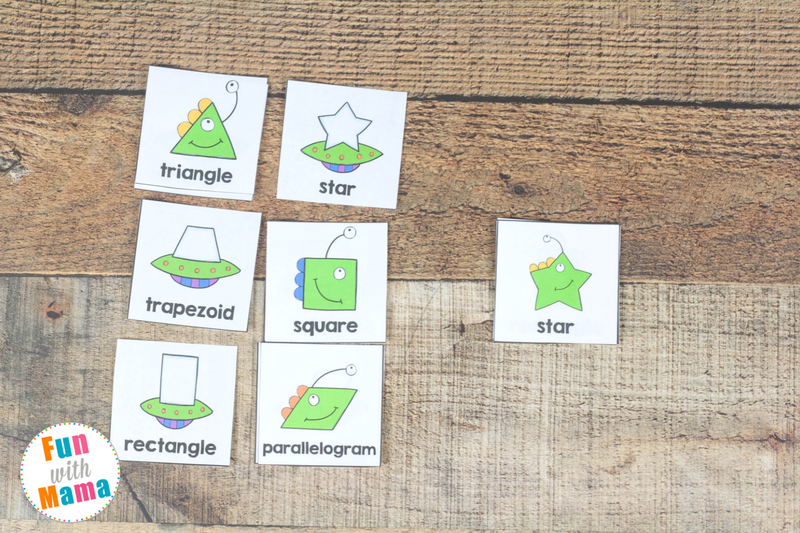 Next, we looked at the sides of the shapes. Since many shapes are defined by the number of sides they have, I figured it would be a good idea to identify the sides.
Simply count the number of sides and use a clothespin to clip that number.
The final activity was also the most fun.
There are a bunch of aliens who cannot find their home ships! Help them get home by zooming them to their spaceship!
We started by identifying the shape name of each alien and then matched it to the ship.
They're so happy to be home!
There are aliens and spaceships for 12 shapes! Feel free to start with just a few at a time until your kids are ready for more and more shapes! The shapes sorter cards can be used to separate each shape into its own category.
Get the shapes activities for preschoolers below:
You can find all of our preschool printables here.
More Shape Activities
You can check out our colors and shapes activities for preschoolers.
Our favorite shape game can be found in the video below.