Doctors, nurses and surgeons are very important members of our community helpers. This adorable printable pretend play kids doctor kit includes fun doctor games for kids, worksheets, doctor coloring pages and more. This would be a great addition to a doctor's office and even a preschool doctor theme week! This Medical Printable Pack introduces children in preschool and kindergarten to these amazing people and some of the instruments they use.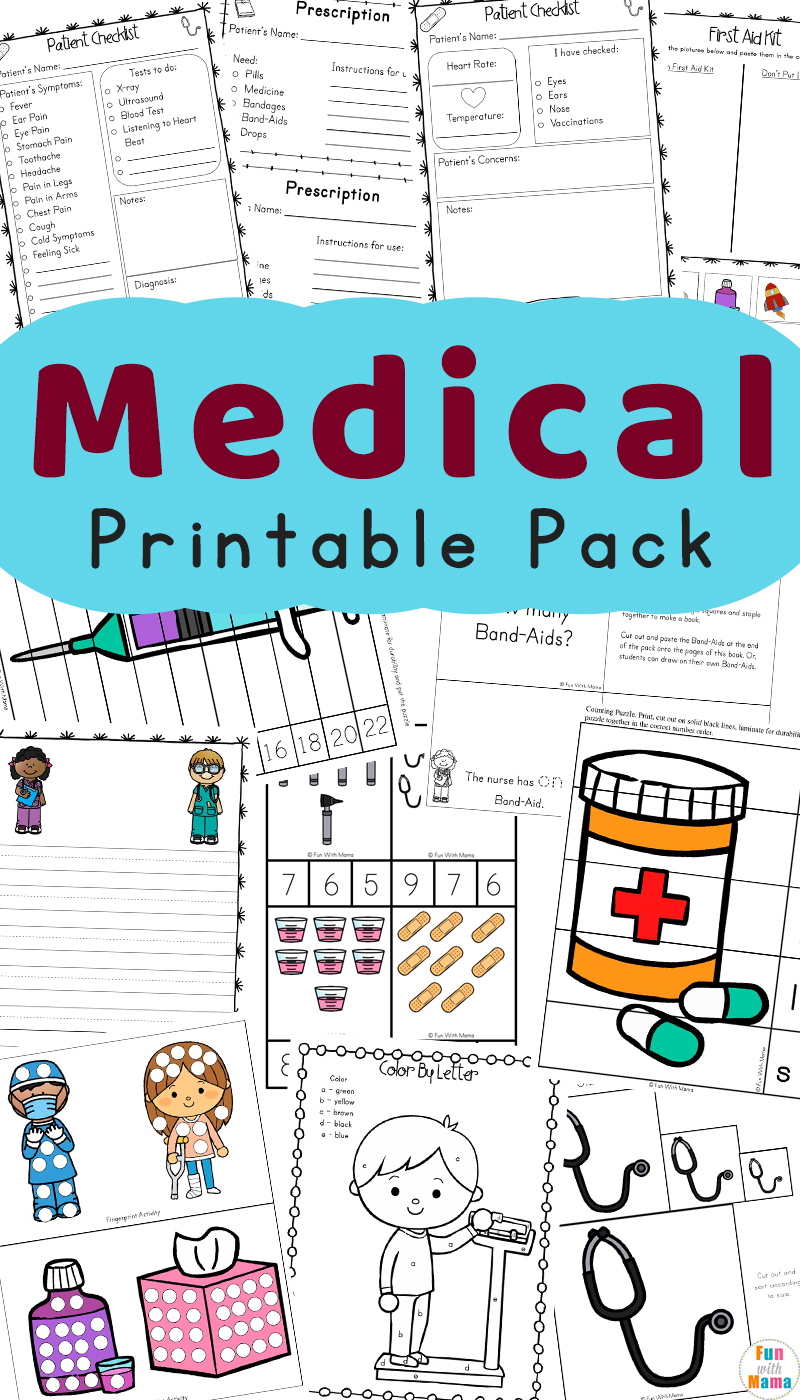 Doctor Games For Kids
Aimed at children ages three through eight, this fun Medical Printable Pack includes a variety of math and literacy activities as well as some medical pages which children can use in dress-up games.
See Also: You'll Love These Printables Too!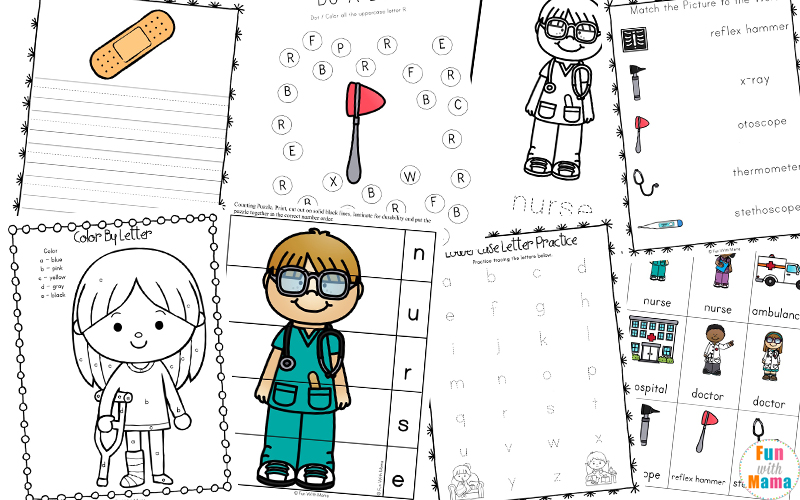 Materials Required:
Please note that affiliate links are used in this post. Please see my disclosure policy for more information.
Here are some items that pair well with these activities. You will use each of these items over and over during all my printable preschool activity packs. You can find all my favorite supplies on my Amazon page and preschool supplies blog post.
This Medical Printable pack contains over 80 pages and includes many activities.
In this printable pack, children will be introduced to doctors, nurses, and surgeons as well as some of their tools such as stethoscope, otoscope and reflex hammer.
There are a variety of math activities that help children with counting, skip counting and graphing. At the end of this pack, you will find a mini book in which children cut out pictures of Band-Aids (supplied) and paste the correct number on each page of the book.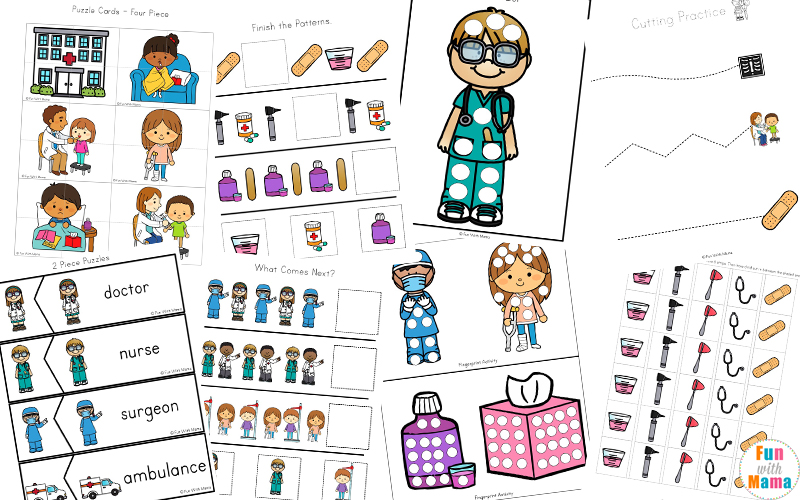 There are a few medical related pages that children can use in dress-up games. There is a cut and paste First Aid Kit activity in which children paste the pictures in the correct column. There are two patient checklists that children can use when pretending to be a doctor. On these pages, they will ask their 'patient' how they are feeling and then they can write out a script for them on the prescription page.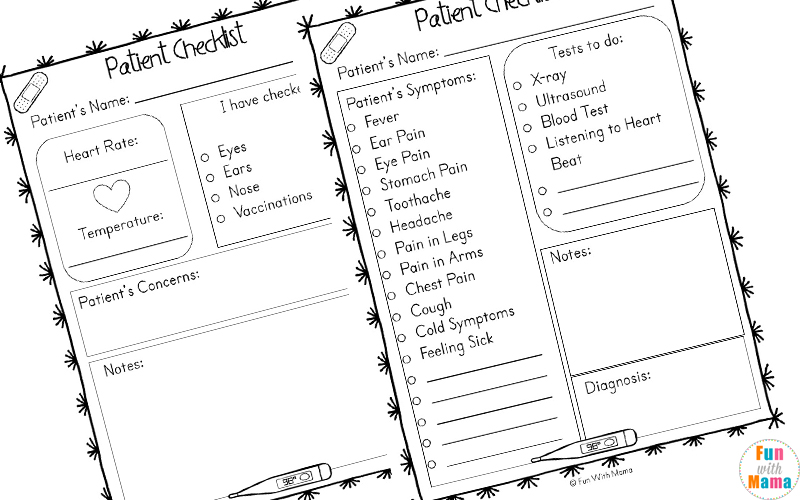 There are a lot of fun activities that you definitely have to try out!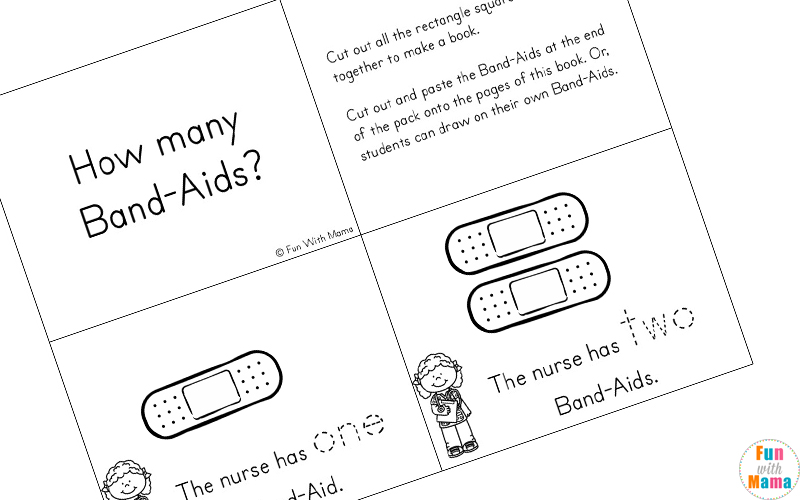 Kids Doctor Kit
What could be more fun than using these activities wearing a kids doctor kit. I am including a few of my favorites below.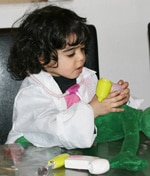 DOWNLOAD THIS FREE ACTIVITY PACK HERE
More Fun Activities:
Little Red Riding Hood Printable Pack