The kids will have a blast with these Human Scavenger Hunt Questions! They're the perfect icebreaker for the first day or week of school.
This free printable is excellent for the classroom setting and a great way for classmates to get to know one another easily. Team-building activities are a great way to break the ice!
For another great ice breaker, check out my 150 Would You Rather Questions For Kids!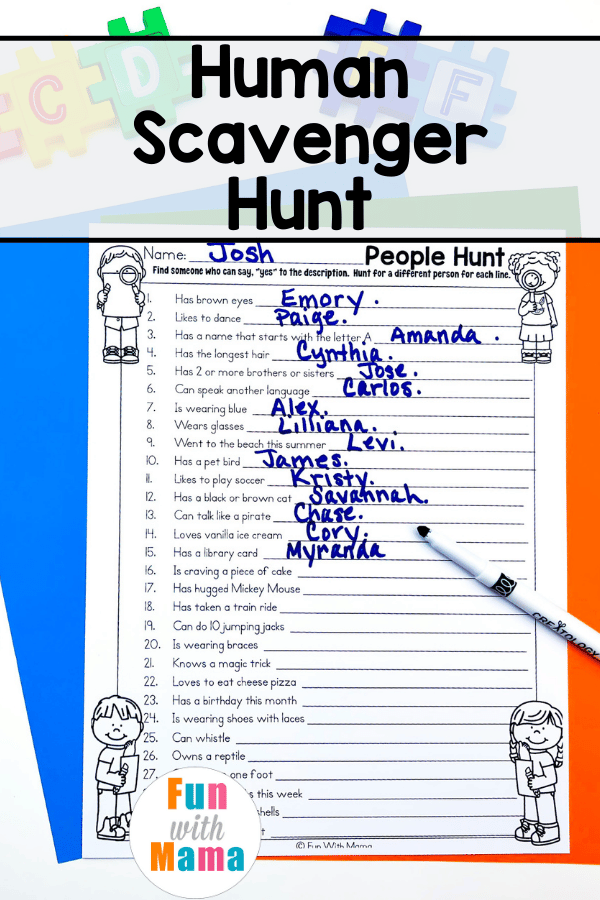 Human Scavenger Hunt Questions
What I love about this worksheet is that it's a fun handout that all the kids can use. It helps to form bonds between kids at school or even siblings as well.
The list of items on the fun icebreaker printable is silly questions that they'll love asking their new classmates. They'll have to work their way down the scavenger hunt list by finding someone who can say "yes" to something on the list!
Why use this printable scavenger hunt?
It's a great way to boost morale and have everyone feel comfortable with one another. An in-person scavenger hunt is actually great for all ages!
This activity isn't hard to do at all – and is a great way to get the kids talking to each other and having a fun time.
Here are some other first day of school printables that are perfect to add in as well!
What are the point of icebreaker activities?
They're a great way to get the kids comfortable with one another. Starting anything new is always nerve-wracking and ice breakers can help.
Some other great ice breakers can be:
What is included in this great team-building activity?
You can print the full printable below, but a few of the people that they'll be looking for are:
Someone who has brown hair
Someone who has hugged Mickey Mouse
Someone who has one brother and one sister
Someone who likes the color blue
Those are just a few of the items on the list! This would also be super fun to do at a birthday party as well! All the participants will have a blast – it will be fun to see who the winner is.
Where to get the Human Scavenger Hunt
GET THE HUMAN SCAVENGER HUNT HERE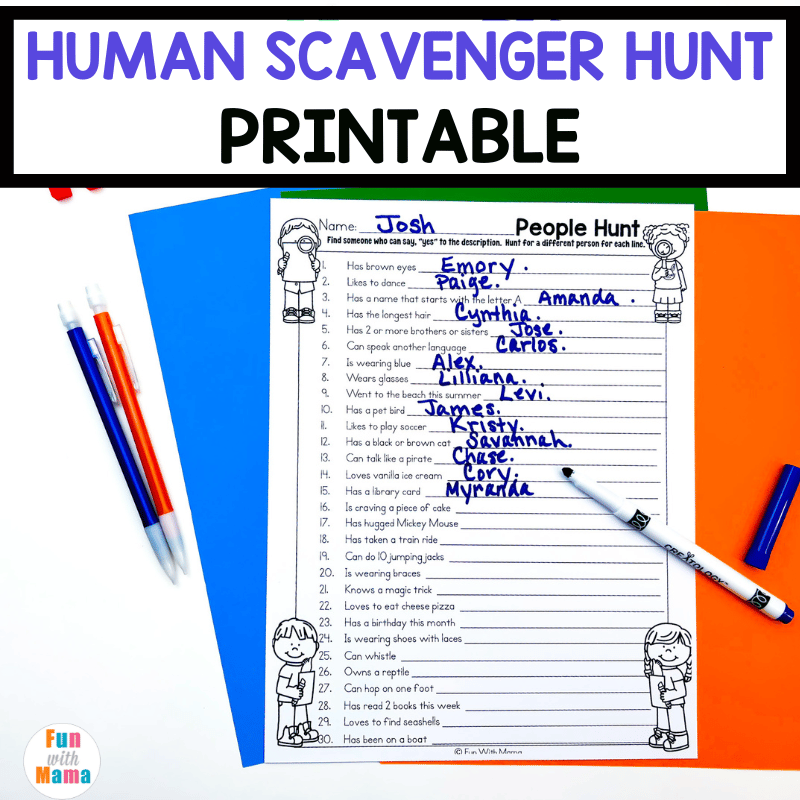 Already a subsriber? No problem. Just enter your details above so we can send this printable directly to your inbox