These first day of school activities are a great way to have a time capsule and remember what your child loved during this point in time in their lives. Packed full of great questions and activities, this is a fun way to get your child geared up and excited for school.
The first week of the new school year is a great time to get to know your students and for them to get to know each other. These First Day of School Activities are a fun and exciting way for everyone to get to know each other.
Make certain that you use these Fun First Day of School Printables for some awesome picture-perfect moments, too! Soak up all these "firsts" for your child and create your very own memory book.
First Day of School Activities
These First Day of School Activities are a great way to ease your students into a new school year, and help them relax and learn about each other as well. Each page is filled with fun questions that they get to answer based upon their thoughts and feelings. (and you might just learn some fun new facts about them, too!)
Materials Required for these fun first day of school activities:
Cardstock ~ to print the printables out on
Pencils ~ to complete the activities
Crayons or Markers ~ to decorate the pages
This pack contains worksheets and posters that can be used during the first day or week of school.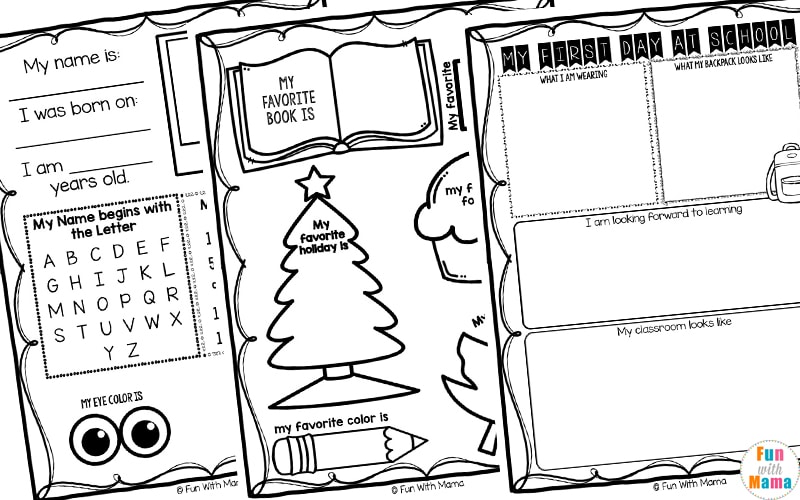 In this First Day of School Activities pack you will find nine different templates. Each template is different, asking students to answer questions about themselves. The questions include:
Name
Born
Age
My Name Begins with
My Name has __ letters
Eye Color
Hair Color
Draw a Self-Portrait
Their Family
Their pets or favorite animals
Their favorite meal or food
Their favorite activity
Their favorite holiday adventure
Their favorite book
Their favorite color
Their favorite number
Their favorite season
Draw the Flag of their Country
Where they were born
Find where they live on a map
I am a star at
Their dreams
What they want to be when they grow up
Questions about how their first day at school is going
These printables are all in black and white which not only saves on ink but allows the children to get creative and add their own colorful touches to each page they complete.
Give them total creative freedom when it comes to using this book. Sit down with them while they work on these First Day of School Activities but don't guide them in their answers. This is a time when they can use this space as a way to write their thoughts, feelings, and emotions and then color it (or not) as they choose.
These pages can then be made into a book, placed on a bulletin board or they can stand in front of the class and share what they have written about themselves.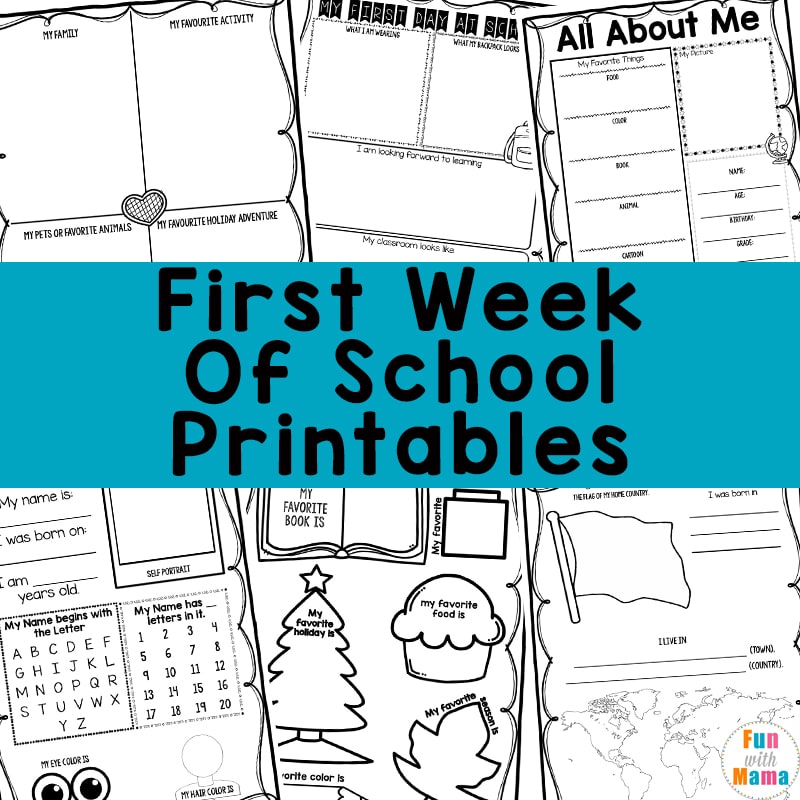 These First Day of School Activities are really so much fun! Don't forget to download the packet below!
Download the 1st Day of School Activities HERE!
Like these simple first day of school activities? Don't forget to check out these other options as well: