This Alphabet Shaving Cream activity is a fun sensory activity that toddlers, preschoolers and to be honest, children of all ages can enjoy! I love combining Alphabet Activities for kids with Sensory bins for learning and fun that stimulates a child's senses. Plus, it's a kids play tray activity, which means that it can be set up in advance and clean up is super simple!
My daughter absolutely loved it as a 5 year old and still loves playing with shaving cream trays as a 7 year old! Sensory art activities are a great way to spark creativity and encourage little ones to freely explore and engage their senses all while learning along the way. With minimal supplies, the Shaving Cream Alphabet activity is the perfect way to set your preschoolers and toddlers up for an afternoon of exciting sensory fun.
Alphabet Shaving Cream Activity
Materials Required:
Please note that affiliate links are used in this post.
*SAFETY WARNING* Adult supervision is highly recommended for this activity. For younger children who are still prone to putting substances in their mouths, and who have been introduced to dairy products, whipped cream is a safe and delicious alternative to shaving foam.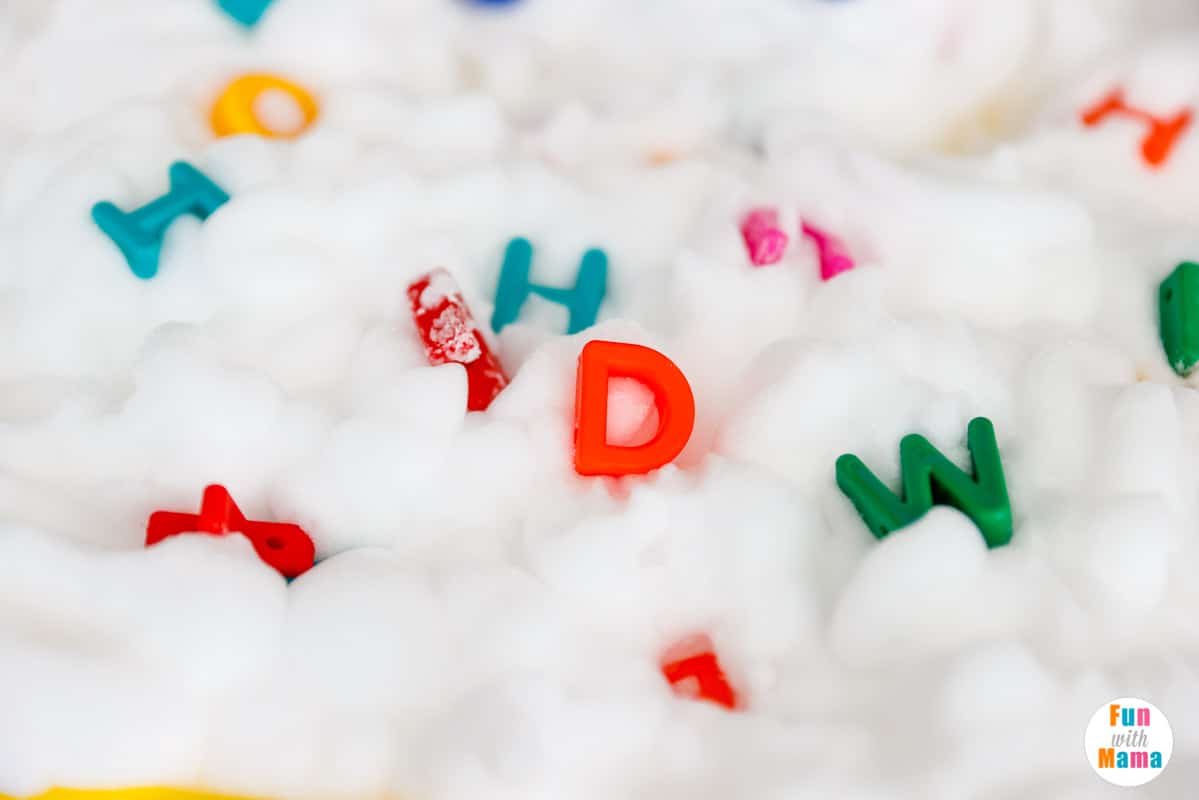 Setting up the activity:
Get started by placing letters in the tray. Cover the letters generously with shaving cream so that they are completely hidden. You can also do this vice versa and add the shaving cream. Then place the letters. An older child would like to find the hidden letters. A younger child would be better off seeing the letters to gather interest. They can try to work on their pincer grip to pick up the letters.
Shaving Cream Alphabet Fun:
Now, it is time to let your child explore. My 7-year-old loved the soft, gooey feel of shaving cream and was happy to dig deep and get messy. Honestly, I think she spent most of her time just playing with the foam (hey, nothing wrong with that).
For an educational spin, younger children can:
Call out the letter they find or the color of the letter. This is a fun way to help them learn and recall the alphabet and colors.
Use only one or two letters (All A's or all B's) for working on your letter of the week activity.
Swap alphabets for water safe shapes, foam letters, seasonal themed items, etc.
To extend the activity for older children:
Have them match the lowercase letters to the uppercase or group the letters by color.

They can create CVC words with letters that they find.
Or just let them loose to play with the shaving cream and create their own games.
This time, I let my youngest daughter, Alayna, get in on the fun too and play with the shaving cream letters. Like the curious little kitten she is, she smooshed the foam around, carefully eyeing the mysterious white goo covering her chubby fingers. Plenty of splashes and splotches later, I had one happy, fascinated baby on my hands. All in all, a successful morning with my munchkin.
Please note though that she, as a baby, had a natural tendency to want to put the shaving cream in her mouth. I watched her very very carefully and had a wet rag nearby to wipe away the shaving cream.
How to make it appropriate for an older baby or young toddler:
Use an edible filler like whipped cream.
Use large items for alphabets like foam alphabet letters. Then it wont fit in your child's mouth.
Larger items are easier for your baby to grasp.
Supervision is ALWAYS required.
I know activities like the Shaving Cream Alphabet can get messy, but I think my kid's excited smiles and squeals were worth it! Afraid of the mess you'll be mopping up? First, don't worry. I have some quick and easy clean-up tricks to save you some time. Second, and most importantly, I guarantee your child's joy and wonder will make it all worthwhile. Sensory letters are so much fun to play with.
You can find more kids play tray preschool activity trays here.