Crayon names are so much fun to make! What better way to reuse broken crayons than to create fun alphabet crayon names for everyone in the house? Not only can these crayon colors actually be used for art and creativity, but they also look really great in a room as a fun decoration, too.
If you're looking for a super simple and fun way to make pink crayon names, orange crayon names, or fun rainbow name ideas – this is the craft for you!
Be certain to check out our Melted Crayon Shapes for even more fun ideas and tips for using up broken or leftover crayons.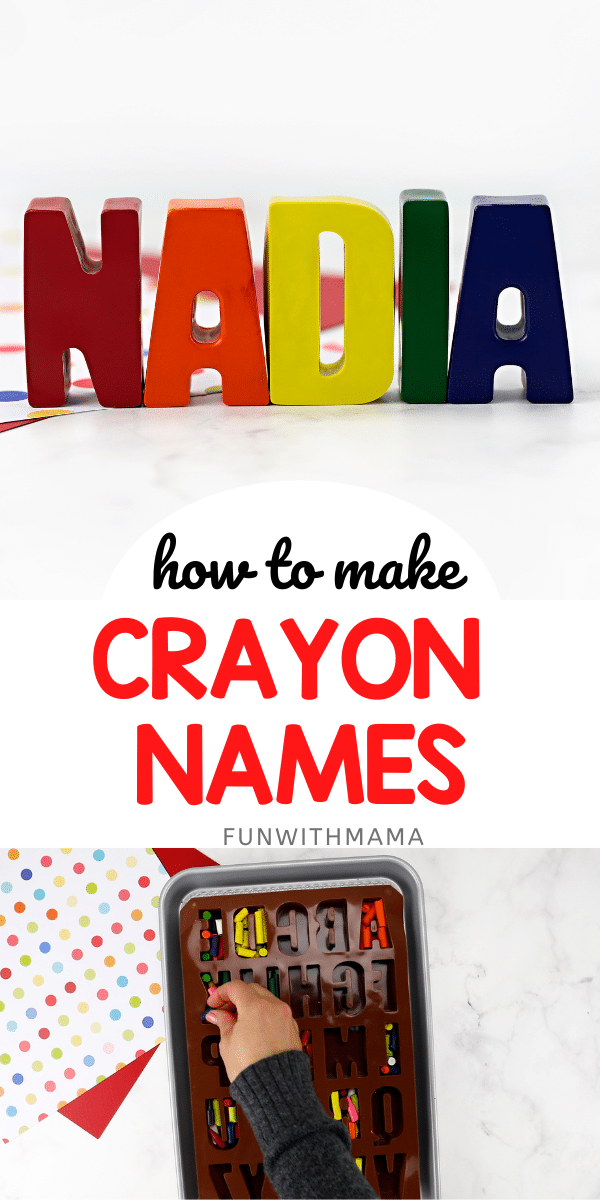 Watch the video below to see how simple and fun it is to make these crayon names!
How To Make Crayon Names
What I love about this simple crayon activity is that it teaches the kids that there are ways to be creative with so many things that you already have at home. Who knew that those old broken crayons could be used to create something truly unique and special?
Materials Required:
(affiliate products are used in this post at no extra cost to you)
How to Create Names from Crayons
Start by turning on the oven and preheating it to 300 degrees.
If you don't have an abundance of broken crayons to use, just break up the crayons that you do have into pieces and put them into the alphabet letter molds of your choice. Pick and choose the letter cavities to fill to create the crayon name that you're going for.
This is a great step for the kids to help with and fun for fine motor skill learning, too.
Mix and match the crayons used and have fun with this step!
Make certain to fill the letter molds pretty full because as the crayon pieces melt, they will shrink down in size. For estimation purposes, you can use about 6 crayons per mold and be fine.
After the molds are full, it's time to put them into the oven. The mold itself might not be very sturdy so you can easily set it on top of a baking sheet before placing it into the oven.
Keep an eye on this as it takes about 15 minutes or so for the crayons to be fully melted.
Once you can see that they're melted, take the mold out of the oven carefully and let them dry for about 3 hours or so.
Once they are cooled, it's time to start removing them from the molds.
Fun DIY Gift Idea for Family and Friends
While we love to make these crayon names for ourselves, they're great for a gift idea from the kids, too. Just think about how fun it would be to make these up and surprise people with their very own crayon names!
All you need are some clear gift bags and a box to put them in and it's the perfect homemade gift.
One simple tip is that if you want the crayons to lay flat in the box or bag, use a vegetable peeler to shave off a bit of the roundness on the crayons.
Will any type of crayons work for this?
Absolutely. Any wax-based crayons that will melt will work perfectly for this craft. We've done this so many times and it's always turned out perfectly.
Can you color with crayons that are remelted?
You bet! This is all part of the fun of it. You can easily put them up for display or use them as the new crayons in the house.
How to use this DIY crayon letters craft for alphabet learning
While this craft activity is all about making crayon names, you can easily use this to create the letters of the alphabet for more ABC learning as well. This will help teach the kids about their ABCs in a fun and unique hands-on way.
See if they can pick out the crayon by the letter that you call and then draw their own little picture, too. Alphabet recognition is a great skill to work on.
More Alphabet Learning Activities