Looking for a simple kids schedule or morning routine for school with sequencing cards? This routine and sequencing activity is easy to put together. Children thrive on routine and knowing what to expect each day. Our morning routine for school is very basic. I expect each of my children to wake up, brush their teeth, get dressed, eat breakfast and then get to school on time. If you randomly do something that they weren't expecting then this leads to tantrums. You could use this morning routine for toddlers if your child is in school or wait and use it with your preschooler or kindergarten. One things for sure, children will love this morning routine for school sequencing activity while Mom's will love how this simplifies the whole process!
b
Morning Routine For School
Having three kids means I have seen three different morning personalities. I had one child that wouldn't eat in the morning, brushing teeth always seemed low on their list and another child that wouldn't eat breakfast in the morning. Maybe you have a child that wont get dressed in the morning. With back to school right around the corner I was thinking about how to get the kids ready for school fast. I then remembered how we previously used a checklist to make this possible.
As an adult, you may wonder how this could possibly work. These printable morning routine flash cards seem too simple and like common sense. Yes, to you it may be common sense but to your child it lets them know what is expected of them and what should normally happen each morning. Plus the adorable graphics just make it that much more likely that they will want to use the sequencing cards.
Also check out the kids chore chart and routine chart.
Materials Required:
Please note that affiliate links are used in this post. I order all of our materials using our Amazon Prime Account. My readers can Try Amazon Prime for 30-Day using this Free Trial link.
How to prepare the morning routine activity:
I have included a few different pages depending on the routine base that you would like. There is a blue, pink and yellow one.
Print out your required page on card stock paper. (You can find all my exact preschool supplies recommendations here and on my Alphabet Activities for kids page.)
Print and cut out the daily routine picture cards, laminate them, add velcro tabs and you are ready to go:
Kids Schedule
If you chose the smaller routine base then you can keep the cards in an envelope to use each morning.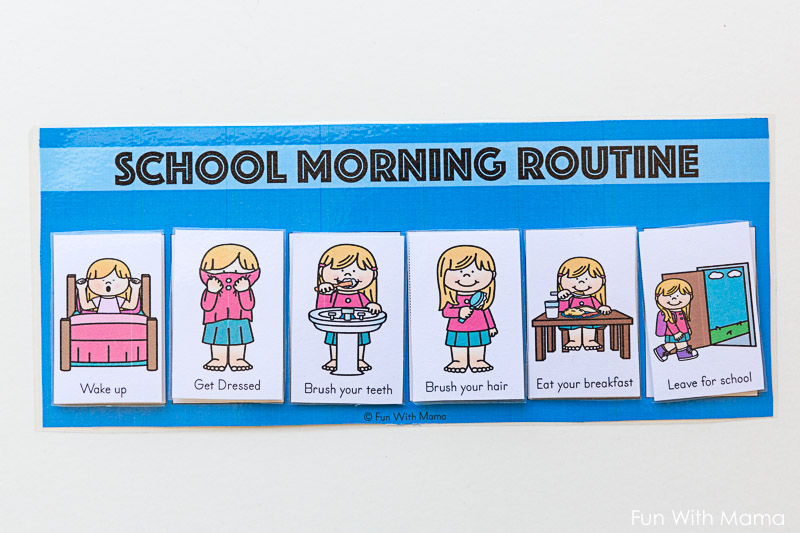 If you use the larger base for the picture sequencing cards so that you can store the cards on that page then it will look like the following:
Each morning should begin like this: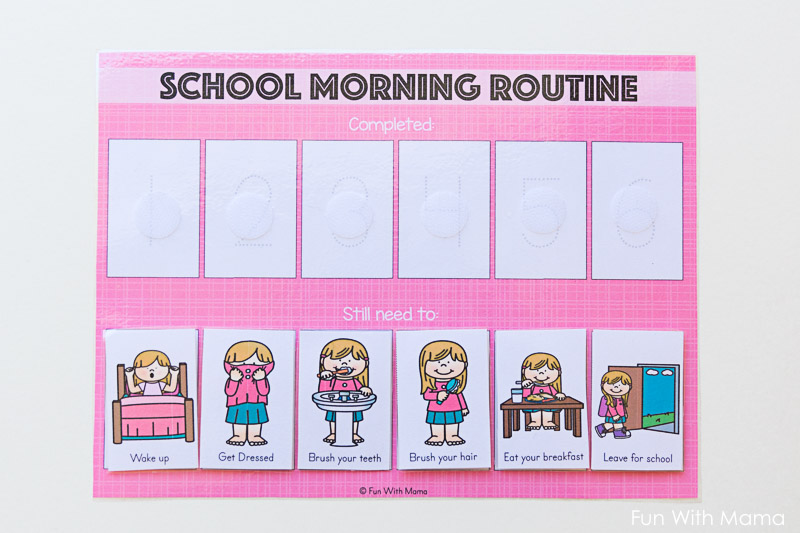 All the sequencing cards should be at the bottom. In the morning, your child will do these tasks and each time they do a task they move the appropriate card to the top. It serves as a morning routine for school checklist.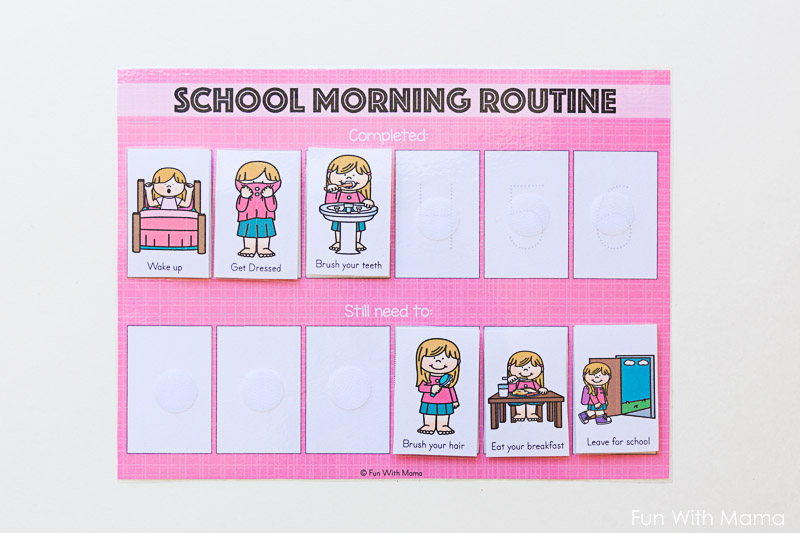 Once they complete all the tasks in their school morning routine you could give them a sticker as an incentive.
Potty Routine Addition
I have had a lot of requests for a restroom addition. You can download the small restroom addition file here.
This set includes boy and girl routine cards.
Where to get the activity
GET THE MORNING ROUTINE CARDS HERE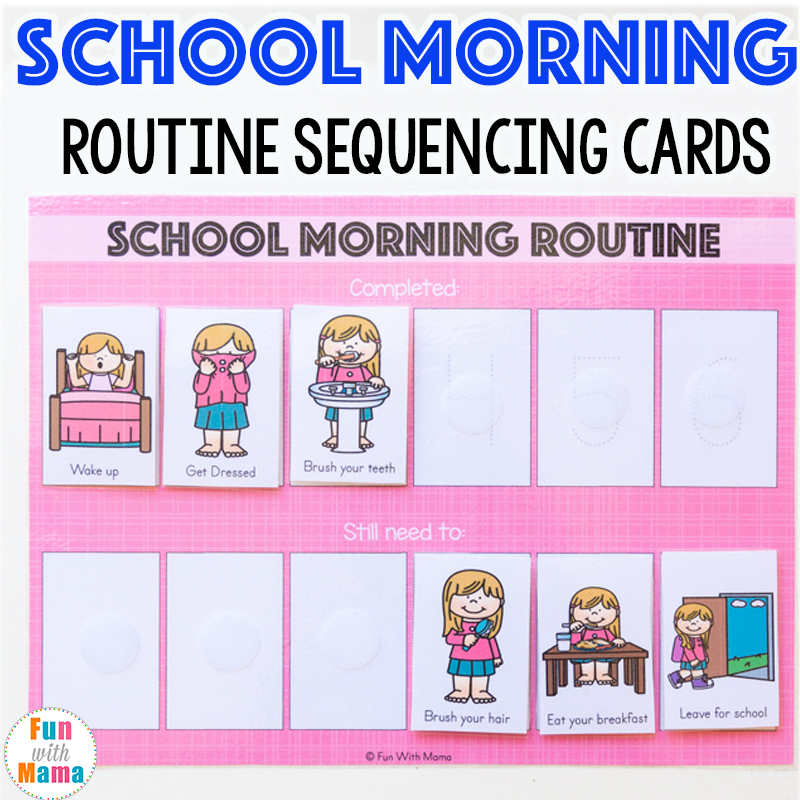 Already a subscriber? No problem. Just enter your details above so we can send this printable directly to your inbox.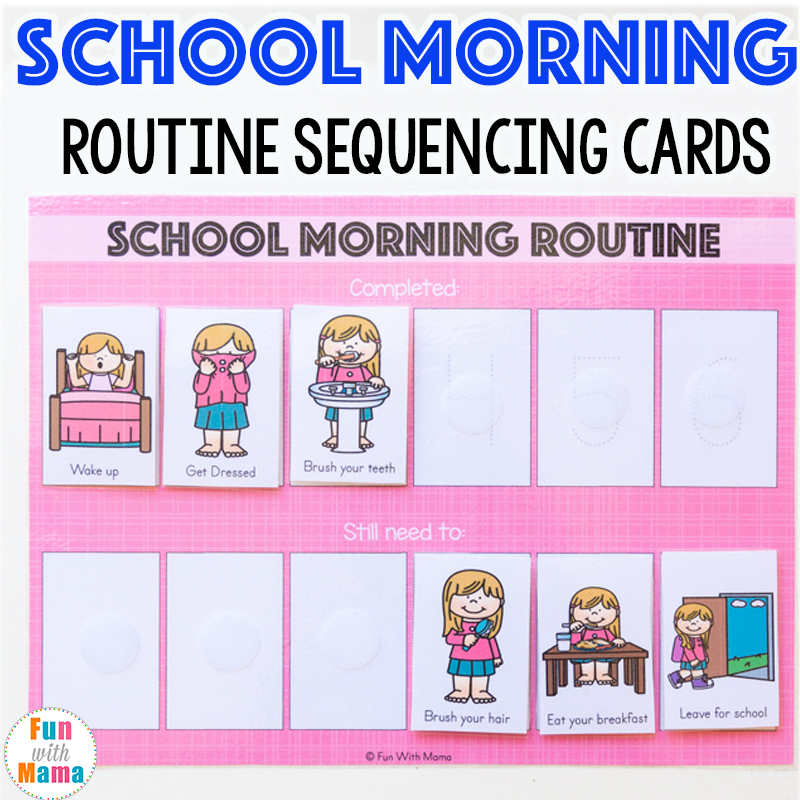 Looking for more routine cards? You can check out these after school cards from Living Locurto. You can also find morning routine tips here at AFineparent.
I hope these help your morning routine for school days run much more smoothly.
You can find the bedtime routine sequencing activity here.
Update- I have added the boy routine cards to the pack. I have included extras so that you can adapt the children's schedule cards to your kids schedule.