Family traditions are like the love language of your family. They create a warm and loving family atmosphere that each family member will cherish throughout their lives. Family traditions help build unity, encourage connection and belonging. They help set a foundation of strong core family values, strengthen the bonds between family members and can provide a sense of identity too.
Family Traditions
What are family traditions?
Family traditions are ideas, practices, experiences, beliefs, and values that family members do repeatedly and that provide a sense of identity and bonding within the family unit. These traditions can then be transferred from generation to generation. Think back to your childhood, What traditions bring back warm memories for you?

A family tradition can be created at any time and the key to creating the family tradition is by doing this sentimental family-building activity over and over again. It bridges a connection from the past, to the present, and to the future. It is like a special glue of love that increases unity and compassion between each member.

You can recreate these experiences daily (think bedtime or morning time), weekly, monthly, yearly, or even seasonally. Each time you partake in a family tradition, you will feel the warmth it brings your soul as you are reminded of the previous times you've done this family tradition.
Include your kids, talk to them and ask them, "What are some traditions that you'd love to create with me?"
This post will include more examples of traditions.
Affiliate links are used in this post. If you purchase from one of these links this site will earn a small commission on the purchase.
Benefits of Family Traditions:
Nurtures a family's connection between each family member
Increases a child's self-esteem
Gives each member a sense of belonging
Can increase the excitement of celebrations
Creates cherished memories
They provide a sense of security and nurturing
Encourages respect between each family member
Start your own family traditions to see the benefits and increase the family cheer in your home too.
What is the difference between family routines and family traditions?
Family routines are regular occurrences that lack a symbolic or sentimental value between family members. Waking up and eating breakfast is a routine, but making pancakes for breakfast every Saturday with your family is a tradition.
I've talked a lot about family traditions on my Instagram stories, as it is a topic I am very passionate about. When I was diagnosed with Hyperemesis Gravidarum during my last pregnancy and was barely able to leave my bed, I was pleasantly surprised by how much the loving traditions we've practiced throughout the years were carried on by my children.
For example, our holiday-themed book nooks were definitely too challenging for me to put together at that time, but seeing my girls work together to keep the tradition going really warmed my heart and gave me that special positive feeling that family traditions are known for.
Are they hard to keep up with?
Not at all. I highly suggest you establish small simple traditions that are easy to accomplish and that don't feel stressful. The more elaborate the tradition, the harder it will be to continue. I also feel like the love and excitement are stronger within focusing on the smaller moments, rather than the large ones. You'll find that some common family traditions already exist within your family without even having to think about it.
How to build a family tradition?
Building new family traditions is part of the fun! Have your children help you with ideas on what they'd like to try out and use this list for ideas too. If you find a new family tradition that you want to try out and after doing it you realize that it wasn't that fun, feel free to scrap the idea and try another one. Stick to the ideas that bring your family that warmth and happiness to each member.
Family Tradition Ideas
I am including some family tradition examples in this post. Pick out the ones that you like, that resonate with you, that are doable for your family and try them out.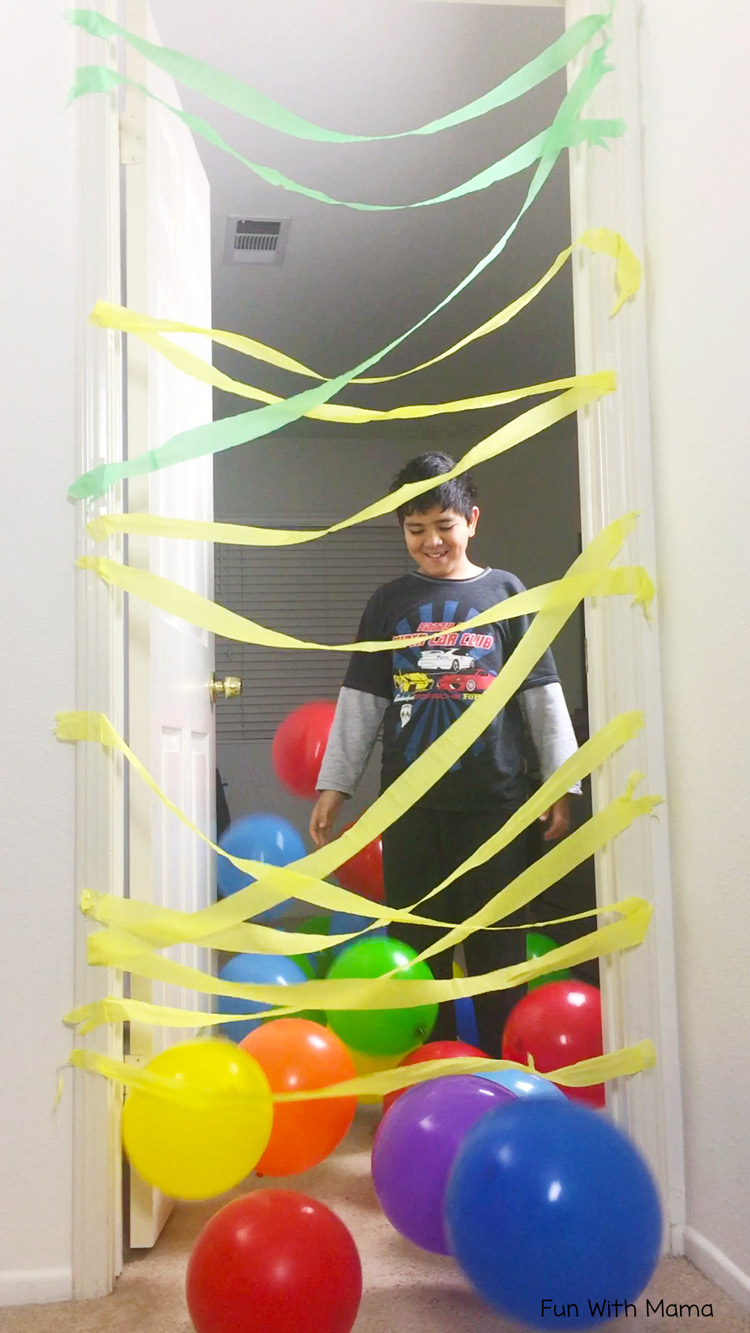 1. Celebrate a birthday morning the same way each year
We always start my children's birthday morning's with a special birthday balloon avalanche. Birthday Balloon Avalanche. It is somewhat easy to do and my children look forward to it every year. It's the cutest thing ever. The night before their birthday, the birthday girl or boy goes to bed a little earlier than normal, and then each family member helps build the birthday balloon avalanche as an act of love. Mom and dad should also get this special birthday love. This is a favorite family tradition of ours.
2. Create special school lunches for special days
On my children's birthdays as well as for the first day of school, I create a special lunch. On their birthday I include a lunch themed towards their new age. On their first day of school I create a chicken burger with cheese letter cutouts. See how to create the Themed Grade Back To School Lunch and Bento Birthday School Lunch.
3. Create a tradition of special family gatherings or family reunions
Maybe you have a day in the week/month/year where your family spends time with their, grandparents, cousins, uncles, and aunts. It can be a yearly vacation trip or as simple as a special dinner that you repeat time and time again. Maybe it's a yearly family game night or a sleepover somewhere. Time this tradition in a way that makes it easy and doable for your family's schedule.
4. Have a weekly family meal tradition
Is Friday night a pizza and ice cream kind of night at your house? Then turn it into a fun family tradition.
Meal Family Tradition Ideas:
– Saturday morning is pancake morning
– Sunday night is burger or barbeque night
– Monday night may be a soup night,
– Taco Tuesday's
Don't do them all, just use them as ideas to branch off of. Find a simple food type that your family loves to eat, that is easy to put together and make it a tradition. Choose 1 night a week (or however many days will be stress-free for you) to theme and stick with that tradition.
5. Enjoy a special family vacation spot
We've been going on a yearly trip to Turks and Caicos over the past few years and have been loving it. While I often suggest traveling to new places with my children, they currently want to go again and again to the asme vacation spot. It gives them a source of comfort. I know that we wont likely go to Turks and Caicos every year for the rest of our lives, so maybe you can stick to a 5 year vacation spot. Every year go to the same place once every year for five years. Not keen on Turks and Caicos? Then try doing a yearly winter ski trip, a yearly Las Vegas trip, or wherever else may be close by to you and make it your special spot to create special memories.
6. Decorate your home with seasonal decor pieces
One of my favorite things about decorations is that you buy your seasonal decor pieces and reuse them year after year. For your family Christmas traditions, you could decorate your home and add lights to your house. You could make sure your Christmas lights are out and set up by December 1st each year. Your children and yourself will all be comforted driving home to beautiful lit-up house celebrating the holiday spirit. If you celebrate Ramadan, then create family Ramadan traditions make sure to decorate your home to make it a place of comfort and love. We decorate our door for Fall and enjoy putting up frames and sayings for Valentine's Day. My kids decorate with me and this ties the visual reminder of the beautiful decor pieces with the feeling of working together to create a magical display.
7. Create a seasonal book shelves
Rotate your books by bringing them out at different times. This helpful tip gets your children in the holiday spirit while also making them want to explore and read these special themed books.
8. Watch special movies for special days/seasons.
Do you have a movie your family really loves? Then watch it yearly. Make it exciting by going all out. Maybe you could make it special by lighting a few scented candles, getting out blankets, making some popcorn and best of all… getting some cuddles while making sure to stay off your device. During the month of October we watch Halloween themed movies (I can watch Hocus Pocus over and over again.). In December we switch it up and watch Christmas movies (Home Alone and Santa Clause are a favorite.) I have movie suffested and printable movie cecklists for you here: Kid-Friendly Halloween Movies List and The Best Christmas Movies for Kids list.
9. Buy and wear special seasonal pajamas as a family
Anyone else's children love to match them too? This one's easy and brings joy to the house. Buy themed pajamas each season or if your kids are done growing, wear those seasonal pajamas you've already purchased.
It's a fun and warm holiday tradition.

Here are my favorite suggestions for seasonal pajamas:
Christmas Pajamas the Whole Family Will Love
Halloween Pajamas for kids
Valentine Pajamas For Kids

10. Have spa nights
Do you really need those adorable fuzzy headbands? No. But they sure do make the experience a little more special.

Types of spa nights to do with your daughters:

– Massage night – Sometimes we do a massage night with warm towels (just put the towel in the dryer for a few minutes), we put on the spa music, take out our favorite massage oil and give each other massages. Don't forget the face masks! If we aren't using a face mask then we use this eye pillow.

– Haircare night – this includes rubbing oil into each other's scalps with a head massage and then using hair masks. As my children got older this got added to the tradition… otherwise, it was always massage nights.
11. Pass down family heirlooms
Pass down special heirlooms to your children that were given by your parents and their parents. It is so special to be able to wear a piece of jewelry that was worn by your mother's mother. I've begun purchasing jewelry pieces that I plan to wear and pass down to my kids. It is a tradition that I am starting for our family.
12. Cook your family special recipe's
Bake grandma's special cookies or make grandpa's favorite casserole. This will not only connect generations but will also give each child a sense of belonging and importance as they play a role in creating this tried and trusted family meal.
13. Create a family journal or scrapbook together Fill out the family Q+A Book – Journal together
You can start a blank journal with your kids and write letters to each other back and forth, create a family yearly scrapbook together or fill out a fun family Q+A book. This bonding experience allows you to learn more about each of your children and helps you stay connected.
14. Create secret handshakes or special ways of saying I love you
Sure, saying I love you is special… but do you want to know something more special? Say I love you in a way only you and your family members know. This could be by using a special handshake or a special gesture.
15. Have family game nights
Children love games and it's great fun to see who wins today! If you enjoy playing games with your kids then have fun with creating a tradition out of it. (Not everyone loves game nights though, so make sure you choose to start it only if you love it.) Check out my recommendations for best board games for families to play together. If you have a younger child then let them join in on the fun with these 9 Preschool + Toddler Board Games That Are Educational And Fun!
16. Make a weekly (or monthly) family movie night
Go all out with a special movie chosen by a different family member each week and make it special. Maybe make a different flavored popcorn, or if you have. a family favorite stick to your tried and tested popcorn flavor. Does anyone love special treats? Make sure each persons' favorite treats are there. Remember, this is about reminding each member of the family that they are valued, loved and appreciated. Small gestures like having their favorite drink or treat can make all the difference to a rough day.
17. Annual Family Photos
Annual photos are a great memory keeper and you'll be thankful you started doing this when your kids get older.
18. Birthday Balloon Annual Picture
This is one of my favorite family traditions. I love seeing how each child grows and my children love smiling in front of their balloon. We try to do a family picture with the birthday child too.
19. Yearly back to school shopping trip
This is one you likely already do, but think about it… do you remember going back to school shopping with your mother? It likely gives you warm happy vibes. Picking out your backpack, your school supplies and even school clothes was the perfect way to get you excited about the new year at school.

20. Create a "Kids Day"
My dad used to dedicate every Sunday to Kids Day. It was magical. We'd wait all week until Kids Day so that we got to have fun doing whatever we wanted to do. Sometime's we'd go to the Santa Monica Pier or the beach. Sometime's it would be an afternoon at Chuckee Cheese or a movie. Sunday's were reserved for Kids Day and it was wonderful!
21. Hold family meetings
Give your children some say and responsibility in the house. Is there trouble? Something that needs discussing? Want to plan out the calendar of activities for the month? Hold family meetings and give everyone a say. This way everyone can talk about what's important to them and learn to troubleshoot and come up with solutions. I learned about the concept of family meetings when reading the wonderful book Positive Discipline by Jane Nelsen.
21. Share daily reflections with each other.
At dinner time, each family member can talk about something in their day. You can do 1 good and 1 bad thing that happened that day, talk about something you look forward to or find another topic. If you prefer to just focus on positivity, then have everyone share something good that happened each day.
22. Say grace or prayer before meals
The way in which your family will pray before meals will be something unique to your own family.
23. Find a family tradition restaraunt
This is actually one of my favorite family traditions and I Know my kids love this one too. We generally go to the same restaurant every Saturday night. It's comfortable, gives us all some time off to talk and there's no stress because we order the same thing every time. We know we love it and it gives me great comfort just thinking about it. It's so comfortable that the waiters already know our order before we even place the order! We also have special occasion restaurants that we go to everytime we celebrate somethig fancy too.
24. Do volunteer work together
If you live in a place with a lot of homeless people nearby, make it a habit to buy bread each week and hand it out to those who may be hungry. Teach your children these good deeds so that when they grow up they will be mindful of those less fortunate. You can do charity and volunteer work yearly together (like during the holiday's too.)
25. Have a kids cook night
Let the kids take charge. Let them choose what's on the menu and have them cook the meal. (Make sure to supervise, help and create a safe environment for your children.)
26. Sunday Sundae's
Go out (or stay home) and have ice cream sundae's on Sunday! Don't forget the chocolate sauce and sprinkles.
27. Create fun traditions during the Holiday Season
In fall, visit the pumpkin patch.
During Easter, have a yearly Easter Egg Hunt.
During Thanksgiving, have a special giving thanks way during Thanksgiving Dinner.
On Christmas Eve, tell special bedtime stories that relate to Christmas.
On Christmas morning, you can have a special breakfast.
On New Year's Eve, ring it in yearly with a special hug or handshake.
Tips
Failed family traditions are ok – it's ok if the tradition didn't stick.
I've tried to create a few family traditions that just became too hard to keep up with. For example, I tried doing weekly spa nights/massage time with my daughters on Sunday nights. I got to three weeks of doing it before realizing that I never have extra time on Sunday night, so it stresses me out, and it's just not doable. Were we better for having tried to create this family tradition? Yes. Even though it didn't become a tradition, it was a moment in time where we spent genuine quality time together. My mistake here was that I tried to schedule it too often (every week) and on a day that is generally a busy day for us. I will likely do a spa night with my girls but instead of it being a weekly occurrence, we just call out "SPA NIGHT" when we have the time. It's always fun!
Be open to adapting to what works.
Don't let it become a source of stress. Choose simple traditions and if you miss it once or twice, it's not a big deal.

Make sure the traditions your family chooses are something that brings you and your family members happiness.
I recently read this book on family traditions and it really inspired me to create new traditions. Whether you have unique traditions or popular traditions, I hope they create the atmosphere that bring warmth to your family too.
The Book Of New Family Traditions
Quality family togetherness has become so elusive in today's noise-filled world. With the addition of technology and gadgets in our lives, there are enough distractions around us to make it hard to be fully present and continue staying connected with members within our own households. Family expert Meg Cox offers a solution with her helpful suggestions of a hundred ways to incorporate fun family rituals back into family life.
Do you have any family traditions you did or currently do? I'd love to hear about them in the comments below.