Looking for some Christmas activities for toddlers and preschoolers? You have to check out the latest addition to our free printable bingo cards for kids. Like our popular insect bingo, the printable includes four Bingo Christmas game boards, each with 9 images.
This is a perfect way to have fun bonding time and holiday game night, all in one! Family BINGO games are the best – and since this is Christmas themed, you're going to love it.
Bingo Christmas Activity For Kids
While this Bingo pack is nowhere near as comprehensive as our Christmas Bingo activity pack for classrooms, this set is good for children who are younger, like 2 year olds, 3 year olds and 4 year olds who have a shorter attention span.
Like the Bingo Colors game, the game goes by pretty quickly but still allows you to subtly work on vocabulary words. Playing Bingo with children is a wonderful way to help them learn new vocabulary words for common items they will likely be seeing around them.
Have you downloaded my Christmas activity pack? The pack is filled with SO many puzzle, games and activities to create a whole fun learning unit at home. Children would work on early math skills, building words, etc. Add the Christmas Sensory Bin to your play for even more fun!
Fun Gift Ideas for BINGO
This holiday BINGO printable is great for the kids but don't forget to add in a few fun prizes! I think having fun rewards for the 1st person to BINGO is a great way to get everyone involved!
Some fun BINGO prize ideas are:
Christmas candy
Stocking stuffers
Fun holiday cookie
Extra screen time
First choice at picking dinner
Fun holiday socks
Mug of hot chocolate
First choice of a holiday movie
And those are just a few ideas! No matter what, have fun deciding the prizes that you want to choose. This is a simple way to get everyone geared up and excited for the holiday!
How to set up the Christmas Bingo activity:
Print out the calling cards and game pieces that you would like to use. If you need two boards, print out two, if you want to use all four, then print out all four. I suggest you print it on to a thicker paper than normal printer paper. This makes it easier to use and enhances the quality, especially if you don't plan to laminate it. I always use this type of paper for my printable activities.
WHERE TO GET THE CHRISTMAS BINGO CLASSROOM game
WHERE TO GET THE CHRISTMAS BINGO CLASSROOM GAME
This Christmas Bingo pack contains calling cards as well as thirty different bingo boards all with a Christmas theme.
Download the freebie activity here:
Have fun playing this BINGO Christmas activity! Since there are pictures and words, it really does make it perfect for all ages to join in on the fun!
This would also be super fun for a holiday after-dinner activity to get everyone settled down and ready to relax. Just be ready – once you start playing BINGO, you're going to never want to stop!
Want more Christmas activities?
Christmas Preschool Tracing Worksheets
WHERE TO GET THE CHRISTMAS ACTIVITY PACK
WHERE TO GET THE CHRISTMAS PRINTABLE PACK FOR KIDS
Explore Christmas festivities and vocabulary words with this fun printable activity pack that incorporates math and literacy activities.
GET THE BINGO GAME BOARDS FOR SMALL GROUPS
WHERE TO GET THE BINGO GAME BOARDS FOR SMALL GROUPS
Engage students of all interests with this set of Themed Bingo Game Boards Small Group, perfect for your next literacy centers. Featuring 18 games of different themes and four boards for each game, this fun pack includes calling cards and markers/board covers. Both color and black and white formats are included to suit your individual printing needs.
WHERE TO GET THE BINGO PACK FOR CLASSROOMS
WHERE TO GET THE BINGO CLASSROOM SET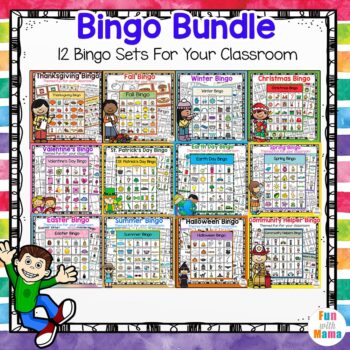 This Classroom Bingo class set includes 12 bingo sets for your classroom