We had so much fun with this Christmas sensory bin. Making it was almost as much fun as playing with it! I had the kids help me dye the rice (we added some peppermint oil for a lovely candy cane scent) and then we went on a hunt to find Christmas items to add to our Christmas sensory bin. Involving them in the process of making it gave them ownership of the activity.
If your looking for Christmas sensory activities this is a good one.
Christmas Sensory Bin
We had some lovely Christmas themed Safari Ltd Toobs that I was really keen to use in our imaginary and sensory play and this was the basis of our bin. We then decided that we wanted to add some more Christmas items, and went and had a look in our Christmas decoration box. We added green and silver baubles (red would work too), and some paper Christmas cups for scooping. From our craft box we added sparkly pom poms and then the kids decided to add red and green duplo too. Because we're Frozen obsessed in our house you'll also find an Olaf an a snow monster or two floating around in there as well. The best part of this Christmas sensory bin is that you don't need to spend a lot of money and you can use items you already have.
You'll see we also have some Little People stalls in there too. This is from our Little People farm set, and when I put them in there I wasn't sure how they would play with them, but they turned them into Christmas markets, sold colored rice and pom poms and even pretended they were an elf workshop. I love the power of imaginative play! Don't be afraid to get creative with your Christmas sensory bin.
Material Required for a Christmas Sensory Bin
Please note that affiliate links may be used in this post. Please see our disclosure policy for more information.
Items you likely have at home already:
How to color the rice for your Christmas sensory bin
A lot of people are hesitant to color rice, but its really simple.
Place your rice into a ziplock bag (one bag for each color)
Add a teaspoon of vinegar to each bag
Add 2-3 drops of food coloring to each bag

Add the peppermint essence (optional)
Seal the bag tightly and shake until all of the rice is colored

Place the colored rice onto sheets of baking paper and leave in a warm place for about 2 hours. I like to keep mine outside in the sun and it only takes about 30 minutes, but colder climates will take longer.
Once it's dry you can start playing with it! The colored rice will last for a really long time if you keep it in a sealed container.
How to make the Christmas sensory bin
Add your colored rice to the bottom of the plastic container. I made mine separate colors, but I knew full well eventually they would all get mixed up!
Add the sparkly pom poms
Add the Christmas Safari Ltd Toob figurines

Add the remainder of your decorations (baubles, figurines, duplo and other Christmas items)
Here is what our finished sensory bin looked like: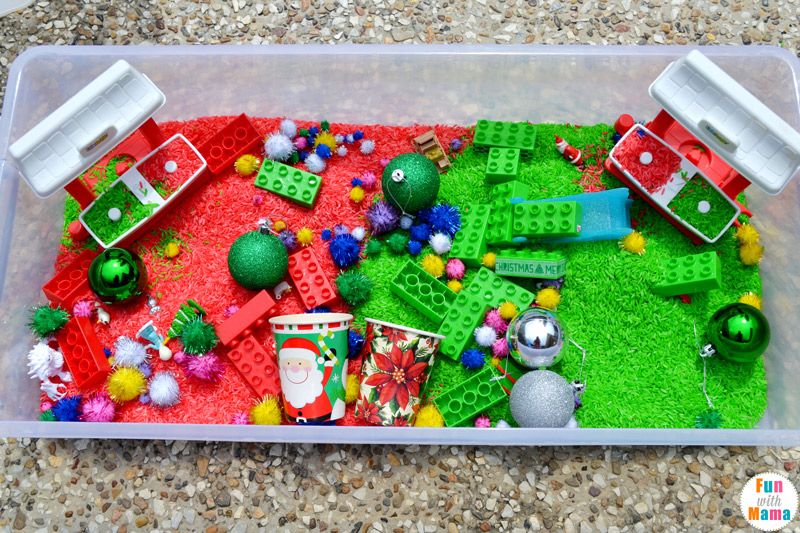 How my children played with the Christmas sensory bin
We played with our Christmas sensory box in so many ways including: