This snowman winter ten frame printable pdf activity is a great way for kids to practice those counting and math skills.
I love that this activity is so versatile that it can be used in so many ways. You can use manipulatives and other little trinkets or you can use finger prints or even do a dot markers too!
These ten frame counting cards make the perfect learning activity that allows your child to work on one to one correspondence, number recognition and pencil grip. There is a blank ten frame as well as ten frames with dots! Don't forget to check out the 16 snowman activities for kids at the end of this post!
Snowman Winter Ten Frame Printable PDF Activity
What is the importance of the ten frames and the concept of number sense? The printable ten frames allows a child to subitize or visualize the numbers of how many items there are without actually needing to count them. If they work with a tens frame often enough they will learn this early math skill of subitizing.
Materials Required:
Please note that affiliate links are used in this post.
The materials you need will be determined by how you choose to use the activity. The list below will contain a full variety.
We buy most of our supplies with our Amazon Prime Account because it is super convenient and normally has free 2 day shipping. You can try it for Amazon Prime Account here.
10 Frame Cards Set up:
Print out the set of tens frames worksheets that you would like to use. I printed out both sets on card stock. You can laminate them for extra durability if you would like to use them more than once or twice.
Snowflake Winter 10 Ten Frames Printable:
The ten frames that has snowflakes on it would work great for counting. Preschoolers can count each frame and then look at the corresponding numbers.
You can also cut apart the ten frame from the number and have your child match the two up.
5 Ways To Use The Blank 10 Frames:
You can stick these ten frames into a dry erase pocket. Then have your child color with a dry erase marker.
Print it out and let a child color directly on it.

Do a Dot Ten Frames – Have your child dot the ten frame templates with the correct number of dots.

Use a math manipulative, little erasers, pom poms, or whatever small materials you have at home to place the correct amount of trinkets on each number.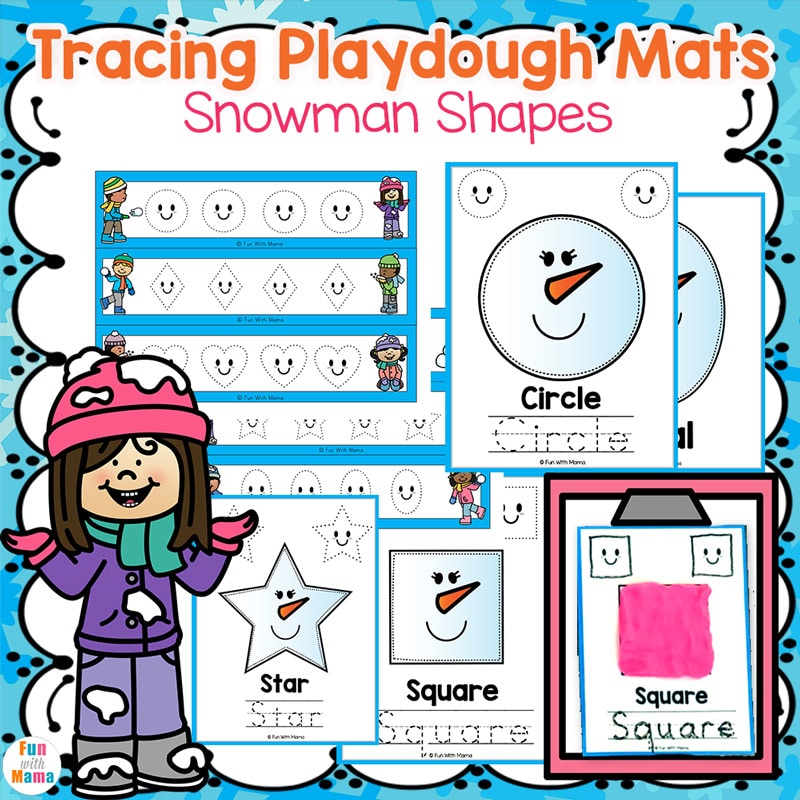 Check out these snowman themed play dough mats
In this picture, we used little gems.
Here I used these adorable little erasers from the Target Dollar Section. These erasers look cute too.
You can use different color trinkets and manipulatives to work on addition!
5. Have your child make the correct number of fingerprints. That would be super cute! I included a link to our favorite stamp tray below in my winter craft supply picks.
I was really amazed at how much my 3-year-old enjoyed these winter ten frames!
Winter Activity Pack
Snowman Tracing Alphabet writing mats, number mats, count, write and wipe cards, uppercase and lowercase alphabet letter matching can be found below:
You can find these activities here:
Get your Winter Ten Frames Printable Here
Already a subscriber? No problem. Just enter your details above so we can send this printable right to your inbox.
Need help with teaching grade schoolers sight words and spelling? Check out my free printable Read Build Write Mats!
Check out these other Winter Themed Crafts and Activities
My Winter TPT Activity Packs
Check out these AWESOME 16 Snowman Activities For Kids:
FROM LEFT TO RIGHT:
Exploding Snowman Baggie: Winter Snow Science for Kids // Science Kiddo
Snowman Number Match Printable // A Dab of Glue Will Do
Preschool Snowman Activity Pack // Schooling a Monkey
Snowball Shooter // The STEM Laboratory
Snowman Teen Number and Ten Frame Match // Recipe for Teaching
Snowman Subtraction Mats // The Kindergarten Connection
Snowman Alphabet Activity // Mom Inspired Life
Snowman Writing Paper with Prompts // Liz's Early Learning Spot
Snowman Printable Fact Family Activity target="_blank" // DIY Farm Wife
Snowman Pattern Block Mats target="_blank" // Playdough to Plato
Snowman Sequencing Fun // Sara J Creations
Snowman Sight Word Search // Adventures of Adam
Winter Snowman Ten Frame Printable // Fun with Mama
Snowman Rhyming Puzzles // Fairy Poppins
Snowman CVC Word Match // Letters of Literacy
Two Digit Number Snowmen // Play & Learn Everyday