These free printable preschool gingerbread count and clip cards are perfect for working on early preschool math skills like number recognition and one to one correspondence. Toddlers can do the counting while you guide them to the matching letter. Preschoolers can do it themselves. Clipping the clothespin onto the card also works on those preschool fine motor skills.
We do a lot of fun Toddler love doing activities that are fun and little do they know that many of these preschool activities have an educational value behind it.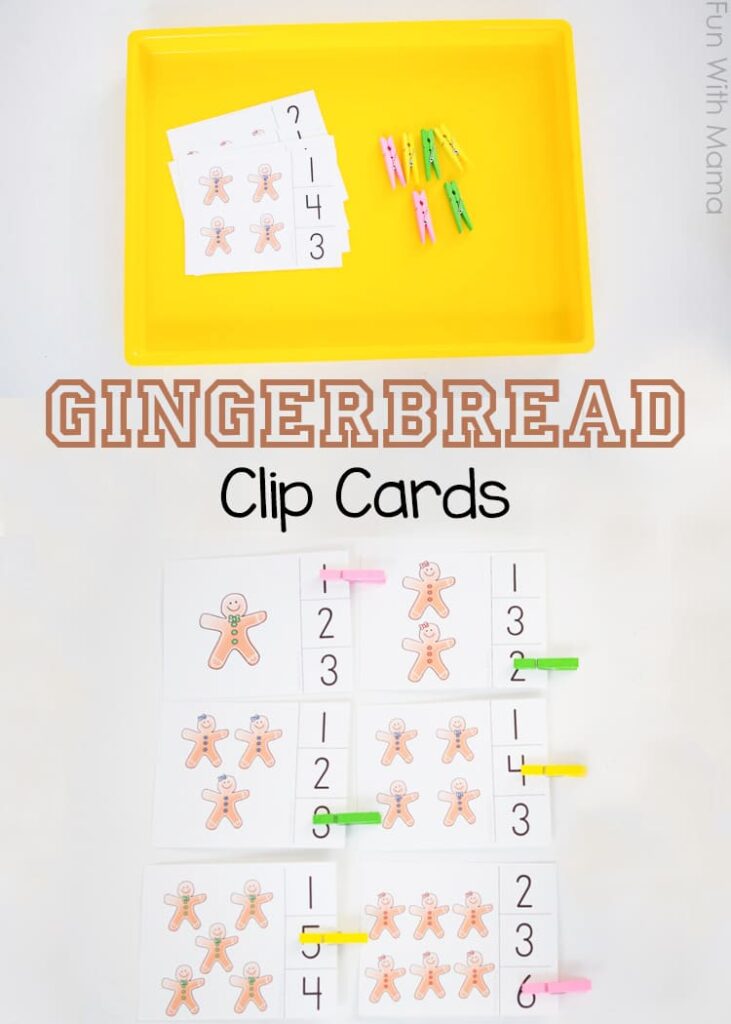 Preschool Gingerbread Count and Clip Cards:
Materials Required:
Please note that affiliate links may be used in this post.
– Card stock paper(I highly recommend you purchase card stock. This prevents me from needing to laminate most things and is one of the most used material in my house.)
– Medium Clothespins – I have these plain clothespins from Amazon and these colorful ones from Michaels. The ones that are pictured here are the ones from Michaels.
Setting up The Free Printable Clip Cards
Print the homeschool freebie clip cards out on card stock paper. I have two trays in my printer. One is loaded with normal printer paper while the other is always loaded with card stock. We print all of our activities on to card stock for extra durability and better color pay off.
Cut the gingerbread clip cards out by cutting on the light gray lines. You should end up with a total of four cards per page.
The Gingerbread Clip Card Activity

Now that the activity is all ready to go place the correct number of clothespins together with the cards.Then let your child clip them on. If this is the first time your child is working with clip cards I would suggest you do one as an example.
Gingerbread Preschool Math Number Clip Cards http://bit.ly/2fPwy0r Click to Tweet
I prefer to place our activities on a tray as we do for most of our Tot Trays. It adds a bit of color and allows a child to know where their workplace is.
If you do not have clothespins then use whatever you have at home. Use counters, gems, pom poms. Anything could work. You could even laminate the cards and have your child circle the correct number.

These gingerbread tracing worksheets would be a wonderful add on to this gingerbread theme. Develop those fine motor skills with these preschool play dough mats.
Check out these great winter themed add ons:
Have a look at these 20 Gingerbread activities for kids

FROM LEFT TO RIGHT:
Gingerbread Math – Making Five // Mrs. Jones' Creation Station
Gingerbread Pattern Cards // The STEM Laboratory
Science Christmas Ornaments: Long Lasting Gingerbread Ornaments // Schooling a Monkey
Initial Sound Gingerbread Puzzles // A Dab of Glue Will Do
Decorate a Gingerbread Man Art Activity // Mom Inspired Life
Gingerbread Addition Mats // The Kindergarten Connection
Gingerbread Coverall Games // Recipe for Teaching
Gingerbread Man Counting Cards // Sara J Creations
Gingerbread Pre-Writing Strips // Letters of Literacy
Gingerbread Clip Cards // Fun With Mama
Gingerbread 2D Shape Match and Count // Liz's Early Learning Spot
Gingerbread Story Sequencing // DIY Farm Wife
Gingerbread Play Dough// Play and Learn Everyday
Gingerbread House Building STEM // Science Kiddo
Gingerbread Ten Frame Counting Mats // Modern Preschool
Don't forget to check out these awesome preschool printable letter crafts too.