Do you want to build a snowman ? This printable do you want to build a snowman craft activity will be great for Frozen lovers and crafty kids. This colorful collage kids arts and craft activity is perfect for winter. Not only will kids have some fun building a snowman but this activity will also have them practice their fine motor skills. They will also learn early math skills like counting, shapes, and sizes. Besides, which child doesn't love a cut and paste kids activity? Any excuse to use some glue and work with scissors, right?
When I saw this Gingerbread Decorating Activity I was so inspired that I new we had to try this with a snowman! That activity paired well with my Gingerbread Pre-writing Strips and these gingerbread number clip cards.
Printable Do You Want To Build A Snowman Craft:
I love the convenience of printable activities. I am not great with free drawing so having a snowman template really helps me. We do a lot of preschool activities as well as toddler activities so having a well stocked craft supply list is important to us. It is good to stock up once off on kids collage supplies because they will re-use these materials over and over again during your arts and crafts activities. Please note that affiliate links are used in this post.

Materials required:
Get out your collage material and collage supplies. From pom poms, buttons, gems, qtips, craft sticks, google eyes and gems the more you have the merrier it will be.
The Snowman Craft Activity
I have been pinning my favorite snowman and winter themed activities. (These winter clip cards would pair well with this activity!) Building snowmen can be fun. My girls love frozen and Olaf so I knew they would adore this activity.
I printed out my printable snowman and cut them out. I printed out 10 of them. I knew each of my kids would have wanted to make at least two different versions. Extra is always better!
Then I let them be to encourage open ended creativity. The snowman could look silly, happy, mad or sad.
What I did do though, is I would ask them questions.
Questions you can ask to encourage math thinking
"How many buttons are you using?" "How many eyes?"
"What colors are you using?"
"Which shapes will you be using?"
"Is that the smallest button?"
I think they turned out pretty cute.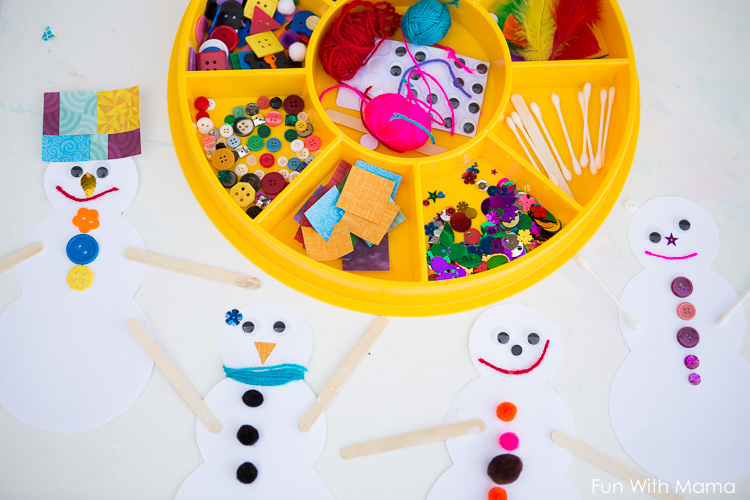 Add this to your list of frozen crafts for birthday party and play dates! Play the Frozen song, "Do you want to build a snowman?" in the background to set the ambiance.
Check out these other Winter Themed Crafts and Activities
My Winter TPT Activity Packs
More Frozen Printable Crafts, Ideas, Decorations and Recipes:
More Snowman Project Ideas:
Pin it!