These winter preschool count and clip cards are perfect for having toddlers and preschoolers practice their math counting skills and number recognition. Kids will love counting the snowman and adorable winter mittens with these free printable clip cards. Clothespin activities are fun for kids because they make it a more hands on learning experience.
Winter Preschool Count and Clip Cards
These free preschool math clip cards are sure to be a hit with kindergarten and preschool kids. Toddlers and preschoolers will be working on kindergarten prep and fine motor skills too!
This printable pack includes 3 pages. Kids will work on the numbers 1 to 12.
Materials Required:
Please note that affiliate links may be used in this post.
– Medium Clothespins – I have these plain clothespins from Amazon and these colorful ones from Michaels. The ones that are pictured here are the ones from Michaels.
Preparing the Count and Clip Activity:
Print out the clip card templates activity on card stock. This provides extra durability. If you plan to use them with many different kids or students laminate them for extra durability. (I don't laminate them if I print on to card stock.)
Then cut out each card.
Count and Clip Cards
To have kids work on it leave the cards out with some clothespins.
Depending on your childs age this can be an independent activity great for quiet time or you can sit with them and help them as they explore their numbers a little more.

Want more Winter Clip Cards?
I LOVE clip cards in our home and so does my 3 year old daughter. I have put together this fun count and clip card set that will grow with her over the next 2 years. Check out these early math and literacy clip cards pack.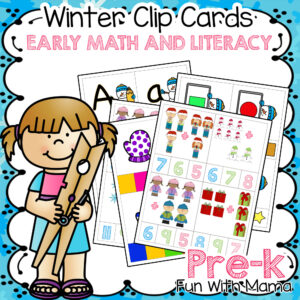 Check out these other Winter Themed Crafts and Activities

My Winter TPT Activity Packs