Arrg Matey! Time for some preschool fun with a colorful Pirates theme. What kid doesn't love pirates and mermaids or finding lost treasure? This Pirate Theme Printable Preschool Pack includes 52 Pages of Preschool Fun!
Here are some of the activities included in this FREE Pirates pack:
Number puzzles 1 to 10
Pirate positional book
Writing Practice Pages
Various worksheets
Puzzles
Skip Counting Puzzles
Graphing
Patterns
Shadow matching
Color Matching
Shape tracing
and more!
Materials Required:
Please note that affiliate links are used in this post.
Here are some items that pair well with these activities. You will use each of these items over and over during all my printable preschool activity packs.
Number Puzzles 1-10 and Clip Counting Cards 1-12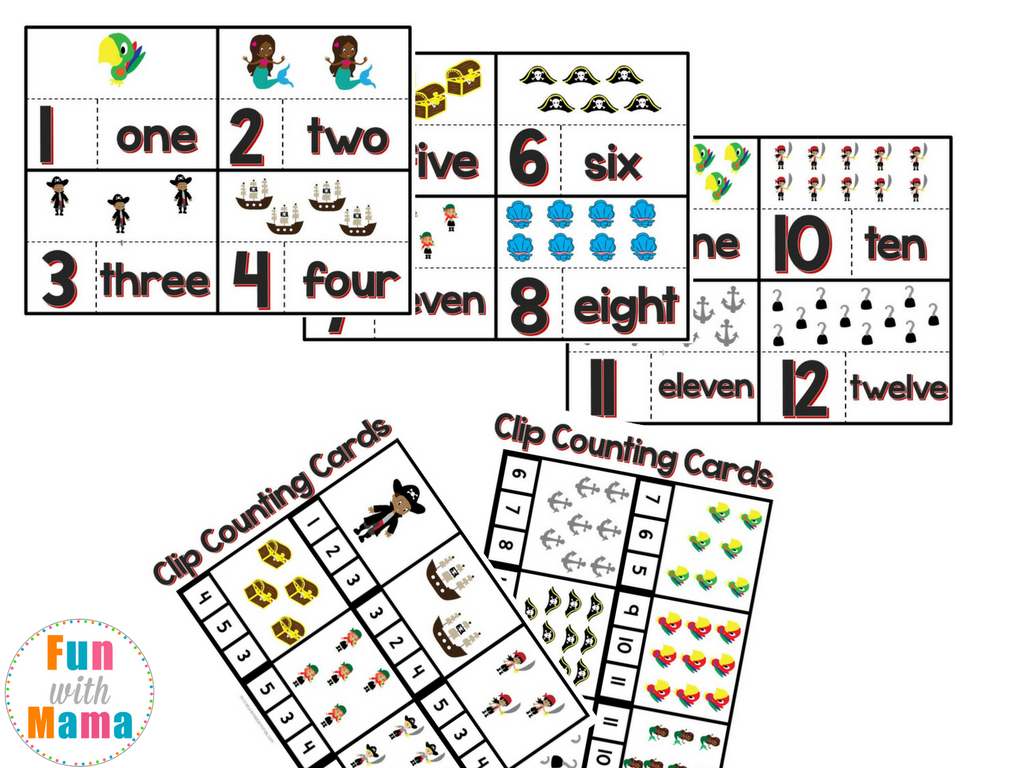 Number Puzzles
Print and cut out each card. Cut across the dotted lines to form the puzzles. Great for counting and number recognition.
Clip Counting Cards
Cut out each card. Use a clothes pin to mark the right number. Find tons more clip counting cards here!
I Can Read Pirate Positional Book
This simple to read book features cut and paste positional pirates. Each page tells the child where to put the pirate.
Puzzles And Matching Activities
There is tons of fun matching puzzles. We are huge puzzle fans so I usually include a fair amount. This set includes matching, colors, and shadow puzzles.
Work Sheets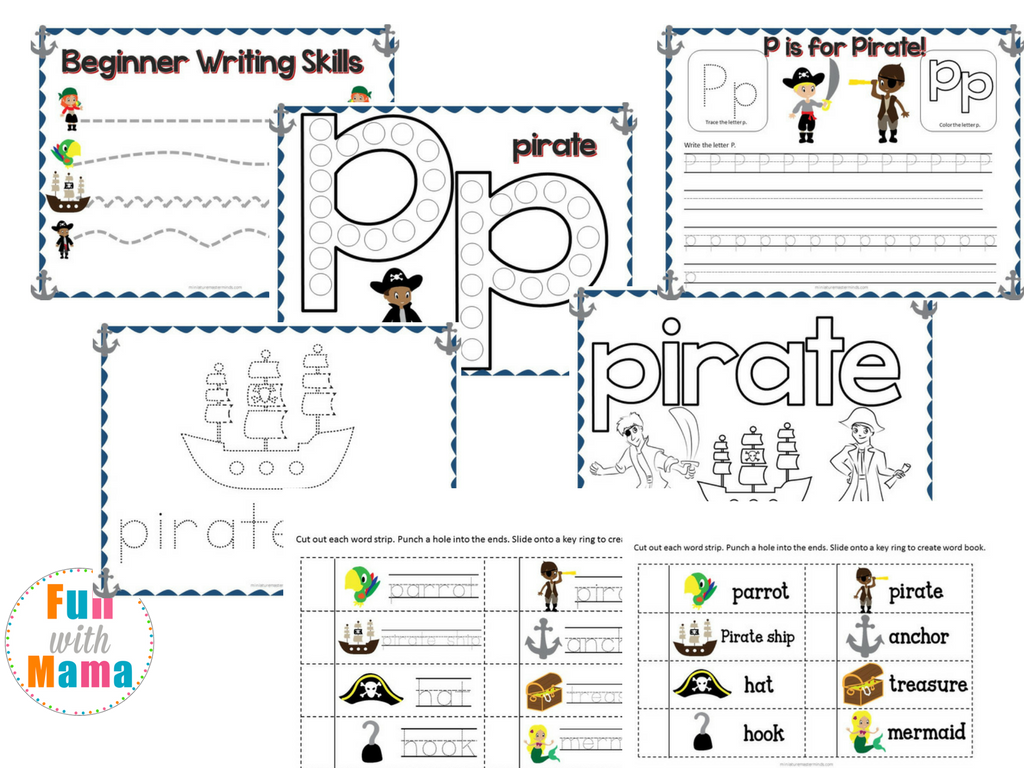 Pirate Theme Printable Preschool Pack http://bit.ly/2v0Bpm9
There are several different supplemental worksheets included:
Word Strips: Cut out each word and punch a hold in the end. Thread onto a key loop for a travel word book.
They can also practice beginner writing skills, tracing, and coloring the word Pirate.
A few others are:
Finish the patterns
Skip Counting Puzzles
Letter Pp Sort
I Know My Colors Coloring page
Counting
and Before And After Numbers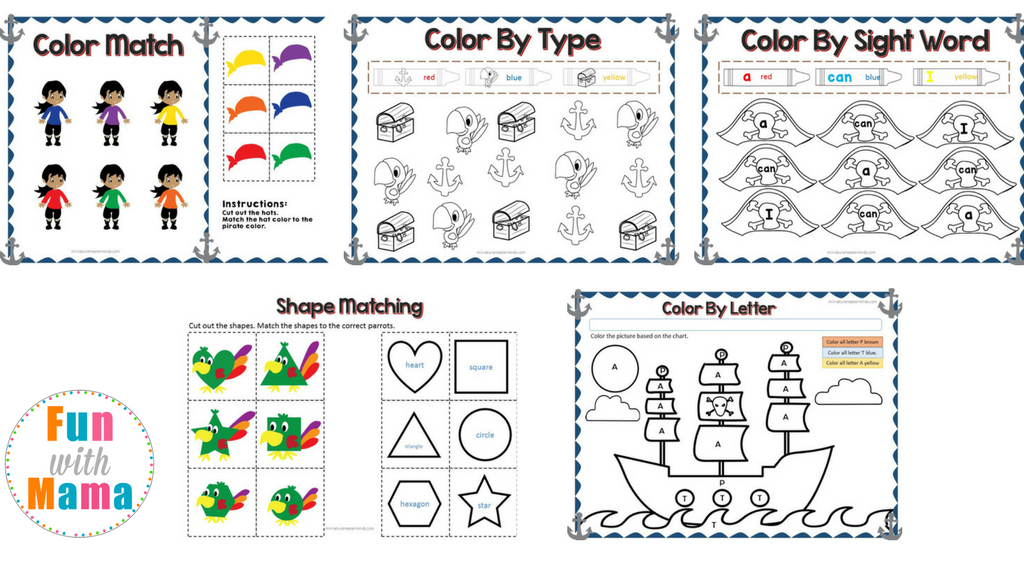 Color Matching Page (Match the hats to the pirates)
Color By Letter Pirate Ship
Parrot Shape Match
Color By Sight Words
Color By Type
I also included several creative activities such as coloring, do a dots, and lacing cards. I sure hope your kids have as much fun with this set as we have!
I really enjoyed creating this pack. If you would like to expand this unit study, we have a few other ocean and Summer themed activities you can add to these! Just click here!
Where to get the Free Pirate Printable Preschool Pack
Get the Free Pirate Printable Preschool Pack here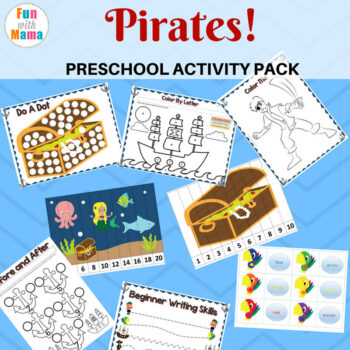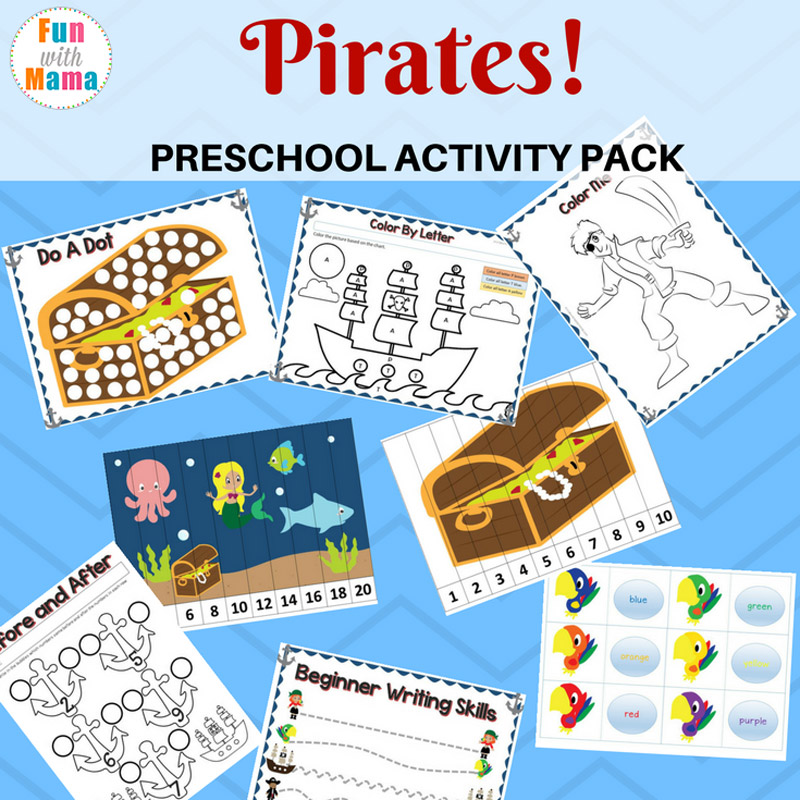 Already a subscriber? No problem. Just enter your details above so we can send this printable directly to your inbox.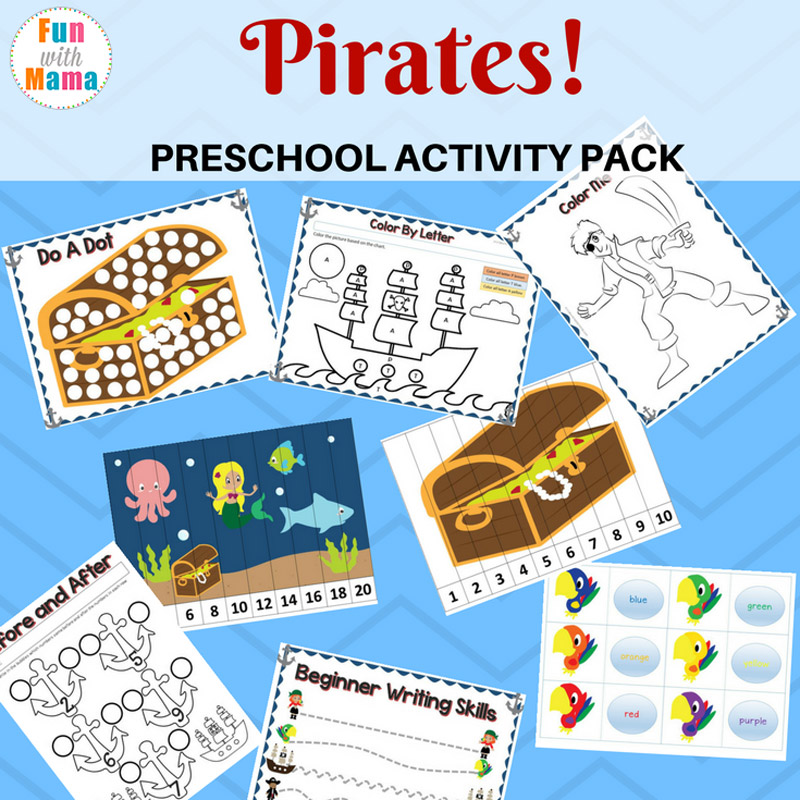 More Printable Packs
Explore more with the Pirate Activities Pack
GET THE PIRATE ACTIVITY PACK HERE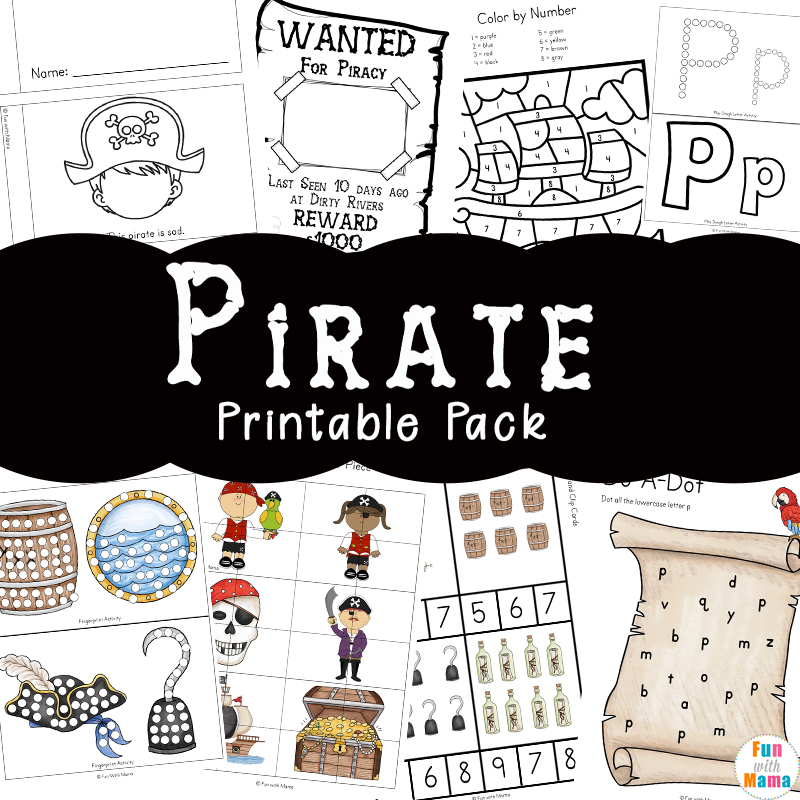 AHOY MATEY! This pirate activity pack is jam packed with fun learning opportunities. These activities come in color and black and white.