This printable pack is out of this world! Kids will have a blast working on their literacy, numeracy and handwriting skills with this Solar System Printable Worksheets and activities Pack. These space printables for preschool and kindergarten include activities for children between the ages of 3-8. Children will enjoy learning all about the eight planets of the solar system with the space-themed activities in this pack.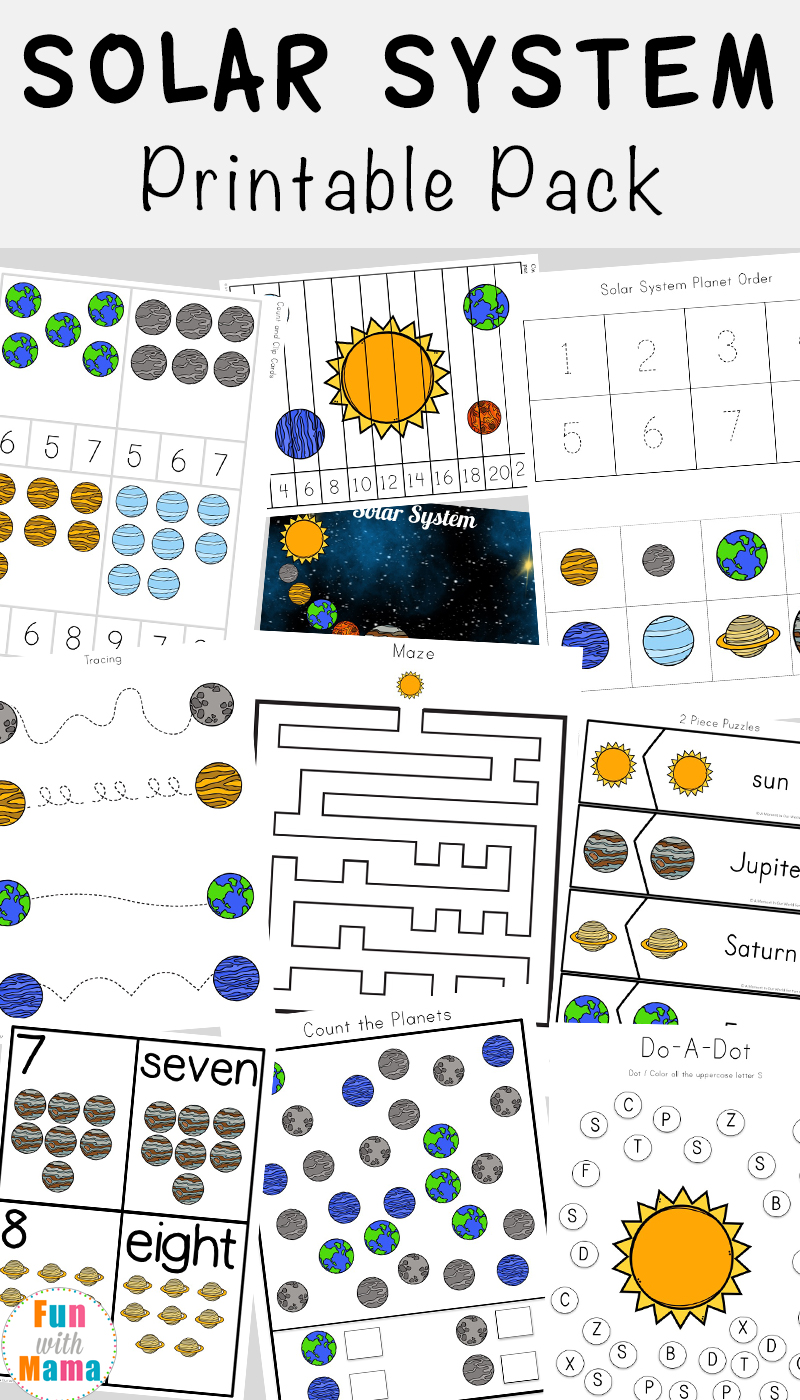 SOLAR SYSTEM ACTIVITIES FOR KIDS
Space is a theme that appeals to all ages as provides children with lots of room for imagination. Focusing on the solar system; the eight planets, the moon and the sun, your children will have fun with the printable solar system game as well as the numeracy and literacy activities that will help with their handwriting skills, letter recognition and counting skills.
Suggested Supplies
Please note that affiliate links are used in this post.
Here are some items that pair well with these activities. You will use each of these items over and over during all my printable preschool activity packs.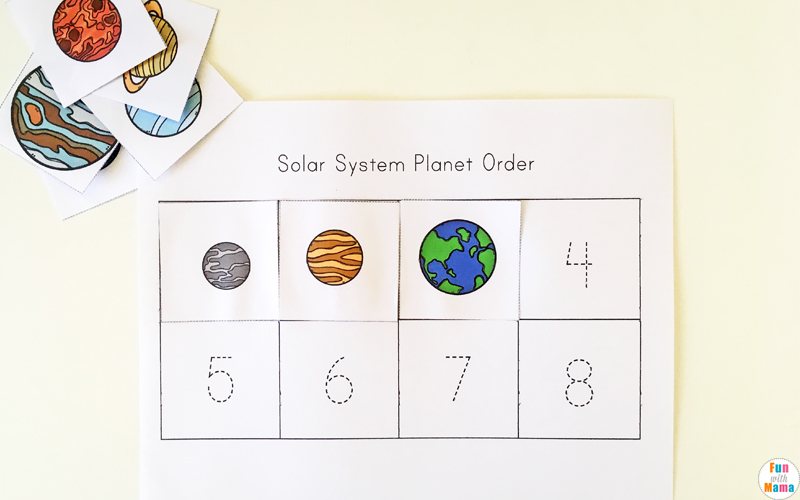 In the video below you can learn more about the activity pack:
You can get more details about the Solar System pack here.
What is included in the space activity pack
This Solar System Printable pack contains over 150 pages of fun and learning.
Included is this fun Solar System Printable Board Game. With this comes a printable dice that includes pictures of the sun instead of numbers and planet counters.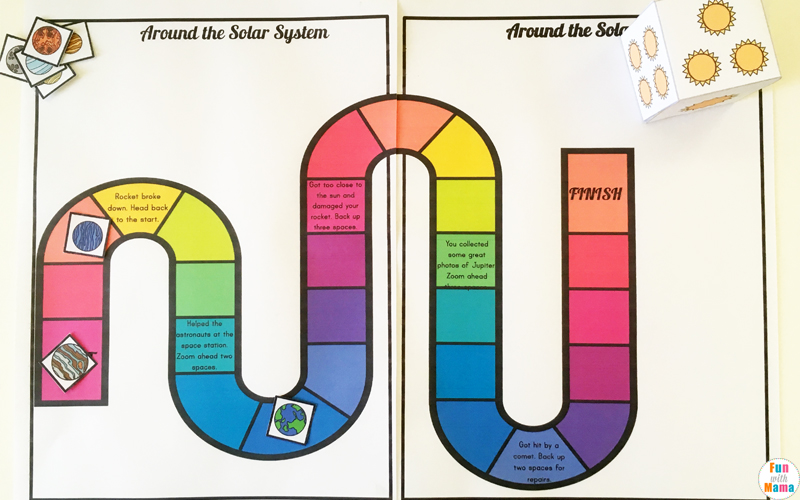 I recommend printing out the square planet markers and laminating them for durability. You could also use small space-related toys as markers. The printable dice is easy to make, just print out on white cardstock, cut it out and glue the sides together. Double-sided tape also works great for holding the dice together. To set up the board, just tape the two pieces together, matching the center piece of the game board.
To play, have the youngest player start. Have them roll the dice, and move the correct number of spaces. The player on their left goes next. The first person to arrive at the finish wins! Follow the directions if you land on spaces with instructions. Have Fun!
This Solar System Printable Worksheets Pack includes many other fun activities such as: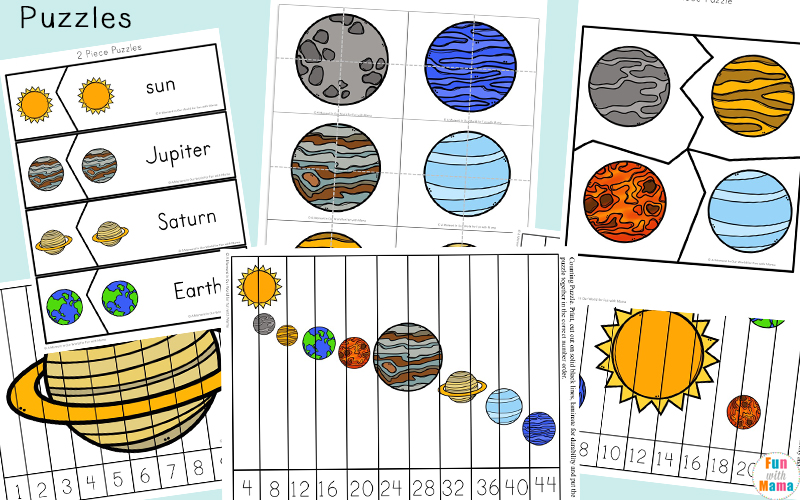 Puzzles
3 part cards
Information Cards for each of the eight planets, sun and moon
Simple Addition and subtraction
Solar System playdough mat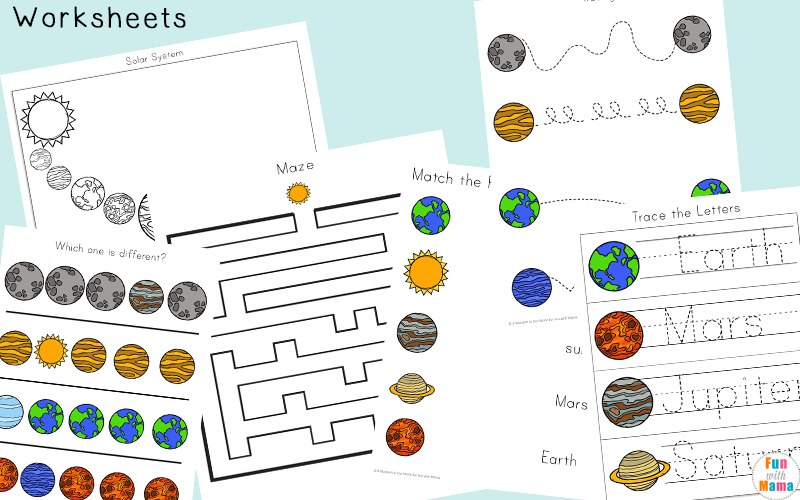 Solar System cut and paste poster
Solar System sequencing – place the planets in the correct order
Space Mazes
Solar system dot to dot
Do-A-Dot Pages
Color Activities
Handwriting and story writing activities
Counting Activities
The activities focus on the moon, sun, Mercury, Venus, Mars, Jupiter and Saturn through hands on learning that encourages color recognition, fine motor skills and early math skills.
Create your own edible Solar System with this great recipe.
Solar System Printable Pack http://bit.ly/2v0TVem
WHERE TO GET THE ACTIVITY PACK
GET THE SPACE AND SOLAR SYSTEM ACTIVITY PACK HERE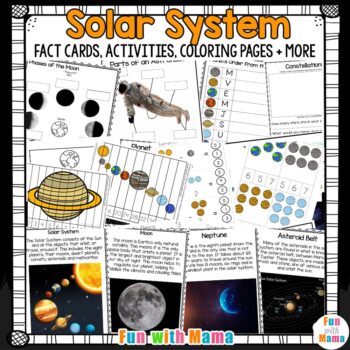 This 116 page activity pack includes solar system activities and facts, clip cards, writing pages, puzzles, and so much more!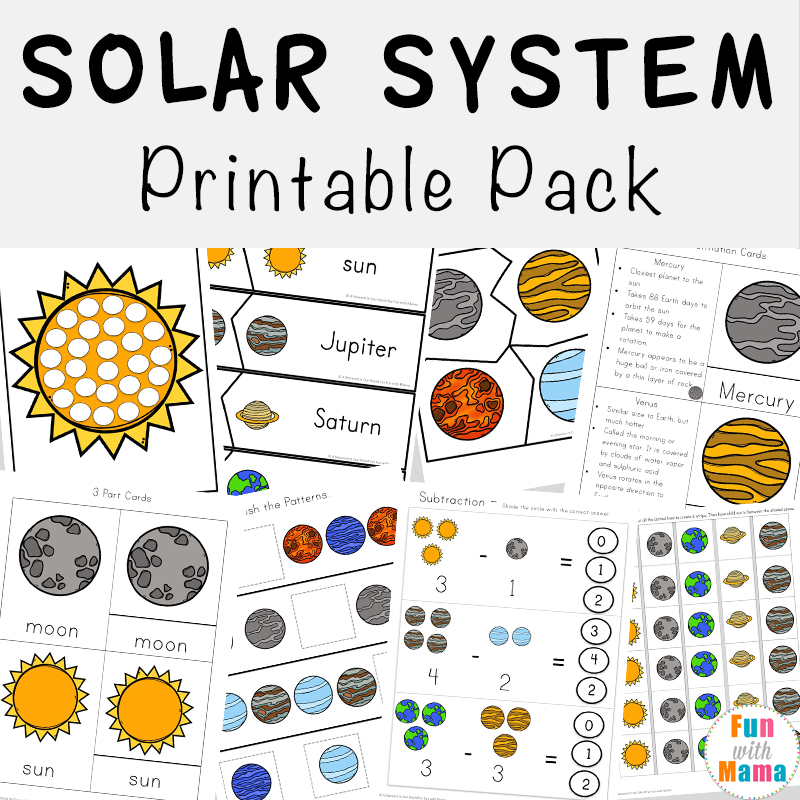 Add this to your preschool space theme lesson plans!
You can also check out this outer space theme pack here for a different take on the space theme.