Blast off into space with these amazing space printables. Kids will have a great time working on their literacy, numeracy and handwriting skills with these Solar System Worksheets.
SOLAR SYSTEM WORKSHEETS
Space is a theme that appeals to all ages as it provides children with lots of room for imagination. Focusing on the solar system; the eight planets, the moon, asteroids, constellations, and the sun, your children will have fun with these real photo image posters and space printables.
If you stop and ask your child about space, more than likely their eyes light up. There's just something mysterious about learning about space that your kids love and adore.
And why not? It's a super simple way to encourage their love of learning. These solar system sheets are a great way to help them understand even more about learning.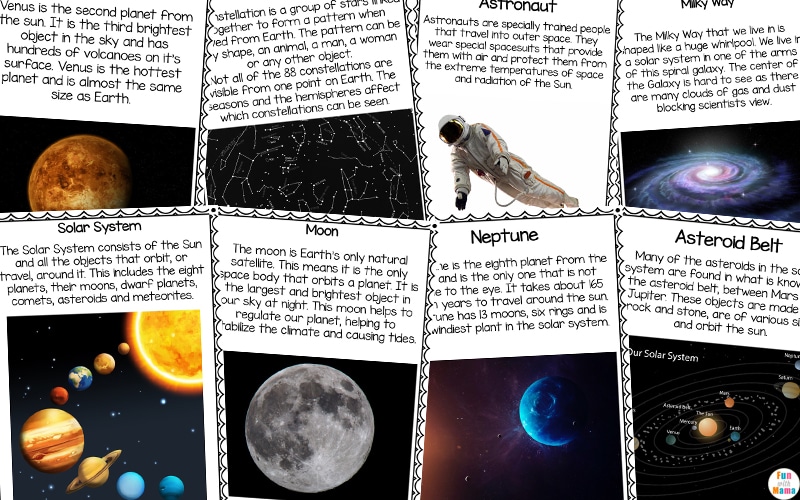 Materials Required:
Please note that affiliate links are used in this post.
Here are some items that pair well with these activities. You will use each of these items over and over during all my printable preschool activity packs.
Check out what's included in the video below:
This Solar System Printable pack contains over 150 pages of fun and learning.
The activities included in this 150+ page printable pack are:
Cards containing real-life photos the planets, constellations, asteroids and more
Posters which include the Milky Way, Solar System, Sun, Moon, all the planets, phases of the moon, constellations, dwarf planets, terrestrial planets, gas giants, asteroid belt and astronaut
Planets can, have, are.
Solar System – what I know, what I think about, what I learned.
Parts of an Astronaut –a poster and a cut and paste activity
Phases of the Moon –a poster and a variety of different cut and paste activities
Moon Cycle –A calendar to complete as you see the moon each night
Facts about the Moon –What they have learned about the moon
Facts about the Sun–What they have learned about the sun.
Sun and Moon –Venn diagram
Planets and Dwarf Planets –Venn diagram
Letter to an Astronaut –Write a letter to an Astronaut
Planet or Constellation –Cut and Paste Activity
Create a Constellation –Create and describe your new constellation
Create your own edible Solar System with this great recipe or this fun Galaxy Shirt.
GET THE SOLAR SYSTEM PRINTABLE PACK HERE
This 200-page activity pack includes solar system activities and facts, clip cards, writing pages, puzzles, and so much more!
How to use these Solar System Worksheets
If your child loves to learn about space and the solar system, finding ways to incorporate these Solar System Worksheets into their lives might not be too hard.
But just in case you need a few ideas on how to use them, consider some of these as well:
Pack them up and use them for traveling time in the car
Have a day dedicated to learning all about space and the solar system
Use these solar system worksheets to supplement this area of study in your child
If you love this learning activity and printable, there are more for you to check out!
More fun learning activities to consider: