Are cats nocturnal? Find out the answer in this Nocturnal Animals for kids There are so many different types of animals in this world. Some sleep during the night like we (humans) do, while others sleep during the day, but come alive at night. These are called nocturnal animals, as you may know. This Nocturnal Animals Printable Pack introduces children to some of the lively night characters. While including other aspects of learning such as numbers, sorting, and of course learning about nocturnal animals in general.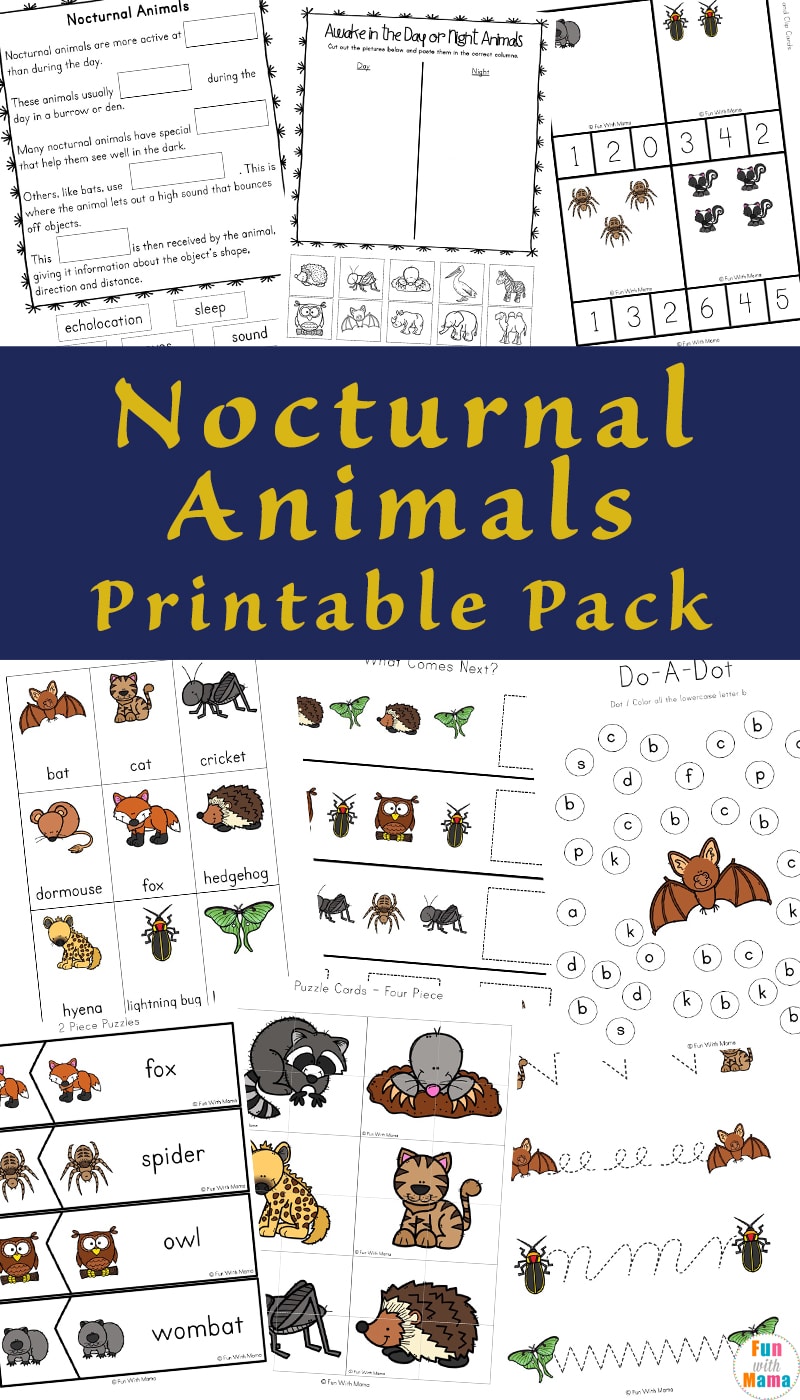 Nocturnal Animals For Kids
This Nocturnal Animals Printable Pack is aimed at children in preschool and kindergarten. It is full of fun math and literacy activities while showing children which animals they will find active at night.
Materials Required:
Please note that affiliate links are used in this post.
Here are some items that pair well with these activities. You will use each of these items over and over during all my printable preschool activity packs.
Nocturnal Animals list
owl
cats
wombat
fox
spider
hyena
bat
cricket
lightning bug
dormouse
hedgehog
Nocturnal Insects
You will find nocturnal insects in the activity pack as well as the nocturnal animals
In this Nocturnal Animals Printable Pack, you will find a cut and paste activity in which children will learn about what makes an animal nocturnal. There is also a Nocturnal Animals book that they can create, use for reading and spelling practice, and then color in all of the pictures.
The nocturnal animals games includes bingo cards with images of wombat, skunk, raccoon, mole, opossum, owl and hedgehog,
There is also a variety of puzzles. They range from two piece up to four piece puzzles. The number puzzles are great for kids learning to count and skip count.
Other activities included in this printable pack are I Spy, cutting practice, 3-part cards, line tracing page, number puzzles, count and clip cards, nocturnal animals book fingerprint activity and size sequencing cards.
Nocturnal animals are night animals
You may also like this Bat unit.
DOWNLOAD THIS FREE ACTIVITY PACK HERE
Get the black and white pack here