Preschoolers and toddlers will love this insects spring counting activity! My three-year-old loved using real figurines to make this a hands-on math activity. We also used the adorable bug themed images too. This activity focuses on the numbers 1 – 10.
Insects Spring Counting Activity
This insect activity ties wonderfully with the printable letter b is for butterfly and letter b is for bee craft!
Materials Required:
Please note that affiliate links are used in this post.
Printable Activity (found at the bottom of this post)
* Insect Figurines (this is optional but a wonderful addition.)
* 1 inch round circle cutter (This is also optional. I use a .75 inch, 1 inch and 1.5 inch for almost all my printable activities so you will find a lot of use out of this. You could also cut them out by hand if you don't have a cutter.)
How to set up the activity
Print out the pages onto cardstock. Cut out the numbers and disks. I was doing this activity with my 3-year-old daughter.
Insect Counting Activity
You can do this activity two ways.
Place a number card in the square. Read the number allowed with your child if working with a toddler. If working with a preschooler who already knows their numbers have them read the card aloud. You can practice number recognition this way. Then add the correct number of insects. They could choose a variation of the ladybug, butterfly, ant, dragonfly, etc. Your child could sort these by insects with wings and insects without wings.
Place insects in the jar. Your child will have to count each insect then choose the right card.
Use real figurines to make it even more fun! You can discuss the colors of the insects too. Talk about how many legs they each have. There are so many things that can be discussed.
This activity is included in the insect activities pack:
GET THE INSECT ACTIVITY PACK HERE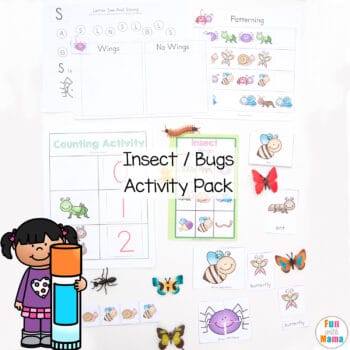 Explore the insect theme in this fun activity pack that will help increase vocabulary, work on counting, patterning, and literacy skills too. This insect learning pack is perfect for Preschool and Pre K students. With 42 pages of fun and a black and white option this pack is useful for homeschool and classrooms!
More Insect and Spring Activities