Insect Lore makes it easy for kids of all ages to do some science and biology with this caterpillar butterfly life cycle activity . To date, this has been our favorite kids activity. I say kids activity lightly though, because as an adult I think I may have enjoyed the process even more than my preschooler and elementary aged kids did. Besides being one of the best toddler activities that we have done I think it would be just as great to add on to your preschool activities and elementary grade students activities will enjoy it just as much. Read on to learn about our experience and watch the special video at the end where you can see my kids set our amazing butterflies free.
The Caterpillar Butterfly Life Cycle Activity is a hands on approach to learning.
I have wanted to do this activity for the longest time but this kit wasn't available in South Africa. As soon as I moved back to America I patiently waited for the weather to get warmer so I could order this. Seeing as I had waited so patiently, I knew that I wanted to fully immerse my kids into learning about the caterpillar butterfly life cycle. I purchased these items on Amazon so that I could create a well rounded unit.
It is important to note that I was not paid to do this review nor did I receive the product for free. I purchased every one of these items and thoroughly enjoyed every single part of this educational kids activity. (Please note that affiliate links are used in this post.)
Products I bought:
– Insect Lore Butterfly Garden (This one comes with a voucher that you would use once you receive the package that will allow you to get some caterpillars for free.) If you are impatient and don't want to have a lag between the time you receive the package and the time you would receive caterpillars you can purchase the package that comes with everything together. However, I think it works out to ten more dollars.
– Caterpillar to Butterfly National Geographic Book – This allowed us to learn more about the caterpillar butterfly life cycle. It is not necessary because all this information can be found online. If you are like me though and want to spend some time away from the computer (bloggers life…) then the book is a good option.
– Butterfly life cycle stages – I wanted my preschooler to be able to look at each stage more carefully while also giving me the ability to add these figurines to a sensory bin.
– The Very Hungry Caterpillar Book – We already had this book as do most Mom's of toddlers. This book by Eric Carl is a staple in every child's home library. She loved exploring the book with her caterpillar "eating" through all these items.
– Safari Ltd Butterfly Toob – These are great for your sensory bin and to use as counters for educational kids activities.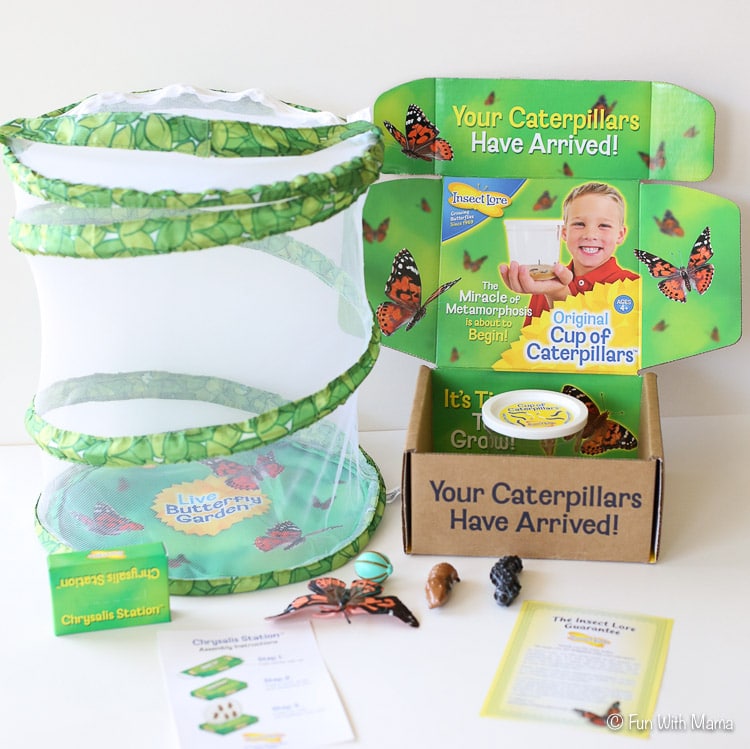 The Caterpillar Butterfly Life Cycle Kids Activity By Insect Lore
Look at how tiny these little caterpillars were. One of them wasn't moving at all when it arrived. I was so disappointed and I thought it was dead. This is completely normal.
Over the next few days we began to see what looked like fuzzy little threads begin to surround each of the caterpillars. This is a protective shield and was interesting to observe. We were amazed to see how much these painted lady butterfly caterpillars grew! I was sort of scared by how large they became. (I'm generally scared of ANY insect…) You will be able to track their growth in the video I posted below.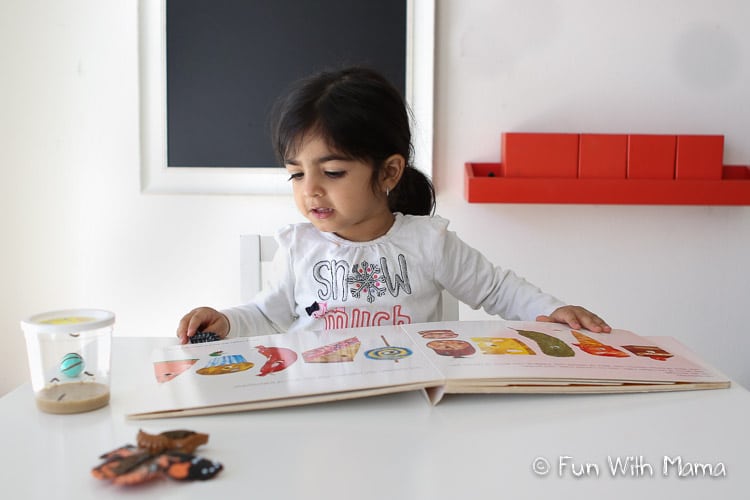 We went through the Very Hungry Caterpillar book almost daily and my toddler loved re-enacting the caterpillar "eating" through each of those items.
10 days after we received our caterpillars they began to form chrysalides. This was such an interesting and amazing part of the process of the caterpillar life cycle. They shake SO much during this stage! If you hold the cup (be very gentle…) you can feel how strong this vibration is.
Once all the chrysalides have formed you have to take them out of the cup and attach the paper that they are attached to on the inside of the butterfly garden. Then we waited… This is the most amazing preschool activity.
Butterfly and Caterpillar Themed Kids Activities
We did many arts, crafts and themed activities during this time. Click on the link below to be taken to the blog post related to that activity.

Butterfly Themed Sensory Bin
Butterfly Yarn Activity
Butterfly finger paint printable activity
Folded Butterfly Painting Activity

Coffee Filter Butterfly Activity
Later on this week I will be posting our Printable Letter C Activities. Many of which focus around caterpillars. I will update this post with the corresponding link.
The caterpillars emerged!
We were hoping that they wouldn't emerge as butterflies in the middle of the night while we were sleeping. Who would want to miss out on THAT part? I considered recording them throughout the night but my tech skills aren't THAT good.
Thankfully, we got to watch almost every one of them emerge and even caught one of them on camera! The best moment of this whole Insect Lore butterfly garden activity was the moment we let our butterflies go. The look on my daughters faces, the amazement that I heard in their voices and the sheer love and joy that I saw in their eyes. It was a moment that will live in my heart forever and always.
I love that the butterfly garden habitat is reusable so that we can do this activity every year.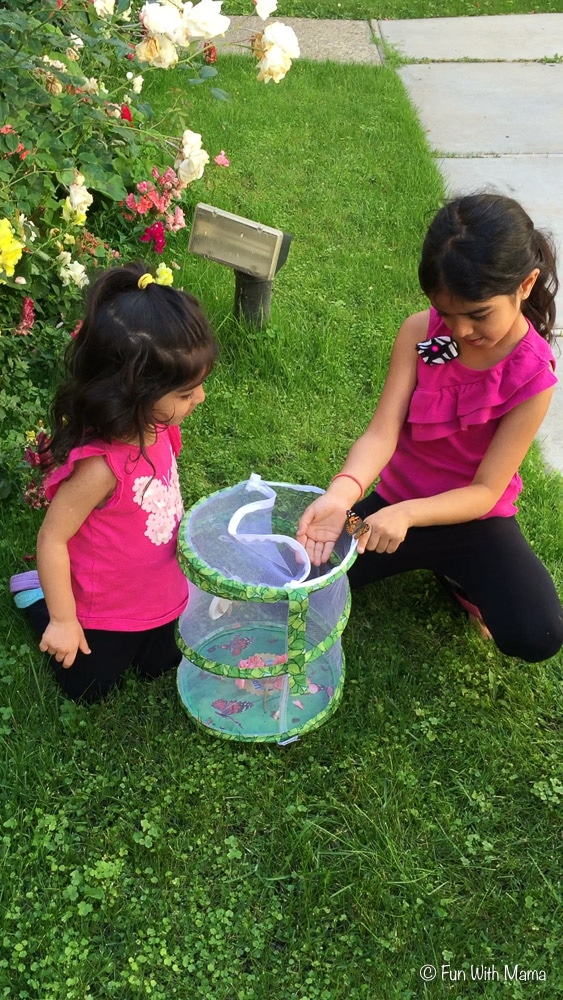 Watch videos of the Caterpillar Butterfly life cycle in this video below and especially watch the moment where we let our butterflies go free. I can with all my heart recommend that you purchase the Butterfly Garden by Insect Lore and make these same memories with your children.
Thank you for watching my first Youtube video! I hope you enjoyed it. Please give it a thumbs up and follow me on Youtube to see more exciting kids activity ideas!
Caterpillar Butterfly Life Cycle #lifecycle #kidsactivities http://bit.ly/2gVL2rz Click to Tweet