In honor of World Read Aloud Day, I have a new adorable reading log for kids that can work for a wide age range of children. The reading log templates can be used for coloring in picture books read, chapter books or even a read aloud book reading log.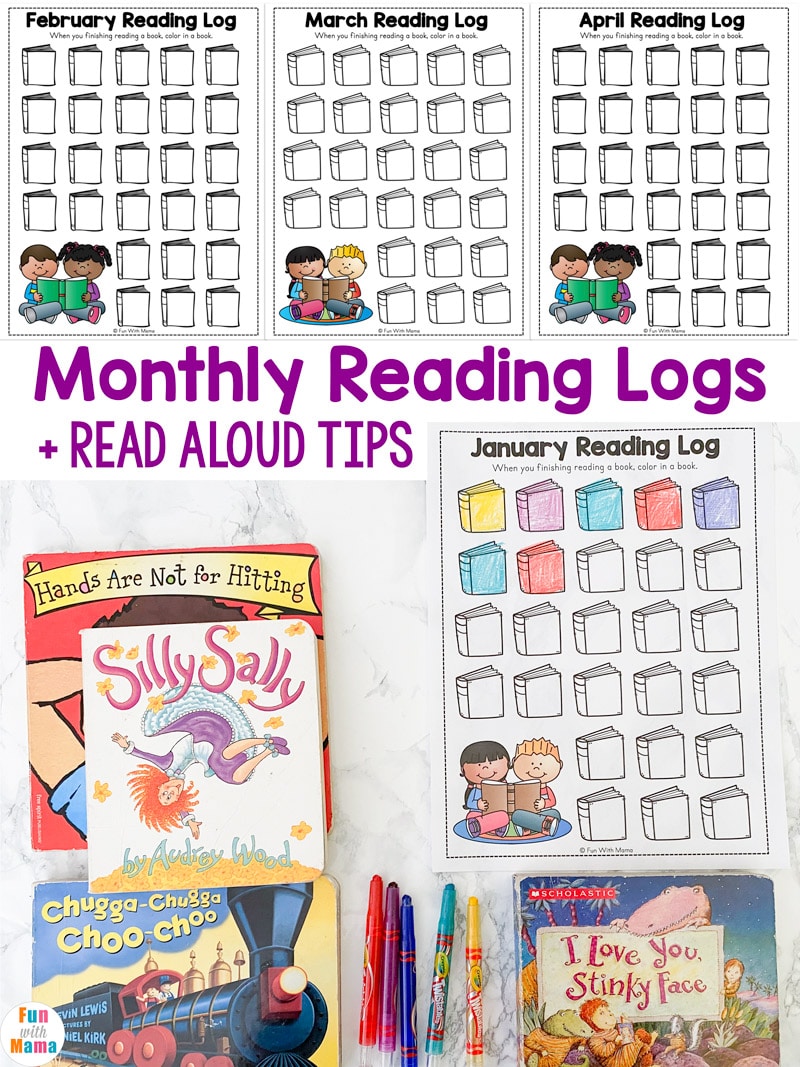 Reading Log
Do you want to encourage your children to read more books? We read a lot of books together and independently. I myself am a major bookworm and love curling up with a good book before I sleep each night. You can find some book suggestions in my kids book lists here.
You will also love this new reading log template that I've put together for you.
You just print out the page for the month and children color in a book for each book that they read.
Children can win a special prize when they reach the end (if the reading log includes picture books since those are a lot easier to read.) or you can set aside a monthly goal and have children work to achieve that goal.
Reading Log Prize ideas:
a cute pencil
a new book
frozen yogurt/ice cream
bowling night
or anything else your child might like to do.
Picture books are obviously easier to get through and so you can definitely get to your goal of 26 books with those.
Chapter books, on the other hand are a lot longer and the most I think you can reach monthly is probably 4 books. You can add in some picture books to help you meet that goal.
You can use it as a reading log for sibling reading too. For example, how many books your older child has read to your younger child.
I've also previously written about how important it is to read aloud to children even when your child can already read. Some of the benefits include: it increases reading fluency and it encourages a love for reading.
One of my favorite parts of our day is read aloud time. We try our best to make sure we get at least 5-10 minutes a day… (sometimes it's 30 minutes). Having a reading log is a great way to keep you accountable too!
I purchased books for my kids from the moment they were born and began reading to them as soon as I could! First with fabric books, then to peek a boo board books, picture books and now even chapter books. Check out my post on the 5 MUST HAVE Books For Toddlers Ages 1-2 to check out my favorite first books for kids.
Here are a 5 helpful tips for read aloud time:
✨1. Picture books know no age. Whether your child is 6 months old or 13 years old… picture books still have a place. There are valuable lessons, gorgeous artwork and different opportunities to be found within each age group. A 10 year old can choose to take charge and read aloud to a younger sibling while mom can listen to reading fluency and the beautiful sound of her child's voice. It is often here where I see how much my own habits rub off on my kids.. I am shaping them into the future parent they too will be (iA.)
✨2. Read aloud time is not only for bedtime. Anyone else ever get late during the bedtime routine? Where you realize it's 9.30 pm and the kids aren't asleep yet? Sometimes finding time to read can be challenging before bed.. especially when routines are changing. Find a 20 minute time slot during your afternoon to do some family read aloud time. It's such a bonding experience.
✨3. Have a younger child who can't sit still? No problem. Have them do something with their hands… a fidget spinner works well, slime in their hands, an exercise ball to sit on, a coloring page… they can still listen while accommodating their natural need to fidget/keep their hands busy. ✨4. Cuddle, hug and give your children a device free read aloud time unless you are reading on a Kindle or Kids Fire Device (I love these!)
✨5. If your child is old enough to read, continue read aloud time! This is a great way for your older child to practice their reading… reading can be a shared experience and there are so many benefits to reading aloud.
Reading Log Template
I have a black and white copy of the reading log template included in the reading log and book report pack. If you would like a color copy of the reading log template you can grab it for free below by clicking on the pink button.
Where to get the Reading Log Template
GET THE READING LOG TEMPLATE HERE
Already a subscriber? No problem. Just enter your details above so we can send this printable directly to your inbox.
WHERE TO GET THE FULL PACK
GET THE READING LOG AND BOOK REPORT PACK HERE
Get your students excited about reading with this huge pack of monthly and seasonal reading logs and book reports. Reading logs are a wonderful visual reminder of a child's reading achievements. This resource includes reading logs both with and without a space for a parent signature.