These Montessori bugs and insect 3-part cards are a great addition to your preschool Insect themed unit. I was really surprised that my three-year-old was able to distinguish the correct word for each insect even though she isn't able to read yet.
We just started our bugs and insect themed unit. For the next two weeks we will be focusing on butterflies, ladybugs, caterpillars, ants and discussing their different qualities and characteristics. We will be working on vocabulary words with my 3 year old too.
These Montessori inspired three part cards were surprisingly on point. It was the right amount of challenge for my daughter and the perfect amount of ease.
If you would like to do the Insect and Bug themed unit with us you can grab the complete Insect Themed Unit Printable Activity Pack and work through it with us too. The details can be found at the bottom of this post.
Materials Required:
Please note that affiliate links are used in this post.
The printable insect 3 part cards
That is all you really need. There are extra additions though that can make the activity more fun for your little one. Montessori activities suggest the use of a tray which allows your child to know their work place. I adapted this to use a tray for the cards and then used these trays and pocket chart
3 Part Cards Printable Activity
I set the activity up for my daughter exactly like the above picture. I placed all the cards into the pocket chart and displayed the split cards on the tray. I left this activity on her table and when she was ready to do some "work" she tried out the activity.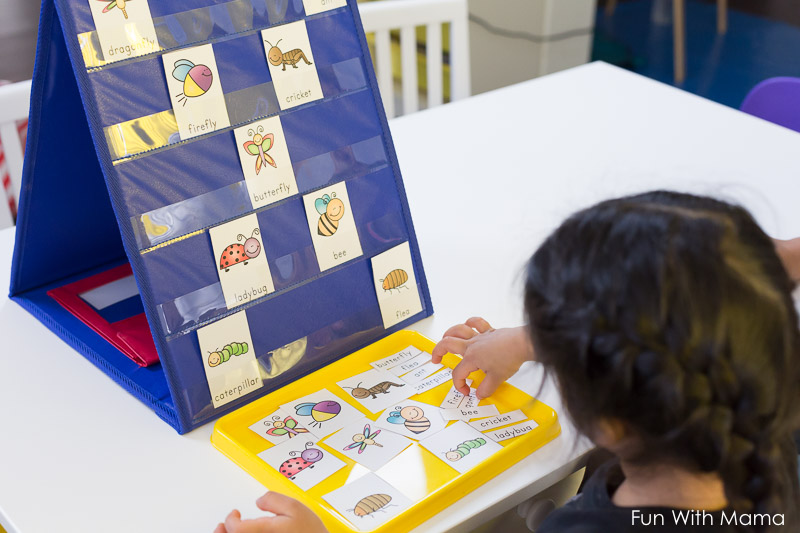 She surprisingly got each of them right. I had a video up on my Instagram of her doing it. If you would like to see how a three year old does these activities make sure to follow Fun With Mama on Instagram.
This activity is in the insect activities pack
GET THE INSECT ACTIVITY PACK HERE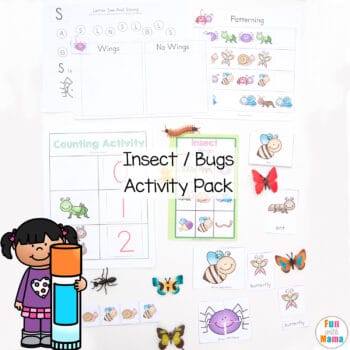 Explore the insect theme in this fun activity pack that will help increase vocabulary, work on counting, patterning, and literacy skills too. This insect learning pack is perfect for Preschool and Pre K students. With 42 pages of fun and a black and white option this pack is useful for homeschool and classrooms!
Grab these #montessori Insect 3 Part Cards http://bit.ly/2o2Sxkj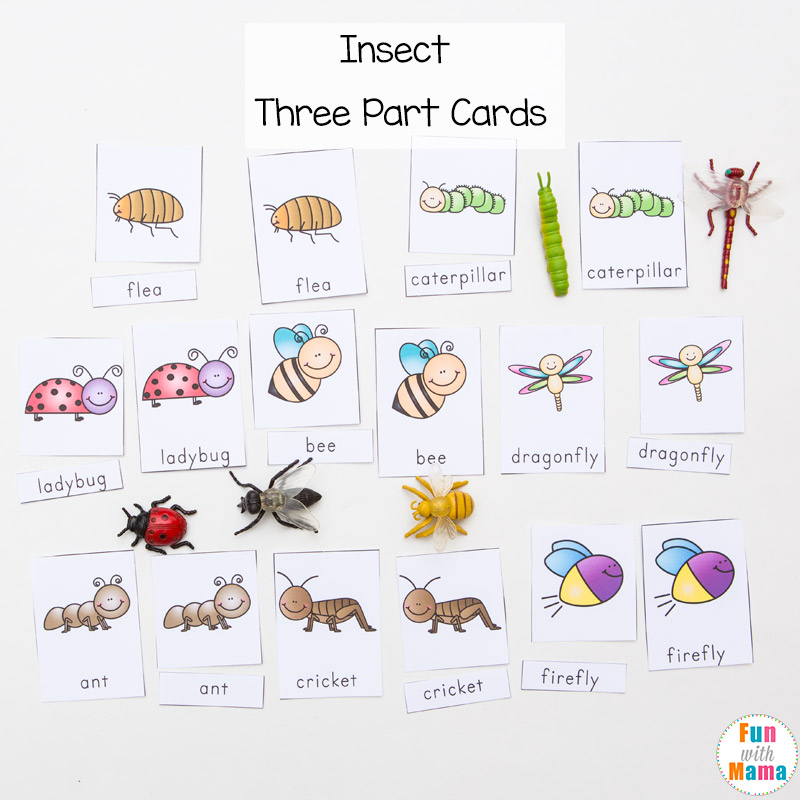 More about the Insect Themed Activity Pack Unit
You can purchase the full insect themed activity pack here. It includes all of the following insect themed printable activities as well as a black and white version.
– Puzzles (2 and four pieces)
– Three Part Cards
– Bingo Game (four game mats and cards)
– Read Build Write Vocabulary Cards and handwriting sheets
– Clip Cards (match the picture and beginning sounds)
– Graphing Activity (including a dice and spinner)
– Cutting Practice
– Cutting Strips
– Counting Activity
– How many bugs in the jar activity
– Sorting worksheet (Wings vs no wings)
– Coloring Page
– See and Stamp Sheets (three alphabet letter worksheets and one insect worksheet)
– Tracing Worksheets
LOOKING FOR MORE SPRING ARTS AND CRAFTS FOR TODDLERS AND PRESCHOOLERS?