This Spring Play Dough Flowers activity is a perfect way to promote fine motor skills in a toddler or preschool aged child. It is also wonderful as a Spring themed activity.
Materials Required:
Please note that affiliate links are used in this post. Please see my disclosure policy for more information.

– Play dough (We love our homemade play dough and Koolaid play dough and use one of these for most of our activities.)
– Pipe Cleaners
– Pony beads
– Foam flowers (mine were from the craftology friendship pack but this one can work too. You need one that has holes in the middle of the flowers.)
I set out the play dough, beads and flowers on a tray. This allowed me to contain any mess and gave my toddler a clear 'work'/play area. The pipe cleaners were too long so I cut those in half and pushed it into the play dough.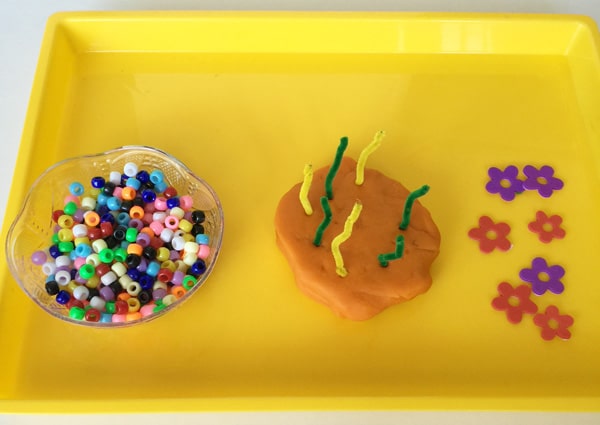 Instead of leaving this as an open ended play activity (which I often do) I set up one flower for her so that she could see what we were trying to accomplish here.

See how this is working on her fine motor skills? She also has to use both hands to thread the beads through the pipe cleaners.
Fine motor skills are important to develop because they provide the foundation for handwriting later.


I love how pretty these flowers ended up looking. For older kids have them make patterns (one red, one blue, one white and then repeat.) That would be great for math exploration!

I love simple activities that are easy to set up that promote a bunch of learning skills and fun!


Are you looking to improve your child's fine motor skills?
Here are a suggestion of different activities that can help improve and build these skills.
– Use tongs
– Play with play dough mats (and play dough in general)
– Water Squirting
– Ladybug Cut and paste
– Finger paint
– Using push pins
– Scissor Activities
– Clothespin and dropper activities
– Weaving Activities