This easy preschool shapes activity hunt is the perfect way to teach toddlers shapes.We often do colors and shapes activities for preschoolers because they work on basic preschool shape recognition, preschool color recognition, sorting skills and visual perception. This early math themed sensory activity is sure to teach your child some wonderful math facts in a hands on way. I was searching for ways to help my toddler learn shapes. Through repetition and many of the other shapes activities we did, she learned them pretty quickly at the age of 2. Kids learn through their five senses and when we can target these senses kids are more easily able to internalize the learning experience.
The Easy Preschool Shapes and Colors Activity Hunt
Those easy toddler puzzles that were once difficult for your child have now become too easy. You wonder what you should do with them now that your child rarely plays with them anymore. I love that this activity is a great way to repurpose puzzles you already have at home! Also, your preschooler will get to learn math in a more hands on way. Did you know learning shapes is an early math skill? Kids learn through their five senses and when we can target these senses kids are more easily able to internalize the learning experience.
I'm in the process of teaching my toddler her shapes and while learning them on paper might be more simple for me I just don't feel that a toddler can grasp shapes easily by looking at it on paper.
I wanted something that would teach it to her in a hands on way. I want her to feel the shape, feel the curves and feel the pointed edges. Kids learn very well through sensory experiences so I set out on a way to fuse her mind's understanding through her hands and sense of touch.
I thought it would be super fun to create a Shapes Hunt!
When I posted this preschool shapes activity on my Facebook page and Instagram I had so many Mama's loving that this was so simple and many set out to try it! (Check the community section at the end of this post to see how other Mom's and educators used puzzles and rice to create a sensory experience!)
Affiliate links may be used in this post. Please see my disclosure policy for more information.
I purchased this Melissa and Doug shapes puzzle and I love it! It was well worth it and I can see it providing many hours of fun. I then threw it in a tub of rice. I didn't need to do anything fancy to the rice like color it because the shapes are so colorful and the fact that she could use color indication to find the shapes made it appropriate for my two year old toddler.
I love that the puzzle board itself creates a key for my toddler so she knows which shape is still hidden.
I didn't just stop at my 2 year old toddler though. I blindfolded my 6 and 9 year old kids too and asked them to feel the shape and tell me what it is. This is wonderful for sensory processing. After many giggles I can say that this was a job well done.


Preschool Shapes Activity Hunt in Action
You can watch the video below to see how my daughter did the activity at 4 years old on her new YouTube Channel.
Watch the video to see how simple it is to create: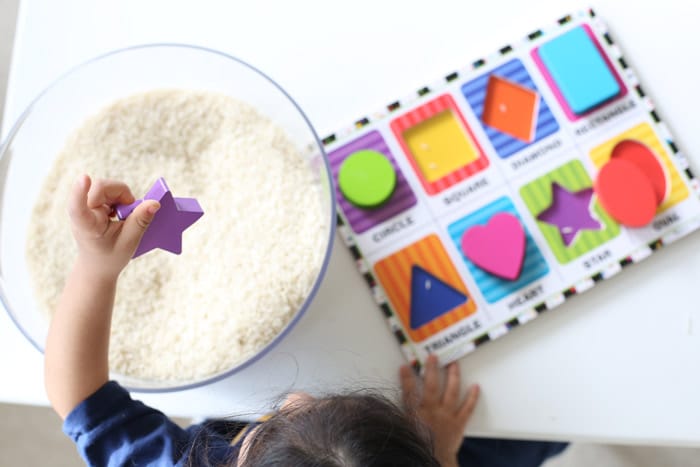 I'm sure you agree with me that this preschool shapes activity hunt has to be one of the easiest colors and shapes activities for preschoolers ! Every time she found a shape she had to call out the name of the shape before placing it on the puzzle board.

We experimented with feet in the rice, arms and elbows in the rice too.
Try it today! Take one of your puzzles and place it in some rice and have your child pick out the pieces. I guarantee you that this will be fun for kids of ALL ages!
Other Colors and Shapes Activities for Preschoolers:
Have a look at other Rice Sensory Bins that we have created.
Heart themed sensory bin.
From the Fun With Mama Instagram Community
Join our community on Instagram and whenever you post a picture of an activity that you found at Fun With Mama make sure to tag @funwithmama in your description and use the hashtag #funwithmama. I will feature your picture and link back to your Instagram account on the relevant post. This is such a great way to be a part of a supportive network of Moms and educators!
Show these wonderful Mama's some love by following along with them!
Kristinafrischhertz placed her transportation puzzle pieces in dirt (beans). Looks like fun!
Kidedventures places all green shapes items inside a green rice sensory bin!
Ourtotschooladventure
took her alphabet puzzle pieces and put them in some rice. She said her daughter LOVED this!