Who says that you have to have a bunch of fancy paint and paintbrushes to create a beautiful picture? Your child can easily do their very own ice painting with just a few simple supplies that you have lying around the house.
Ice painting is a wonderful first art and preschool art activity. Painting with ice is fun for children of all ages with its bright and vibrant colors. And it's a creative activity that they can easily do themselves as well.
While this can be a little bit of "messy play", it's totally worth it to see their eyes light up when they realize that art can be created using a wide variety of materials and items.
Ice Painting with Colored ice cubes
The great part about this ice cube painting is that it's just so simple to do. Even though you have to plan ahead a little bit to get the ice frozen and ready to go, the kids will have no problem waiting for it to be ready.
(well, they might be a bit anxious…but they know it's worth it!)
Tips to make ice painting fun
Keep in mind that this activity is going to already be a blast for the kids. Being able to discover that ice can be used as a "paintbrush" is a pretty awesome activity for them to look forward to.
The first time that you do this activity, make it up yourself and have it be a surprise. But then when you do painting with ice again, let them join in on the fun of making it. They'll love that they can help and be engaged with the process.
When you and the kids decide to paint with ice, sit together and just have fun. These types of activities are a great way to open up the lines of communication and bond as well in a simple and interactive way.
Make certain to check out this Bartholomew and the Oobleck Recipe for more fun messy play at home.
Here is a quick video showing our ice painting set up and process:
Materials Required for Ice Painting:
Start by adding in the food coloring the tray.
Pour water over (which is fun to see as well) and then stick in the ice cream sticks.
When ready to use, take them out of the freezer. Make certain to use a tray to hold the colored ice cubes as they will begin to melt quickly.
Now it's time to have fun! Lay out some pieces of blank paper and let the children create beautiful images like rainbows, shapes or anything else that they want.
Just keep in mind that the ice cubes will start to melt pretty quickly so they'll need to use them before they melt off the stick.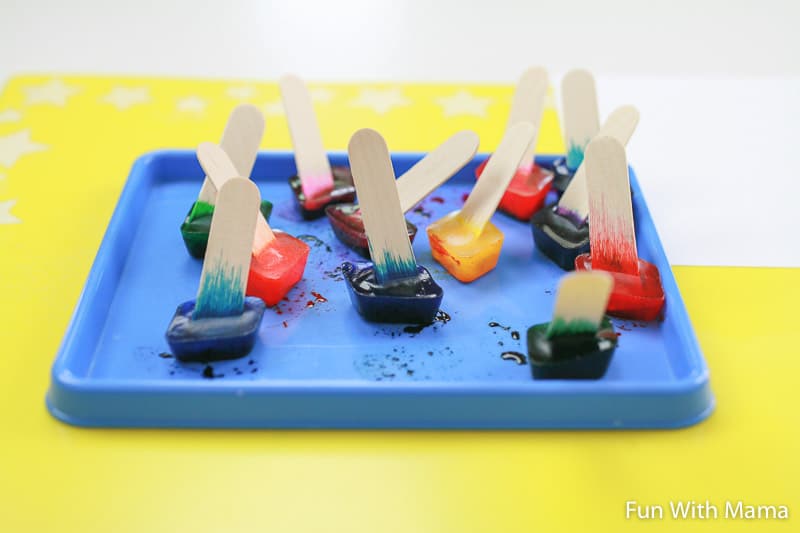 Put something underneath the blank paper and cover up the whole table if possible. The food coloring will stain anything that it comes into contact with, including your children's hands.
After they get the hang of it, they'll be having an absolute blast and creating pictures faster than you can hang up them! (make certain to let them dry out before actually hanging up or the colors might run down the page)
Completing one picture takes literally just a few moments of time so we had a stack of paper handy so we could easily move on to the next creation.
Do you like this fun painting activity? We have more for you to check out: