This Lego letters alphabet preschool activity is a great way for children to learn their letters and also think creatively on how to build up their minds, too!
Children love creating and building with building bricks and what better way to learn, then to use these bricks while learning the letters of the alphabet. Working on their fine motor skills, attention span and visual perception, children will enjoy creating the letters of the alphabet with these Alphabet Building Block Mats.
This activity pack is full of pages that will enhance their knowledge and work on their fine motor skill as well.
Lego Letters – Lego Alphabet Mats
While this learning pack is great for preschoolers, it's a great learning activity for other ages as well. Toddlers can get a head start on their alphabet knowledge and the early learners can brush up on some knowledge, too.
This Lego Alphabet Mats pack contains one letter-sized mat for each of the uppercase and lowercase letters of the alphabet. Each letter is one color, so children could also work on learning their colors as they complete these mats.
There are so many different ways to use these printable Lego Letters!
We love to use these printables for a lot of different learning opportunities. While working on the alphabet is the most obvious, it's also a great way to learn uppercase, talk about lowercase, work on colors, and also incorporating some counting skills, too.
Materials Required:
Please note that affiliate links are used in this post.
Paper
Laminator (optional.. you don't need this unless you want to make it reusable and you don't have dry erase pockets.)
Lego Lifter – to remove the pieces when done.
Lego Alphabet Mats
These Lego Letter mats are easy to prepare. Just print, laminate if you wish (though it is recommended for durability) and have fun.
While working on these mats creating different letters of the alphabet with their building blocks, children will be building up strength in their hand muscles, developing spatial skills and practicing their fine motor skills. They will also be working on their letter recognition.
What you'll find in this Lego Letters Pack
In this pack, you will find one mat for each of the uppercase and lowercase letters of the alphabet. Each mat contains the letter created with building blocks. Children can place the building blocks on the correct places on the mats, or they could build them on a baseboard.
Then they can practice writing the letter of the alphabet. The letter is written a couple of times on the line, with space for children to write it themselves at the end of the line.
There are a color and a black and white version of these Lego Letter mats for you to enjoy.
Lego Alphabet Mats
I have an HP Instant Ink subscription so I don't mind printing out one-time use color activities… but if you want to re-use the activity you can always put it in these dry erase pockets or laminate the activity. You will definitely want to do that if you are using this in a classroom setting.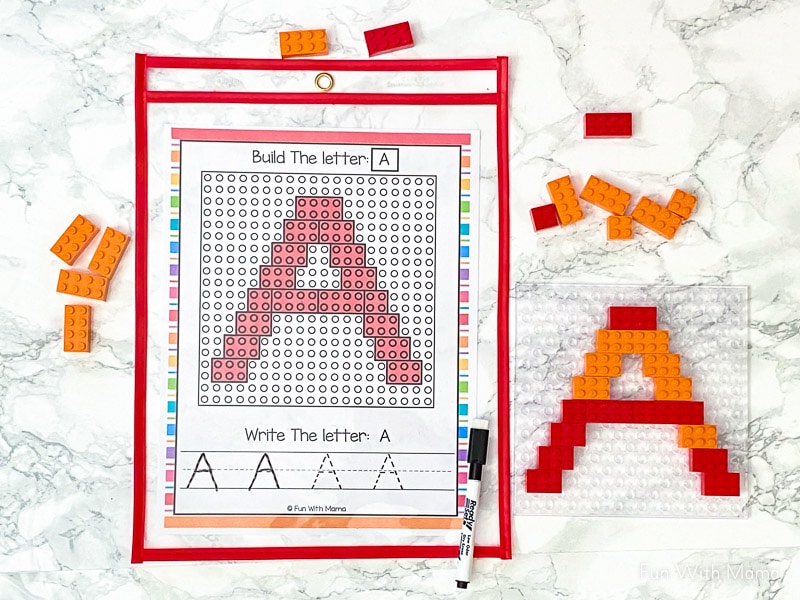 I prefer using my clear mat and having children build right on top of the alphabet letter.. but you can always have them build the letter on the side.
While we have built up quite the Lego stash.. it's still hard to find multiple bricks of the same color and size.. that's why I recommend that you suggest to children to mix up the colors. It is more creative this way and the letters look even cooler with multiple colors.
Where to get the activity
I have included the letter f as a freebie download for this alphabet preschool activity. Try it out!
I have included the letter d as a freebie in my Alphabet Pattern Block Mats so that you can find a bit of variety in the activities you get for free on the blog. Grab the freebie file below.
DOWNLOAD THE LEGO LETTER F ACTIVITY SAMPLER HERE
WHERE TO GET THE DUPLO AND LEGO BLOCK MATS
GET THE A-Z Alphabet Block Mats Here
Make letter learning engaging and fun with this set of Alphabet Block Mats for Big Bricks or Lego! Including both uppercase and lowercase letters, these alphabet letter building block mats are perfect for literacy centers where students will practice identifying, forming and building each letter of the alphabet.
Use this alphabet activity pack as a great way to teach your child more about the alphabet or supplement with learning at home. With so many pages to learn and go through, there are endless opportunities for your child to learn and work on their skills and knowledge.
Learn how to make your Printable Alphabet Worksheets Turn Into A Workbook as well!
More Mat Activities:
Here are some more great learning alphabet activities that your child will love to learn from:
Alphabet Playdough Mats Interactive
Printable Alphabet Letter Crafts